PARTY LIKE IT'S 1998: Gladstone Beats Kingsford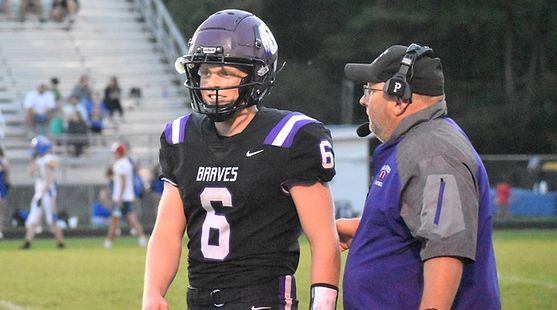 Click the thumbnails to see photos and videos taken by Brad Landis. Also, listen to post-game comments from Nate Young, Tyler Darmogray, and Coach Craig Ness, as well as player spotlight interviews with Vinny Howes and Elliot Vitito.

GLADSTONE---The last time the Gladstone Braves beat the Kingsford Flivvers in football, Bill Clinton was midway through his second term as the President of the United States. The governor of Michigan was John Engler, in the first term in office.
The price of gas was, on average, $1.43 a gallon. The Gladstone Braves beat the Kingsford Flivvers, 28-21, that fall. Who knew that it wouldn't happen again for nearly a quarter of a century?

But Thursday night at the Marble Athletic Field, the Gladstone Braves made history. They scored two touchdowns in the fourth quarter to break a 20-20 tie and pulled out a 34-20 victory that sent a bunch of ecstatic Gladstone Braves students on the field to swarm the guys near that infamous Big Tree behind the end zone where the Braves players have gathered after every home win or loss.
This time, they could ring the bell after a win over Kingsford, for the first time since, well, long before any of them were even born.
"These kids, they deserve it," an exhausted and sweaty Braves Coach Craig Ness said. "How about these fans, racing on the field? It's been a long time since we've been able to see that. I got emotional. The team was dialed in and this was awesome. I know we're going to be on the road for a while, but I hope we can keep the momentum going and when we're home again, the fans can come out and see a very good football team."
"We struggled early, but we had to keep believing and keep running our game, and it turned out pretty well." Braves quarterback Nate Young said. "The guys have been working their butts off all year, and it paid off tonight. 24 years of not beating Kingsford. It felt really good."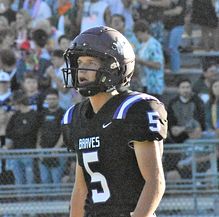 Indeed, both teams struggled early, as Kingsford quarterback was intercepted by Tyler Darmogray at midfield on the first series, but as the Braves were about to score in the red zone, Cole Potier fumbled and it was recovered by Josh Peterson at the 11-yard line.
It stayed 0-0 until the second quarter before the Flivvers put together an 82-yard, 17-play drive, with 16 of the plays on the ground. Elizen Rouse pounded it in from three yards out, and the extra point was good, giving Kingsford a 7-0 lead.
Gladstone responded with an 80-yard drive that was actually 100, as the Braves had to play above three penalties that kept stalling the drive. Young broke off a 32-yard run on 3rd-and-8 from midfield, and then after red zone penalties made it 3rd-and-14 from the 21 yard-line, Potier got the call and rushed around the right side for a 21-yard touchdown. The two-point conversion failed, so it remained a 7-6 game.
It took Kingsford one play to get that back, as two Braves defenders went for a Eli Wallis pass and tipped it into the hands of Nic Nora. Nora raced to the end zone for a 63-yard touchdown. The extra point kick was blocked, but Kingsford led, 13-6.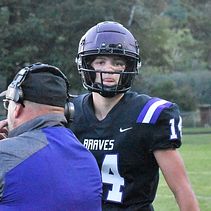 A turning point came on the ensuing kickoff when Kaden Gibbs took it 75 yards into the red zone. Two plays later, Potier was in the end zone again with an 11-yard touchdown run, this time starting right, running into a wall, and turning it to the left.
Potier ended up with 115 yards on 21 carries and two touchdowns.
"Putch was a man-child today," Ness said. "I can't say enough about him. We hitched up our trailer to him. And the guys in front of him, I can't say enough about Vinny Howes and Josh Racine. Them guys aren't gonna get noticed. Gavin Depuydt, Sawyer Lynch, (Frank) Carlson out on the end. Just a hard-working group."
Kingsford led, 13-12, at the half, but the Braves scored on the first series of the third quarter, and again, it was another third down conversion. This time, it was Young who got to the outside threw the deep ball to Tyler Darmogray 62-yard touchdown on 3rd-and-5 to give Gladstone a 18-13 lead.
"Nate just threw an absolute dime to me," Darmogray said.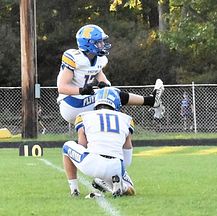 The two-point run was successful, but the Braves committed yet another penalty, so they had to try again from the 13 yard-line.
No problem. Young found a diving Elliot Vitito in the back of the end zone for a big two-point play, putting Gladstone in front, 20-13, halfway through the third quarter.
"Very clutch," Young said of the two-point play. "Great momentum swing for us."
The Flivvers responded again, however. It was a 65-yard drive in ten plays, and Kingsfrod had to overcome a couple of penalties along the way. Wallis threw to Noah Johnson for a 13-yard touchdown, and the kick was good, tying the game at 20-20.
And things went bad for the Braves when they got the ball back. A snap went over Young's head and he had to sprint back to the 14 yard-line to fall on the ball. Three Flivver players landed on him in the scrum, and Young was knocked out of the game.
"I just didn't want to turn it over, you know, at that point, it was a tie game," Young said. "I just wanted to help my team."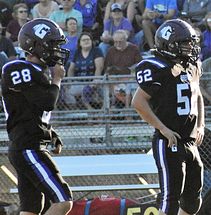 He did, but as OSF Athletic Trainer Brad Landis worked on Young, the Braves had to go on with second string quarterback, Vitito, and in a 2nd and 21 from his own 14. He handed it to Potier for a six-yard gain, which left the Braves in a 3rd-and-15.
Vitito threw a short swing pass to senior Braden Sundquist, who made a man miss and ran toward his sideline, close to the first down marker. He appeared to be a half-yard, short, but that become a moot point when Kingsford was called for a late hit.
Those 15 yards gave Gladstone a first down at the 50, and Vitito engineered a drive full of Potier runs to get the Braves down to the Kingsford 20 as the third quarter ended.
"He threw a great ball to Sonny and he mad a guy miss," Ness said of Vitito. "Elliot stepped in and we didn't miss a beat, really."
But with a 4th-and-4 at the Kingsford 20 yard-line, on the first play of the fourth quarter, Young was not staying on that sideline. What did he say in the huddle?
"I just calmed them down, relaxed them, and said, 'live in the moment'," Young said.
Young called his own number despite a noticable limp. He went around the left side and raced to the end zone for a 20-yard touchdown to give the Braves a 26-20 lead. Then, Young scrambled and found his way into the end zone for the two-point conversion.
"We knew they were crashing hard on Cole because he was a beast all game tonight," Young said. "We knew that the boot would turn out pretty well for us."
"He just accepts the challenge," Ness said of Young. "He told me, 'yeah, I had a play called I tried to save, and that was the moment we threw it out'. He actually told me, 'Coach, if this is my last play, I'm gonna make it worth it."
The Braves had a 28-20 lead, but Kingsford had plenty of time to respond. But after one first down, Johnny Soderman intercepted a Wallis pass at midfield. The Braves got a couple of first downs, but had to punt, giving Kingsford one final chance.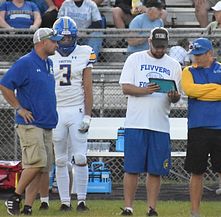 After Cole Myllyla broke off an 18-yard first down run, the Braves got the dagger as Wallis threw up a high ball along the sideline and Darmogray was there to pick it off. It was Darmogray's third pass interception of the game, and this one, he took back to the house for a Pick-Six touchdown that put the game away with 4:12 left to play.
"That Pick-Six was amazing," Darmogray said with a big smile. "He threw it like directly right to me. Like, I don't even think he knew where he was throwing it. I just ran back. Austin Solis had a very nice block at the ten yard-line on the quarterback to get me in the end zone. I don't know if I would've got in if it wasn't for him."
Darmogray actually had a shot at his fourth interception of the game when Kingsford got the ball back, but he juggled the ball and dropped it. No worries, though, as sophomore Drake Johnson got a quarterback sack, stripped the ball, and recovered the fumble to end the game. It was Kingsford's fifth turnover of the night.
Ness says so many guys played a part in this win, including one who might have gone overlooked because his plays weren't the flashiest: Eli Berthaume.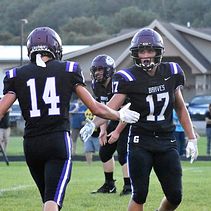 "Eli was back there, and he was the field general," Ness said. "He jumped a couple of their plays that they thought might be open. Eli played a hell of a game."
Young completed 5-of-11 passes for 88 yards and a touchdown, and no turnovers. He also rushed for 116 yards on 14 carries, giving him 204 total offensive yards. Potier had 115 yards on 21 carries, and Vitito completed that one huge pass for 14 yards.
For Kingsford, Myllya had 90 yards rushing on 20 carries, and the two quarterbacks (Wallis and Nora) combined to complete 7-of-15 passes for 126 yards, two tochdowns, and four interceptions.
Kingsford (1-1) hosts Wausau West next Friday night. Catch the broadcast from Flivver Field live on FM-94.3, and on-line at www.radioresultsnetwork.com/brreze.
Gladstone (2-0) travels to Menominee for another Great Northern Conference game bext Friday night. Listen on FM-93.3/AM-600 and on-line at www.rrnsports.com.