New-Look Gladstone Braves Open Football Practice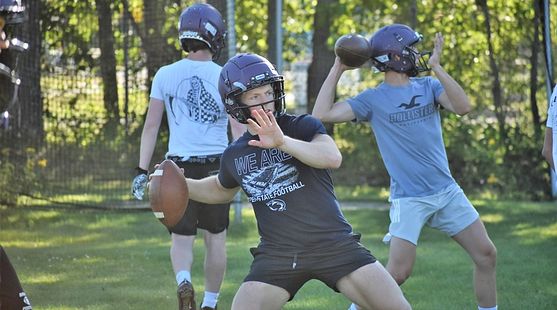 Click the thumbnails to see photos and videso, and hear interviews with Nate Young, Eli Berthaume, Gavin Depuydt, and Coach Craig Ness.

GLADSTONE---The Gladstone High School football team joined hundreds of others around Michigan Monday by opening practice. The Braves have a new coach, and will be playing without two All-U.P. linemen, but the boys and new Coach Craig Ness are confident.


The Braves are coming off a 2021 season which saw them have a 5-4 record, make the state playoffs for a second straight year, and post a rare win over the rival Escanaba Eskymos.

That was accomplished with All-U.P. linemen Hunter Potier and Brett Beaudreau serving as anchors, and they have graduated. But the boys believe they have the tools to keep strong line play, led by 6-foot-6 lineman Gavin Depuydt.

"Individually, I'll be working on my footwork and trying to get a little bit quicker with my feet," Depuydt said. "Trying to get a little bit angrier, and trying to get people down. For the team, it's all footwaork for the people on the line, getting angry, getting out there, gettting after it.

'We have a lot of (practice) time yet, so it should be good. I'm gonna try to folow after Brett, because he was always the big guy in front of me, so it'd be nice to follow in his steps."

"Anytime you lose someone like Brett Boudreau or Big Putch, it's always an adjustment," Ness said. "But we have some young kids who will step up and fill their shoes. We have some seniors, we don't have many, but they're good leaders."


One place the Braves will not be lacking is at the skilled position.

Junior quarterback Nate Young was thrown into the fire midway through the season last year as a sophomnore when senior Cam Kelly broke his collarbone against Escanaba. And receivers like Eli Berthaume and Elliot Vitito, both juniors, along with senior running back Cole Potier, can put up lots of points, as they proved last fall.

"I think we're right up there, right at the top," Berthaume said. "This year, we'll be right up there again. Nate's a really good quarterback and I think it's gonna work perfectly between us this year. We'll be missing some of those big guys, but we've got some guys coming up from JV who have gotten big, so I think they'll take their positions pretty well."

Young says that last year's experience can only help him this season.

"I definitely think it helped my game," Young said. "Just being able to stay cool under pressure situations, and really keep the team together. It's time to dial in and have some fun!"

The Braves will have four home games, including two to start the season against Calumet and Kingsford. The other two home games, after a bunch of away games, are against Negaunee (homecoming) and Escanaba (to close the regular season).

Gladstone's road trips are at Menominee, Marquette, St. Ignace, and two trips to Gaylord: one against the Blue Devils, and the next week against downstate opponent Durand.

"We start home, and end home, but a lot of trips in between," Ness said. "I want the community to know that this group of kids, I believe, are going to work just like the community. They're a bunch of hard-working kids. Hopefiully, it shows at the end of the year."

Yiou can listen to every Gladstone Braves football game, home and away, this season on FM-93.5 and AM-600. All radio broadcasts are also streamed on-line at www.rrnsports.com.