Gladstone Braves Win First Playoff Game Since '08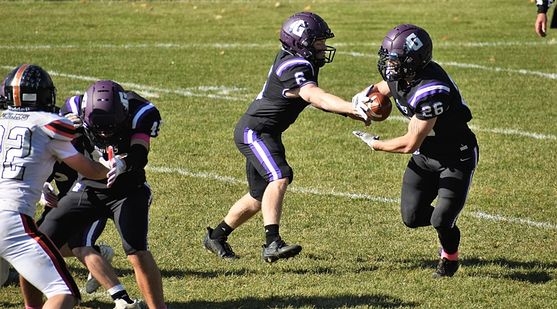 Click the thumbnails to see photos and videos from the game. Also click the AUDIO buttons to hear post-game comments from Kaden Gibbs, Mitch Cartwright, Aaron Hughes, and Coach Craig Ness. Also listen to player spotlight interviews with the Braves' Ethan Larson and Ethan Jensen. Also click to listem to the radio replay of the game, in eight different chunks.

GLADSTONE---The Gladstone High School football team scored early and often on Saturday and beat the Elk Rapids Elks, 51-14, in the MHSAA Division Six state playoff opener at the Marble Athletic Field. It's Gladstone's first playoff victory since the 2008 season.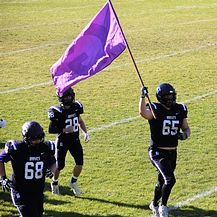 "I told the kids, hey, go and enjoy yourself," Gladstone Coach Craig Ness said. "You don't know what next week iolds. You don't know what tomorrow holds, But you know what? They played pretty gosh darn good, and I'm just proud of them."

The last Gladstone playoff wins came in 2008, 48-0 over Elk Rapids and 19-0 over Negaunee, before that Braves team coughed up a big lead and lost to Standish-Sterling, 40-33, in Cheboygan. Now, fourteen years later, this group of Braves has finally tasted playoff victory.

"It felt good to be back in the playoffs," Braves senior Mitch Cartwright said. "It was a good time. I think our team has a shot to go a ways. I was just feeling it today. I got laid out on the first play. I took it. I still made the tackle. Maybe a little drowsy, 1 p.m. game. I just woke up from there, and I started going."

Indeed, he did. And so did the rest of the Braves defense, with Kaden Gibbs, Austin Solis, and linemen Josh Racine, Jacob Perryman and Ethan Jensen all having fun hitting.

The Gladstone defense battered the Elks, especially in the first half, when the visitors managed only 86 yards of total offense, and none of them were in the ground, as quarterback Chase DeArment was sacked three times, two of them by Cartwright and another shared with Solis.


"We were defintely run-focused," Cartwright said. "We felt like if we shut that down, we shut down their offense, ehich we did."

"We had to prevent their option," Gibbs said. "Because w saw (on film) that they do the option a decent amount. But other than that, we just played our nornal defense. Just stop the run and see what they can do from there."

Senior running back Cole Potier scored on touchdown runs of 62 and 11 yards, and he added a tird touchdown on a screen pass that covered 70 yards. Junior quarterback Nate Young added a 19-yard touchdown pass to Gibbs and he scored on an eleven-yard run of his own.

The icing on the cake was a 73-yard kickoff return on the second half kickoff for a touchdown by sophomore Casey Alworden, and junior running back Austin Solis capped the scoring with a four-yard touchown run as the back-up players suited up for most of the second half as the mercy rule kicked in.

A line-up of almost-entirely junior varsity players played the fourth quarter, and that's when the Elks got a pair of touchdown passes from quarterback DeArment to close a 51-0 game to a 51-14 final score.


Senior Tyler Darmogray kicked three extra points for the Braves, who had just one PAT kick all season (last week by Darmogray against Escanaba). The Braves also scored three two-point conversions on passes from Young to Gibbs (twice) and to Darmogray (once).

It was, as always, Potier who set the tone, as he booted the first three kickoffs out of the end zone, putting the Elks offense in poor field position. And Potier raced to the end zone on the first play from scrimmage, 62 yards, for the Braves' first touchdown.

Later in the quarter, Young faked a handoff to Potier, and as the Elks defenders collapsed on Potier, Young sprinted into the end zone for an eleven-yard touchdown run. Potier's next touchdown run was pretty, even though it covered only eleven yards. Potier got the handoff, started left, juked to the right, then cut back to the left, broke a tackle, and scored the touchdown to give Gladstone a 20-0 lead. A two-point pass to Gibbs made it 22-0.

Midway through the quarter, when the Elks blitzed Young, he dumped it off to Potier, and the seniot All-State candidate weaved his way through traffic and then sprinted to the house for the 70-yard touchdown. It was his third of the day and he sat most of the second half.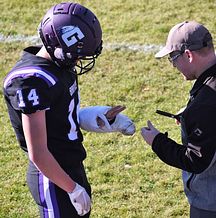 Gibbs made one of his better catches of the season when he grabbed a Young pass in the front of the end zone as he tumbled to the ground. That made it a 36-0 game and started the running clock.

"I just saw it and I guess I just went and got it," said Gibbs, who continues to play with a large, white, heavuly-wrapped club on his left hand. "I just went and snagged it."

One kid who did a lot of the dirty work was Aaron Hughes, a tall sophomore who was brought up from the JV team in the middle of the season. He has been a quick learner, and has proved to be an effective blocker for the Braves running backs on offense.

"Right from the beginning of the game, I had a nice block, and it just went forward from there," Hughes said. "When I got moved up to varsity, the varsity players all took me in, like right away. I knew all the plays, and it's nice practicing with all of them because they fit you in really well and they get you ready."

Hughes also grabbed a 23-yard pass along the near sideline right before Potier ran in his eleven-yard touchdown.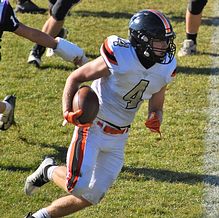 "He's got a 12-foot radius on that kid, he's so gosh darn big," Ness said. "I told Nate, pretty nice to be able to throw to thar, and he agreed. Aaron is a great kid."

Gladstone did not play a totally perfect game. The Braves had two turnovers in the game. Young's underthrown ball was intercepted by Keagen Cotterman in the second quarter, and junuor varsity player Isaac Ketchum fumbled in the fourth quarter off a botched pitch from freshman quarterback Trevor Thorbahn.

There was also a dropped touchdown pass by the usally sure-handed Darmogray up the middle of the field, and there were a couple of holding penalties. But that's all nitpicking on a huge win for the Braves in a game where both the offensive and defensive lines manhandled the Elks.

Potier carried the ball only eight times, but racked up 105 yards and scored twice. He now has 1,246 rushing yards this season. Young completed 7-of-9 passes for 193 yards, two touchdowns, and one interception. That pick, and the one dropped TD pass, were his only incompletions of the game. Gibbs caught three passes for 82 yards and one touchdown.

Gladstone had 414 yards of total offense. Elk Rapids had 213, with 129 of those yards coming on two drives against the Braves JV players after the score was 51-0.


Elk Rapids, which came to Gladstone Saturday with no school bus (the group came in private vehicles) finishes its season with a 6-4 record.

Gladstone improves to 8-2 on the season and will host the 7-3 Manistee Chippewas next weekend in the district championship game (and state D-6 Round of 16). The Chippewas, who play in a tough West Michigan League, upended previously-undefeated Boyne City Friday night, 28-27, when the Ramblers scored late but mnissed a two-point conversion.

"We've got to stop the run," said Ness, who watched the fourth quarter of Manistee's win Friday night. "It looks like they're very run-oriented. It looks like they've got two pretty good running backs. So, we'll get two films on them. We told the kids to enjoy (the rest of the Halloween weekend), but as coaches, we'll get them up on Hudl and look at what we can take advantage of."

The game will be played Friday night at 7:00 in Gladstone.

If the Braves beat Manistee, then they would also host the winner of next week's Negaunee-Menominee game the following week.