Escanaba JV's Outlast Gladstone With Big 2nd Half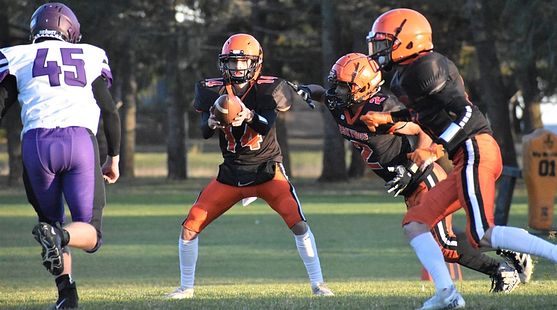 Click the thumbnails to see photos and video highlights from the game.

ESCANABA---The Escanaba High School junior varsity football team scored two second half touchdowns to rally past the Gladstone Braves, 22-19, in the season finale Thursday night.

Kaleb Gagne broke off a long touchdown pass in the first quarter to give the Eskymos the lead, 7-0, with the extra point kick good. But Isaac Ketchum scored two touchdown runs in the second quarter, the second after quaeterback Gavin Frossard got along completion to Owen Gereau. A Luke Ingram PAT kick had Gladstone leading, 13-7, at the half.


But in the second half, the Eskymo defense stiffened, and quarterback Nolan Bink engineered two touchdown drives. The first ended on a two-yard touchdown run by Gagne that was set up on a nice catch and run off a Bink pass to Javon Stevenson.

A Graham Johnson extra point kick gave Escanaba a 14-13 lead.

Ketchum left the game after taking a helmet (or knee) to his quad, and with him on the sideline, the Gladstone offense became one-dimensional and sputtered.

The Braves were forced to punt at midfield, and Bret Seger pinned the Eskymos deep with a nice punt to the two yard-line. But Escanaba drove 98 yards up field, with the Gladstone tackling leaving a lot to be desired, especially on the wirey Bink.

Bink scored on a 35-yard touchdown run with 2:21 left in the fourth quarter to make it 20-13, then the Eskymos decided to go for two points to put the game out of reach. Bink scrambvled and found Lennox Peacock at the front of the end zone for the two-point pass.

Trailing 22-13, the Braves needed two scores, and Frossard engineered the two-minute drill nicely against the soft Eskymo defense. Frossard passed to Nehemiah Blair for the touchdown with 44 seconds to play, closing the Braves to within 22-19.

Gladstone needed to get the on-side kick, the same way they did on the game's opening kickoff. This time, though, the Eskymos recovered and Bink kneeled down in victory formation, as Eskymo Coach Josh Ling was drenched by the water jug with a 7-2 season now over.

Gladstone's JV's ended its season with a 4-4 record.