New-Look Gladstone Braves Open Football Practice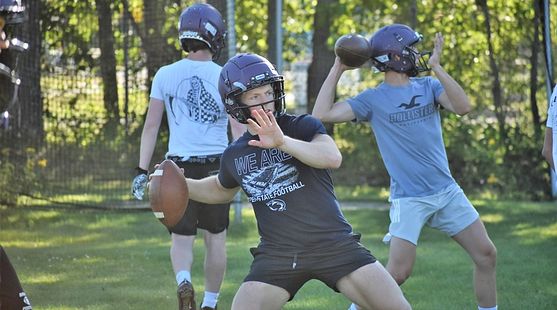 The Gladstone High School football team joined hundreds of others around Michigan Monday by opening practice. The Braves have a new coach, and will be playing without two All-U.P. linemen, but are confident. Click the above headline for details.
High School Practices Begin; Rules Changes Coming
Nearly 95,000 athletes statewide began practice on Monday, kicking off the Fall 2022 season across nine sports for which the Michigan High School Athletic Association sponsors postseason tournaments. Click the above headline for details.
SPORTS BROADCASTS ON RRN STATIONS
Friday August 12, 2022

5:00 PM -
NFL Exhbition Football. Detroit Lions vs Atlanta Falcons. From Ford Field in Detroit. Kick-off is 6:00 ET/5:00 CT. Coverage begins at 5:00 ET/4:00 CT. On WCMM-FM (102.5 The Moose), WJPD-FM (92.3 Marquette), and WMIK-FM (93.1 Iron Mountain).

6:30 PM -
NFL Exhibition Football. Green Bay Packers vs San Francisco 49'ers. From Levi's Stadium in Santa Clara, California. Kick-off is 8:30 ET/7:30 CT. Coverage begins at 6:30 ET/5:30 CT on WGLQ-FM (97.1) and WUPZ-FM (94.9 The Bay).
Friday August 26, 2022

6:30 PM -
High School football. Manistique Emeralds vs Ishpeming Hematites. From the Manistique High School. On WTIQ-FM/AM (98.5/1490) and on-line at www.radioresultsnetwork.com.
6:45 PM -
High School Football. Gladstone Braves vs Calumet Copper Kings. From the Marble Athletic Field in Gladstone. On WCHT-FM/AM (93,5/600) and on-line at www.rrnsports.com.

7:45 PM -
High School Football. Kingsford Flivvers vs Green Bay East Red Devils. From Flivver Field in Kingsford. Game time is 7:00 CT/8:00 ET. On WZNL-FM (94.3 The Breeze), and on-line at www.radioresultsnetwork.com/breeze