MEET THE BRAVES: Fall Sports Seasons Starting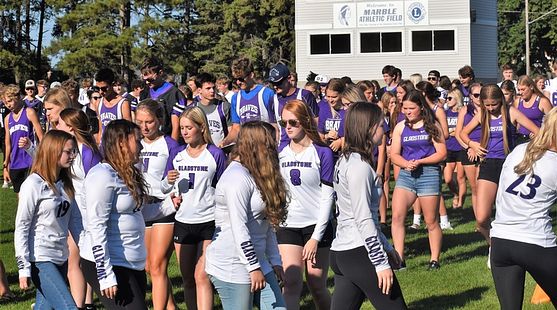 Click the thumbnails to see photos and videos.

GLADSTONE---There was a lot of purple and white Sunday night at the Marble Athletic Field in Gladstone, as the Gladstone High School Athletic Department held its annual "Meet The Braves" program. It was a chance for community members to see all of the Braves fall sports coaches and players together at the same time...the only time of the year that happens.
The Braves football, volleyball, cross country, girls tennis, and sideline cheerleading teams were all introduced. And then at the end, the football team led all of the other teams in a BRAVES cheer to wrap up the evening.

The Braves tennis team hosts Escanaba on Monday at 11 a.m. The volleyball team hosts Menominee Thursday night, and the football hosts Calumet Friday evening.