STATEMENT MADE: Miners Dominate Braves 24-6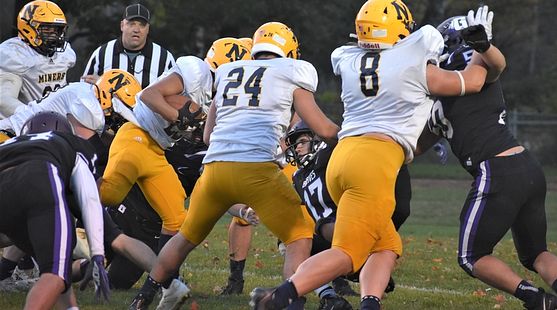 Click the thumbnails to see photos and videos taken by Brad Landis. Also, click the AUDIO buttons to hear post-game comments from both teams' coaches, as well as the player spotlight interviews with Cole Potier and Gavin Depuydt.

GLADSTONE---The Negaunee Miners football team had a dominating run game and suffocating pass rush Friday night, in posting a 24-6 win over the Gladstone Braves before a jam-packed Homecoming crowd in a battle of the two top-ranked teams in the Upper Peninsula. It was Gladstone's second straight loss to a team that is ranked in the Associated Press statewide poll after the team got off to a 5-0 start.


Gladstone also lost to Durand last Friday night.

Negaunee, meanwhile, improved to 7-0 on the season.

"It was special to be a part of this game, for sure," Negaunee Coach Paul Jacobson said. "This is what you coach for. This is what you play for, opportunities like tonight. It was a great atmosphere tonight. I can't tell you how excited I was just to be a part of it."

The Braves were on their Homecoming, and not only were the stands packed, there were people lined along the fence all the way to the concsession stand in the end zone, and there were even more people standing and watching on te press box side of the Marble Field.

The Miners had a large section of fans as well, including a student section that serenaded the Braves with a chant of "overrated" as the clock ticked down in the fourth quarter.

"We had a great crowd," Braves Coach Craig Ness said. "I appreciate them coming. It reminds me of the old day, with people watching through the fence on the road. It was a great atmosphere. just wish we would've played better."

Negaunee outplayed Gladstone in all three phases of the game.


Gladstone's kicking woes continued, punctuated by booting the opening kickoff out of bounds two consecutive times. The Miners had great field position all night due to short punts and two kickoffs, while Negaunee's Phlllip Nelson nailed a 33-yard field goal and buried the Braves deep with several kicks.

Negaunee's offense was led by the bruising ground game of Nico Lukkarinen, who rushed 23 times for 95 yards and touchdown runs of five and eight yards in the first half.

And there was Kai Lacar, who scored a touchdown of his own and had 115 yards on 18 carries, including a 41-yard run late in the second quarter, setting up a field goal when the Miners appeared to be content to run out the second quarter clock.

Then there was the line play, and the Miners dominated that as well. Braves quarterback Nate Young literally had no time to run the offense, as multiple Negaunee defenders were constantly in his face, sometimes blitzing, sometimes not.

Young was able to heave a 71-yard pass along the near sideline to Tyler Darmogray for the Braves only touchdown, but otherwise, was constantly harrassed, including a turning point play in the second quarter when Young was blindsided, sacked by Ryan Reno, fumbled, and the Miners recovered at midfied. Negaunee turned that into a touchdown that broke a 6-6 tie on a Lukkarinen touchdown run seven plays later.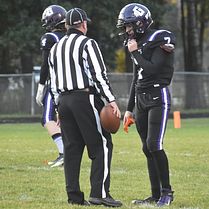 Gladstone held Negaunee to just 39 yards of total offense in the second half, but the Braves failed on three trips into Miners territory. Still. Coach Craig Ness says he was happy that his team did not give up, and held the Miners off the board in the second half.

"We were just missing one gap (in the run defense) in the first half," Ness said. "At this level, with this good of a team, they found it, and they played it very well. Give them credit. One adjustment at halftime, and we played so much better in the second half. It was our second week in a row against a very hard-running team. I'm super proud of how our kids played in the secvond half."

One thing that did not get better in the second half was defending the pass rush. Easton Palomaki led the charge as the Miners forced Young to heave the ball, hoping for the best after he barely recieved the snaps (which were much better than last week against Durand).

"We're gonna fix that," Ness said. "It was just a hard fix today, during the game. Coach (Travis) Wiltzius is already drawing up our coverage for next week."

Another problem the Braves have is a mounting number of injuries. Receiver Eli Berthaume reinjured his ankle in the second quarter and did not return. He joins Elliot Vitito as receievers on the injured list, and Kaden Gibbs continues to play with a cast on a broken hand.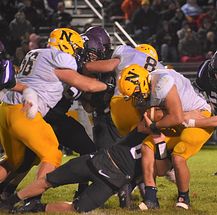 Gladstone running back Cole Potier, who entered the game with 786 yards and 12 touchdowns this season, was eliminated by the Miners defense. He managed 24 yards on seven carries. Young had a 30-yard run in the second quarter, but ended up with 12 net rushing yards.

"Between Nate and Cole, man, I looked at one guy on the chain gang at one point when Nate took off, and I said 'I wouldn't want to have to tackle him myself or try to catch him," Jacobson said. "Two great athletes. It was a huge task to try to contain both of those guys, but I think for the most part, we kept them at bay."

Young completed 10-of-24 passes for 180 yards, one touchdown, one interception, one fumble, three sacks, and multiple "QB hurries". Negaunee did not complete a pass all night, except for one to Young for an interception in the third quarter.

STATE PLAYOFF PICTURE: Both teams know that there could be another match-up in the Division Six state playoffs, just like in both 2020 and 2021, when the Miners eliminated the Braves in both seasons.

"We need to take care of ourselves, and we need to get healthy," Ness said. "We were going through the line (post-game handshakes) and they said, 'see you soon'. Hopefully, we take care of our end and they take care of their end, and we will see them again."

"I hope so," Jacobson said. "Why not? We saw each other twice two years ago and twice last year. Might as well do it again, right? It would be good for U.P. football. I hope we do have a chance to see each other again, and I hope it's another packed house like it was tonight."


But the Braves and Miners might not get that chance.

If Gladstone (5-2), Negaunee (7-0), Calumet (4-3), Menominee (4-3) and Houghton (5-2) all make the Division Six playoffs, one team, likely Gladstone, would get shifted to another district that includes three downstate teams.

After Friday night's games, per MHSAA.com, Gladstone has the most playoff points of all five of those teams with 45.429. Negaunee is undefeated but has 43.524 playoff points, followed by Houghton with 32.238, Menominee with 32.024, and Calumet with 30.143.

Houghton and Negaunee play each other next week. The Gremlins will then take on winless Gwinn to close the season, while the Miners will play 4-3 Westwood.

Calumet finishes with games against Hancock (1-6) and L'Anse (3-4).

Gladstone travels to Gaylord to face the Division Three Blue Devils (4-2) next Friday night, and then the Braves host Division Four Escanaba (1-5) to close the regular season.