Braves Win With Five Potier TD, Five Interceptions

Click the thumbnails to see photos and video highlights, and to hear post-game comments from Austin Solis and Kaden Gibbs. Also listen to player spotlight interviews from Andrew Sargent and Sawyer Lynch.

ST. IGNACE---Cole Potier scored five touchdowns and had a combined 287 yards rushing and receiving as the Gladstone Braves pulled away from the St. Ignace Saints, 40-0, Friday night in St. Ignace. The Braves intercepted five passes, three of them by Austin Solis.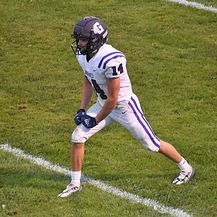 It was a match-up of two 3-0 state-ranked teams, but the Braves dominated, especially in the second half when they physically punished the Saints players after a sluggish first half.

"I give credit to the players," Braves Coach Craig Ness said. "They put it all together and we went to the next level. This St. Ignace team is a good team. To be able to physically handle them up front the way that we did, I'm very impressed with our team."

The Braves overcame multiple penalities that called back a touchdown and several long offensive games. Gladstone was called for 125 yards in penalties: three holding penalties, and four personal foul penalties for "late hits" along the sidelines. They were also called for a roughing the kicker penalty for another 15 yards, a 15-yard personal foul facemask penalty, and one false start penalty.

The Saints, by contrast, were flagged just twice: once for holiding, and once for off-sides.

Ness told his players to not get frusterated by that, and to keep their composure.


"We told them that they've got to play between the lines," Ness said. "That's what they did. You know, refereeing is not an easy job. I understand that. But the kids played above and beyond that tonight, and I'll leave it at that,"

Potier completely dominated the game as he literally carried guys and ran over others in scoring his touchdowns on runs of 5, 60, 25, 9, and 18 yards. He rushed for 210 yards altogether, and had 77 receiving yards on two short passes that he turned into long gains of 49 and 28 yards. That's a total of 287 yards of total offense.

"He was a man amongst boys," Ness said. "Honestly, you can't say enough about him. It goes all back to the work he put in this off-season. He comes to practice, and he's one of the stars of the team, but he's also one of the hardest workers. He thanked his offensive linemen. After running for all that. He gave credit where credit was do. The offensive line was fantastic in the second half (when the Braves scored 26 of their 40 points)."

Austin Solis had a fourth down touchdown run to go along with his three interceptions on defense as Gladstone, ranked No. 1 in the Upper Peninsula and No. 5 in the state in Division Six, improved to 4-0 on the season.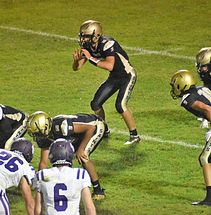 "We knew we had to shut down their counter, and their jet sweep, because that was their main plays that we watched on film," Solis said. "When we do that, they had to throw the ball. And when they threw the ball, they threw picks."

"On fim, the coaches prepared us well for it, they were running a boot pass, with the tight end coming across the middle, and I read it every time. I just locked eyes with the quarterback and knew where he was throwing it. So, I jumped the route and intercepted it."

Besides the penalties, the Braves also had to play above the unsual rough exchanges between center Sawyer Lynch and quarterback Nate Young.

There were several botched and fumbled snaps that set the Braves into long down-and-distance situations, although Young was able to get the ball back every time with no turnovers on those ground mistakes.

"They're both perfectionists," Ness said. "I know Sawyer will be practicing snaps tonight (when the team gets home), honestly. We'll get there."

The Saints, ranked No. 5 in the Upper Peninsula and No. 10 in the state in Division Eight, fell to 3-1 on the season. They put together a nice seven-minute-long drive in the first quarter after the Braves took a 6-0 lead, converting a third down ona 24-yard pass from Ethan McLean to Owen Lester, and a 12-yard run on fourth down by Kordell Kills Crow.


But that drive died on a 4th-and-goal incompletion from the Braves six yard-line.

The Saints got the ball back when Young heaved up a pass on 3rd-and-27 that was intercepted by Lester at the Braves 39 yard-line. But one first down later, Elliot Vitito intercepted a pass on 2nd and 14, and then Potier broke off a 60-yard touchdown run to make it 12-0.

Young found Kaden Gibbs in the back of the end zone for the two-point pass, making it 14-0.

The teams traded interceptions to end the first half, with Solis getting the first of his three picks, and Tyrel Matson getting one in the final minute of the half.

Solis got his second pick of the game on the first possession of the third quarter, and Potier pounded his way into the end zone for a 25-yard touchdown run to make it 20-0.

After a short punt against the wind, the Braves scored again on three straight runs of 16. 14, and nine yards by Potier, as he bullied his way into the end zone to make it 26-0. Potier pushed his way into the end zone for the two-point conversion run, and it was 28-0.

Saints quarterback Ethan McLean was hassled all night (as was Lester occassionally) with Potier and Vinny Howes each recording sacks. Quinn Brown had a leaping catch for a 15-yard first down reception for the Saints in the third quarter, but that drive ended on Solis' third interception of the evening. Potier scored nine plays later on a 18-yard run.

Braden Sundquist picked off a desperation 3rd-and-17 pass for the Braves in the fourth quarter, and after Johnny Soderman had a nifty 24-yard run into the red zone on a 3rd-and-12 play, Solis broke his way into the end zone for a 12-yard touchdown to close the scoring.

Gladstone will have another road game next week in Marquette, a Great Northern Conference matchup against the Redmen (1-3). Marquette lost in Kingsford Friday night, 28-14.

If Gladstone wins next week, the Braves would clinch a share of the GNC championship.

GNC FOOTBALL STANDINGS
Gladstone 2-0 (4-0 overall)
Menominee 1-1 (2-2 overall)
Kingsford 1-1 (2-2 overall)
Marquette 0-1 (1-3 overall)
Escanaba 0-1 (1-3 overall)