CONFERENCE CHAMPS! Braves Batter Marquette

Click the thumbnails to see photos taken by Brad Landis, video clips, and hear post-game comments with Coach Craig Ness, quarterback Nate Young, and receiver Tyler Darmogray. Also player spotlight interview with Nate Dale.

MARQUETTE---Nate Young threw five touchdown passes and the Gladstone Braves physically dominated the Marquette Redmen, 48-21, Friday night, to clinch the Great Northern Conference championship. More importantly, the Braves improved to 5-0 on the season and captured valuable playoff points by beating a team three classes above them by enrollment.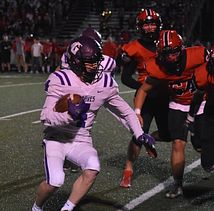 "I told them three letters after the game: GNC," Gladstone Head Coach Craig Ness said. "Can't take it away from them now. They're GNC champs. It's a team effort. Every kid comes to practice and it's been great. At halftime. we said, everyone knows Nate, everyone knows Putch, but the kids who aren't as well known, they're making huge contributions."

"This moment feels great," senior receiver Tyler Darmogray said. "We just won the GNC for the first time in how long, and it just feels amazing, We're all fast, so we just ran 'go routes' and we burned them every time. We knew they were going to ne decently-tough, but we knew we were stronger and were gonna take the Dub."

"Tonight everyting just came easy for me," Young said. "It was slow, the whole game, and I was getting my reads right. It was awesome. They were packing the box and we spread them out and hit a few deep balls. It feels awesome. I don't even know the last time Gladstone won the GNC. I just really love this team right now."

Marquette sold out defensively to stop Cole Potier from taking over on offemse. But with so many defenders in the box to stop him, there was no pass rush, and Young picked the Redmen apart, Je completed 12-of-13 passes in the first half and five of them went for long touchdowns.

After Marquette (1-4 overall, 0-2 GNC) scored on a 31- yard run by Nate Benninger to give the Redmen a 7-0 lead, the Braves quickly responded with Nate Young finding Tyler Darmogray for a 30-yard touchdown pass.

A pass to Elliot Vitito for two points made it 8-7.

On the next series, the Redmen threw it up for grabs and Young intercepted the pass. Two plays later, Young lofted one into the end zone that Kaden Gibbs caught, outleaping his defender, and Gladstone had a 14-7 lead.


Marquette came right back as Jaxon Jurmu found Peter Closner for a 37-yard touchdown pass, and after the PAT kick, it was 14-14, still in the first quarter.

The Braves got the ball on the kickoff at the 39-yard-line, and Young threw the home run ball to Darmogray (again) for a 61-yard touchdown, making it 20-14.

Austin Solis intercepted a Jurmu pass moments later, and Braves went to the ground, with Potier pounding his way for mosy of the 57 yards on the drive. He scored from 12 yards out, and Potier ran in the two-point conversion to make it 28-14 wit 10:00 left in the half.

The Redmen struggled with penalties when they got the ball back, and when they faced third and 16, quarterack Jack Quinnell ran aloing the sideline and tried to throw for a first down. But Braden Sundquist intercepted the pass, and Potier put a licking on Quinnell that knocked him out of the game.

The Braves drove 45 yards for another touchdown, wih Potier's 28-yard run setting his team up inside the ten yard-line. Young threw the five-yard TD pass to Gibbs, then the two-point pass to Potier gave Gladstone a 36-14 lead.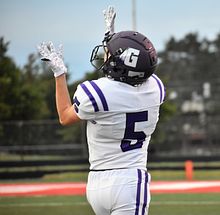 After the Redmen went three-and-out, Gladstone went on a 72-yard drive that included a 33-yard pass to Darmogray into the red zone. Young would find a wide-open Vitito for a 21-yard touchdown pass, and the Braves led, 42-14, at halftime.

Gladstone took nearly seven minutes off the clock in grinding out a 78-yard drive to start the third quarter. Austin Solis went the final 31 yards for the touchdown to make it 48-14.

Marquette scored its third and final touchdown om a 20-yard pass from Jurmu to Wyatt Lekenen, and that's how the game ended with a 48-21 score.

Gladstone ended up with 487 yards of total offense: 237 in the air and 250 on the ground. Potier ad 21 carries for 142 yards, while Young rushed for 32 yards and Solis had 47.

The Braves did not turn the ball over. Mzarquette had three intrerceptions.

Gladstone will be on the road for a fourth straigjht week next Friday to face the Durand Roadrunners, who, like the Braves, are 5-0. That game will be played in Gaylord.

"I think it was Eli (Berthaume) who said, we got to get to work (on Durand) and I said, no, you enjoy Saturday and Sunday," Ness said. "Come Monday, we'll get back to work. I've got a smile on my face. I'm pretty damn happy."