Frossard Helps JV Braves Roll Past Maroons, 56-6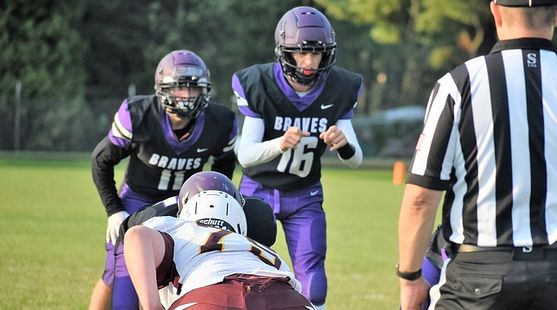 Click the thumbnails to see photos and video highlights

GLADSTONE---The Upper Peninsula football weekend got underway with junior varsity games Thursday night, and the Gladstone Braves used a potent aerial attack to win their home opener.

Gavin Frossard threw two touchdown passes and completed another long aerial just inches from the goal line as the Gladstone High School junior varsity team rolled past the Menominee Maroons, 56-6, Thursday night at the Marble Athletic Field.

Frosard completed two touchdown passes to Nehemiah Blair, one for 19 yards in the back of the end zone for the game's first score, and another down the sideline in front of the Braves bench for a 61-yard touchdown pass in the second quarter.

Frossard also found tight end Evan Johnson for a 40-yard strike down the middle of the field inside the one yard-line, after Johnson reached way up to catch the pass. Owen Gereau and Adam Belanger had short touchdown runs as Gladstone built a 28-0 lead at halftime.

Isaac Ketchum had a 51-yard run in the second quarter as the JV Braves earned their first home win of the season after road games in Calumet and Kingsford. The Braves are now 2-1.