Braves Dominate Copper Kings In Season-Opener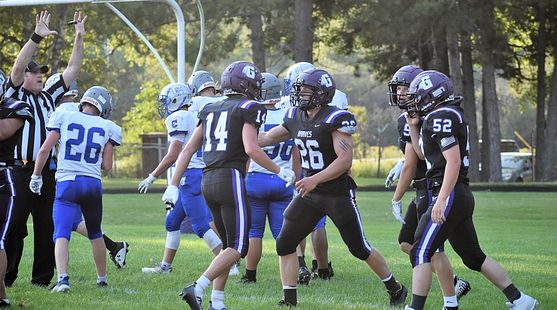 Click the thumbnails for photos and videos taken by Brad Landis. Also interviews with seniors Ethan Jensen, Cole Potier, and Tyler Darmogray, as well as Coach Craig Ness. Also listen to Nate Young's player spotlight interview.

GLADSTONE---Nate Young threw three touchdown passes and ran in another as the Gladstone High School football team rolled past the Calumet Copper Kings, 42-13, in varsity football Friday night in Gladstone.

It was a battle of first-year head coaches, with Craig Ness now running the show in Gladstone and Josh Frantti taking over for the legendary John Croze in Calumet.


Unlike last year's game, which Gladstone pulled out in a driving rainstorm on the artificial turf at Aggasiz Field, this one was played under sunny skies in Gladstone. And the game had the suspence taken out of it early as the Braves dominated all phases of the game against a Copper Kings team that had the majority of its skilled players graduate last spring.

The Braves led from start to finish, getting the season off to an optimistic start.

"It's great to come out here, play against a good team, get a good blowout win, and show everyone what we're made of," Gladstone senior lineman Ethan Jensen said. "A lot of the younger guys hace stepped up and filled those shoes (of graduated All-U.P. linemen Hunter Potier and Brett Boudreau), and our front is still really good and we were able to shut down that run."

"It feels so good. Starting off the season, senior season, to really show the fan base that we're here to stay, and that we plan on making it to more than just the first round of the playoffs this year."

"All in all, the coaches had the kids well-prepared, and kids trusted what they taught them," Ness said. "They executed fantastically. As a rookie coach, I made a couple of wrong calls, and he (Young) came back and told me right away. We were able to clean it up, and I only had to call one time out because I called the wrong play."


Indeed, Young was in complete control of the game, showing a confidence that he learned last year when he was forced to take over as quarterback midway through his sophomore year when quarterback Cam Kelly broke his collarbone in a game against Escanaba.

"Cam was a great mentor after he went down in that Esky game," Young said. "I remember just being so scared, but it all worked out I guess. That was not the ideal situation. But I've been getting a lot more comfortable in practice, too, and each day, I feel like I'm getting better. You can always improve."

Gladstone senior Cole Potier set the tone early by kicking the ball out of the end zone to start the game, and then getting a huge ten-yard sack on the first defensive series, knocking the ball free in the process. The Copper Kings recovered the fumble, but ended up having to punt from the end zone, setting the Braves up at the Copper Kings 29 yard-line.

With the short field on offense, the Braves got a 16-yard run from Young to the one yard line and Potier scored the season's first touchdown two plays later. Young's pass to Eli Berthaume for the two-point conversion made it 8-0 Braves.

"I was a little excited," Potier said. "Everybody doubted us, and we had to show them who's boss. We've got to get better on blocking, that's about it on offense. But our defense is good. We're strong. It was awesome. I'm not Little Putch no more. I'm Big Putch!"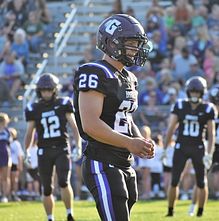 Well, he certainly played like it. Potier was referring to playing behind his older brother last year, who was the U.P. Lineman of the Year.

Ness says Cole Potier has made huge strides since last year.

"Cole has put in a lot of time," Ness said. "If anyone can see the size he's put on, you can tell that he's really prepared for this season."

The Gladstone defense forced another three-and-out, and the punt put the Braves on their own 30 yard-line. On 3rd-and-9 from the 44 yard-line, Young evaded the rush, ran backwards, then set up along the sidelines for a long bomb that Tyler Darmogray caught for a 56-yard touchdown. It was easily the Play of the Game for the Braves, and after Potier rammed in the two-point conversion run, Gladstone had a 16-0 lead.

The Copper Kings managed two first downs on offense, but turned it over on downs. The Braves started on their own 37-yard-line, and it took only four plays to score. Potier ripped off an eleven-yard run, Young passed 14 yards to Elliot Vitito, and then Young sprinted around the right side for a 35-yard touchdown run that out Gladstone in front, 22-0.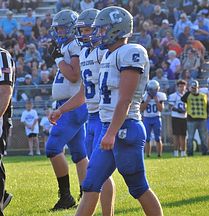 Calumet used a little trickery to get on the board late in the second quarter, as Aksel Loukus (Calumet's All-State hockey goaltender) took a pitch from the quarterback and threw a long pass on the halfback option to a wide-open Amar Patterson. It was a 40-yard touchdown pass that gave the Copper Kings some life, trailing 22-6, with 1:38 left in the half.

But those 98 seconds were plenty for the Young and the Gladstone offense. The Braves O-Line gave Young plenty of time to throw all night, and he found Darmogray again for a 38-yard touchown pass with 40 seconds left to put Gladstone ahead, 28-6, at halftime.

"I was just going deep on those two routes," Darmogray said. "They were both go's, and the cornerback was not trailing me at all, so I burned past him right away. And Nate just chucked the ball to me, and I just went. I felt good. I felt ready to play tonight. This shows that we're pretty strong coming out of the gate right away, and that we're all fast, strong, and good competitors."

And the Braves took the second half kickoff down the field for their fifth straight touchdown, a 53-yard drive that was capped by Young's third TD pass of the game, this time a 23-yarder to Vitito. Another Potier two-point run gave Gladstone a 36-6 lead with 8:12 left in the third quarter.


Both teams substituted freely from there. Calumet put together a nice 83-yard, eleven-play, drive that was capped by a one-yard touchdown run by Alan Bjorn. But Gladstone answered that with a late 57-yard touchdown run by back-up Austin Solis to close the scoring.

Statistically, Gladstone had 358 yards of total offense, with Young completing 8-of-11 passes for 169 yards and three touchdowns. Young also had 85 yards rushing on seven carries, giving him 254 offensive yards. Potier had 35 yards on nine carries and one touchdown.

Calumet had 203 yards of total offense. Quaerterback Hans Killunen had 37 net yards (after subracting negative plays) on 15 touches. Loukus had 27 yards on seven carries, and Bjorn had 24 yards on eight carries. Kiilunen completed 3-of-12 passes for 45 yards, plus the 40-yard touchdown pass that Loukas threw.

There were no turnovers in the game by either team.

Gladstone returns to action next Thursday night with a home game against Great Northern Conference foe Kingsford. The Flivvers won their opener Friday night against Green Bay East, 56-0, at Flivver Field.