RIVALRY DOMINANCE: Gladstone Crushes Esky

Click the thumbnails to see photos and videos taken by Brad Landis. Also hear post-game comments from Cole Potier, Andrew Sargent and Braves Coach Craig Ness. Also hear olayer spotlight interviews from Kaden Gibbs, Josh Racine, and Escanaba's Kaiden Brown, along with Eskymo Coach Bailey Lamb.

GLADSTONE---The Gladstone High School football team bolted to a 26-0 lead and rolled past the Escanaba Eskynos, 47-13, in front of a standing room only crowd Friday night at the Marble Athletic Field.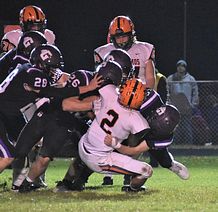 The Eskymos brought plenty of fans for a defacto home game, the first game in Delta County for Escanaba since mid-September after playing all of their games on the road.

But the Orange and Black fans had little to cheer about as Cole Potier shreeded the Eskymo defense for 238 yards rushing and the Braves defense completely shut down the Escanaba running game.

Gladstone ended up with 445 yards of total offense to just 221 for Escanaba, and the Braves completed their first-ever sweep of the Great Northern Conference teams, finising 4-0 in a league that they managed only one win in last fall. The Braves also solidified their playoff position for the Division Six playoffs, now with plenty of playoff points to host the first three rounds of the MHSAA tournament, assuming, of course, the Braves keep winning.

The MHSAA will announce the 32 team field for Division Six, as well as all 256 eleven-man teams in the field, Sunday evening. For now, though, it as a time for Gladstone to celebrate, after beating their arch-rivals for a second straight year. Gladstone had lost to Escanaba ten straight years before last year's 30-15 win in Escanaba.

"We wanted to get a fast start, and we wanted to be very, very physical," Gladstone Coach Craig Ness said. "Just a shout out to our offensive line. They just played their hearts out. I had a youing sophomore up, Aaron (Hughes) and he blocked his butt off. Just a great feeling right now."


As much as Potier dominated this game, it was also the Braves defense that was equally outstanding. The Braves intercepted three passes, two of them by Braden Sundquist, and the other an electryfying 84-yard pick-six touchdown by senior Andrew Sargent.

"I couldn't believe it," Sargent said. "It was perfect timing. I ball-hawked it. Coach wrote up some changes at halftime and it just all worked out. It was sweet! Just a great win and I'm happy that we won. It was all effort and heart tonight. We trust our coaches and they trust us. And we got the win!"

The Braves defense hounded Escanaba running back Ben Johnson, who had 205 yards rushing last week in an Eskymo win at Alpena. This time, Johnson had only eleven yards rushing on 13 carries, and he was tackled in the end zone for a safety in the first quarter for Gladstone's first points of the night.

Escanaba literally could not run the ball, with only three more guys getting one carry apiece. That meant quarterback Casey Bray had to air it out, and he did, 42 times. He completed 25 of those passes for 235 yards and two touchdowns, and those two touchdowns allowed Bray to set an Eskymo school record for touchdown passes in a season. Bray ended up one TD pass short of a school record for career touchdown passes.

Bray also threw three interceptions, though, and Johnson was stripped and fumbled the football in the first half, along with being tackled in the end zone for that safety.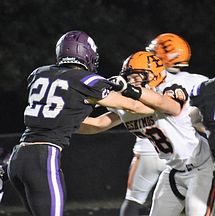 Offensively, for the Braves, it was all about "Big Putch".

He carried the ball six straight times on the opening possession, and rolled up 50 yards, but on his seventh carry, he fumbled the ball in the red zone, giving Escanaba an opportunity. But two plays later, Kaden Gibbs tackled Johnson in the end zone for that safety, and then after the free kick, the Braves got the ball at the Escanaba 36-yard line. Two plays later, Potier was in the end zone for the touchdown.

Potier also ran in the two-point conversion, making it a 10-0 Gladstone lead.

Potier was nearly unstoppable all night long, with 27 carries and 238 yards, giving him 1,141 rushing yards for the season.

"It's awesome," Potier said. "I worked, basically all season for this. It's a goal (1,000 yards) I wanted to accomplish, so, I got it! I've got to thank my offensive linemen. They did very good today."

Indeed they did. After Johnson was stripped of the ball at the Eskymo 26 yard-line, it took five plays for the Braves to score on a one-yard run on fourth down by quaretrback Nate Young (after he fumbled the snap). His two-point pass to Tyler Darmogray made it 18-0.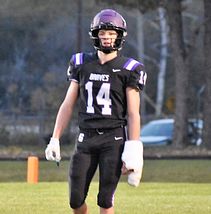 The Braves continued rolling later in the first quarter as they took an 26-0 lead on a beautifully-thrown Young 25-yard touchdown pass to a wide-open Darmogray up the middle of the field. Then, on the two-point play, Young did his typical "keep the play alive" scramble before finding Nate Dale in the end zone for two points.

Escanaba, though, to its credit, did not just roll over. Bray, using multiple dump-off passes in the flats, was able to engineer an 80-yard, 13 play drive, capped by a nine-yard touchdown pass to Johnson with Julian Cashen's PAT kick making it a 26-7 game.

Both teams ended the first half with turnovers, as Trent Lawson dove to intercept a Young pass in the end zone with ten seconds left in the half, but Sundquist returned the favor with a pick of his own as the first half clock ran out.

In the third quarter, Escanaba had another chance when a bad exchange between Young and Potier resulted in a fumble at the Braves 20 yard-line. But on the next play, Bray telegraphed a dump-off pass and Sargent pick it off, and took it to the house for the dagger, 84 yards, making it a 34-7 Gladstone lead.


And then after a Escanaba punt, Austin Solis broke off a 45-yard touchdown run just 93 seconds later. Then Darmogray waas granted his wish: let me kick an extra point, coach! He did, booting it through the uprights and knocking some golden leaves off that famous tree in the north end zone, the first extra point kick for the Braves this year, and a 41-7 lead.

Potier wrapped up the scoring for Gladstone with a five-yard touchdown run, putting the mercy rule in effect at 47-7. Bray tossed a 12-yard touchdown pass to Lawson with 2:38 left in the game for Escanaba's final score.

"Credit to the boys for sticking with the year that hasn't really gone the way they wanted it to," Escanaba Head Coach Bailey Lamb said before the game. "Football is a long season, with a lot of bumps and bruises, and it's especially hard when you're not winning. Just the never-quit attitude that the kids have had all year has been awesome to see. That's just going to snowball for the future. I'm really proud of the kids for sticking with it."

Escanaba finished its season with a 2-7 record, having played only three home games against six road games. Escanaba went 1-8 last year, and played only three games in 2020 due to coronavirus lockdowns.

For Gladstone, the dream continues. It was a 7-2 record, with both losses coming to teams that finished 9-0. Only two wins came against teams with losing records (Marquette and Escanaba) and both of those teams are bigger than Gladstone, which brought playoff points.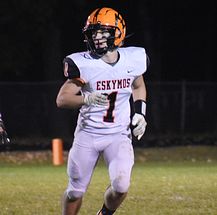 Gladstone will enter the state playoffs with more points than both teams they lost to (Negaunee and Durand) and are guaranteed to play three playoff games at home (if they win, of course).

"After the Negaunee game (a 24-6 loss) we told them, as bad as they felt, they still controlled everything," Ness said. "It was in the palm of their hands what they wanted to do. They came out against a Gaylord team that was 5-2 and we dominated the game, I thought. And then we had a good effort here tonight. This group of seniors, when theuy were freshmen, they only won one game. For them seniors to stick it out, we played tonight for them guys."

"It's gonna be sweet," Potier said. "We're just going to keep grinding, trying our best in practice, and see what we can do."

"It was great to see the stands full, and hopefully, we can do this again for the next three weeks," Ness said.