CLUTCH FINISH: Braves Outlast Blue Devils, 22-14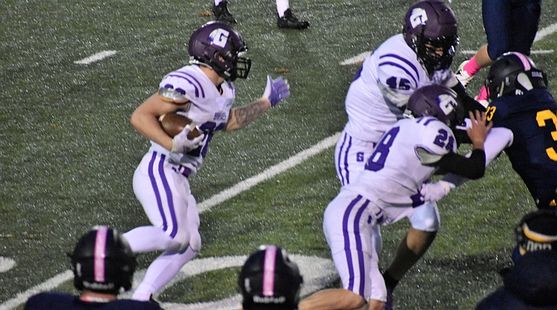 Click the thumbnails to see photos and videos, and hear post-game comments from Coach Craig Ness. Also click the AUDIO buttons to listen to player spotlight interviews with Frank Carlson and Austin Solis.

GAYLORD---The Gladstone High School football team pulled out a 22-14 road win over the Gaylord Blue Devils Friday night, as Nate Young scored the go-ahead touchdown in the fourth quarter and Vinny Howes made two clutch defensive plays down the stretch.

It was Gladstone's second trip to Gaylord in three weeks, having lost to undeated Durand in the previous trip. But the Braves made the plays they needed this time to improve to 6-2 and all but clinch home field throughout at least the first two rounds of the Division Six state playoffs.


And while Gladstone finished stromg against Gaylord, they also started strong, avoiding poor starts the Braves had in earlier losses to Durand and Negaunee.

Gladstone took an 8-0 kead on the final play of the first quarter, completing a 92-yard, 12-play drive, as Young found Kaden Gibbs in the end zone for a three-yard touchdown pass on third down. It was the same end zone wheee Gibbs, playing with a club on one of his hands, made two fantastic touchdown catches two weeks ago in the 28-24 loss to Durand.

Cole Potier's two-point conversuion run made it 8-0.

Gaylord took advantage of great field position to score on a 54-yard, four-play drive, as quarterback Caleb Aungst feathered in a nice ball to tight end Brady Pretzlaff for a 14-yard touchdown on 3rd-and-10. But Tyler Darmogray blocked the Blue Devil extra point kick, keeping Gladstone in front, 8-6.

The Braves had a bad snap later in the quarter that Young fumbled, and the Blue Devils drove to the Braves 15 yard-line in the final minute of the half. But Potier stripped Aungst of the ball with an all-out rush on 3rd-and-14, and Austin Solis recovered the fumble.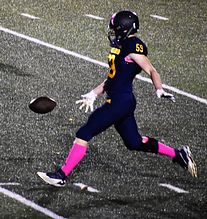 It stayed 8-6 into the second half when the Braves finally got good field position after Gibbs sacked Aungst for a ten-yard loss. When the Braves got the ball, Potier busted free for a 31-yard touchdown, and although the two-point play failed, Gladstone led, 14-6.

Gaylord (5-3) responded, though, getting the ball at the 45-yard line on another squiv kick that didn't work. Ty Bensinger scored the 20-yard touchdown run with seven seconds left in the third quarter, and the two-point pass to Pretzlaff tied the game at 14.

Gladstone (6-2) replied with an impressive 73-yard drive that included a key 3rd-and-11 pass completion to Darmogray at the Blue Devil 14 yard-line. A roughing the passer penalty moved the ball to the 7, and one play later, Young sprinted to the left corner of the end zone for the touchdown that put the Braves ahead, 20-14, with 7:22 left in the fourth quarter.

The Braves then pulled a rabbit out of the hat to make the two-point conversion. In a play that they only drew up at Thursday's practice, Young tossed it to Potier, who gave it to Darmogray, who threw it back to Young at the goal line for a big two points, making it 22-14.

But the Gladstone defense would have to make two huge stops in the final minutes, and it was their emotional leader, captain Vinny Howes, who delivered.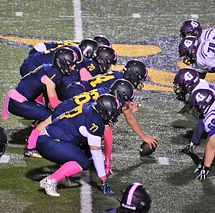 Potier came on to kick and booted one out of the end zone, a rarity for the Gladstone defense to have field position to work with. But the Blue Devils moved it down field from their own 20 to the Gladstone 27, with Aunst getting Bensinger for a 30-yard pass on 3rd-and-9.

But on 1st-and-10 at the Gladstone 19, Howes got his hand on a pass and deflected it to fellow senior Braden Sundquist, who secured the interception at the 15 yard-line.

Gladstone went three-and-out on offenee as Gaylord burned its three time outs, and the Johnny Soderman punt on this artificial turf bounced to midfield.

Aungst hooked up with Pretzlaff for a 13-yard pass to the Braves 36 yard-line with 48 seconds to play. But that's when Howes came through again, grabbing the game-clinching interception right in front of the Gaylord bench. Two kneel downs for the Braves offense followed (with Howes filling in at center after Sawyer Lynch left with a bloody forehead).

Potier had 96 yards on 24 carries, and now has 903 yards rushing and 13 touchdowns for the season. Young completed 8-of-13 passes for 111 yards and a touchdown, and he scored a rushing touchdown. Darmogray had three catches for 41 yards, all in the second half, while Gibbs grabbed three passes for 30 yards. Solis had the other two catches.


For Gaylord, Aungst completed 5-of-11 passes for 74 yards, one touchdown, and those two big interceptions. He also fumbled once. Russel Hush carried 11 times for 64 yards but was kept out of the end zone, and Bensinger, besides that 20-yard TD run, was held to 24 yards rushing on eleven carries.

Gladstone improved to 6-2 on the season, with five of the wins coming against teams with winning records and the other being a much bigger school (Marquette). That's why the Braves, heading into the final week, have more playoff points than everyone else in both Division Six Districts One and Two, including Negaunee and Boyne City, who are both 8-0.

The Braves close out the regular season at the Marble Athletic Field with the arch-rival Escanaba Eskymos coming to town. The Eskymnos are 2-6, after beating Alpena Friday night, 46-21, and will have nothing to lose next Friday night. It will be the Eskymos' first game in Delta County since Week Four. Game time is 7:00 and there will be fireworks after the game for the first time in Gladstone football history.

FRIDAY'S OTHER HIGHLIGHTS
Kingsford 46, Hopkins 7---Cole Myllyla 141 yards on 13 carries rushing as the Flivvers improved to 6-2 on the season.

Wisconsin Rapids 51, Menominee 44---The Maroons fell to 4-4 despite Trevor Theuerkauf throwing for for five touchdowns and 379 yards of passing. Kaden Calcari had 14 catches for 216 yards and four touchdowns, breaking a Menominee school record.

Bark River-Harris 34, Westwood 6---Vincent Martin had 180 yards rushing and three touchdowns for the Broncos (6-2). Ethan Ives had two long touchdown passes to Jo Javurek.

North Central 68, Norway 8---Luke Gorzinski had 242 yards rushing and four touchdowns for NCA, and he added a passing touchdown as the top-ranked Jets stayed undefeated.