Gladstone Season Ends; Negaunee Advances, 18-12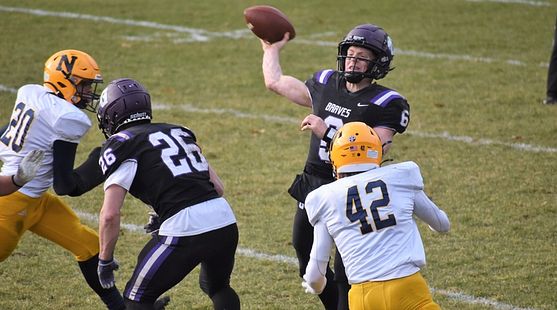 Click the thumbnails to see photos and videos, and to hear post-game comments from Coach Craig Ness and junior receiver Kaden Gibbs. Also click to hear player spotlight interviews with quarterback Nate Young and linebacker Austin Solis. You also listen to a replay of the radio broadcast, broken down into several parts.
GLADSTONE---They gathered underneath that big tree in the north end zone of the Marble Athletic Field for the last time. The Gladstone Braves football players, all exhausted and some shedding tears, went to a knee around their coaching staff, not quite believing that what they've been doing together since August was suddenly over.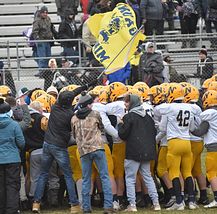 Sixty yards away, the Braves' nemesis, the Negaunee Miners, celebrated with their student section and band, posing for pictures and relishing yet another playoff victory over the Braves.

This one had been much closer than the previous four meetings between these two teams, but the result was painfully the same.
The Miners won the MHSAA Division Six regional championship, 18-12, taking advantage of their opportunities and holding off a Gladstone team that battled to the end.
"It's been a good ride," said Gladstone junior wide receiver Kaden Gibbs. "I will always remember this group, every one of them. I just want to say thank you seniors for everything. I'll never forget this."
"I'm just so damn proud of these guys, every one of them," first-year Braves Head Coach Craig Ness sniffed, holding back as much emotion as possible after a 90-day-long non-stop journey came to an end. "All-out effort. I just can't ask for a better group. The kids kept fighting. Especially Number Six (quarterback Nate Young). He took a lot of hits today. I just love this team."
Indeed, Young was hassled all day long by the blitzing Negaunee defense. He had no time to scramble, no time to throw, no time to think.

He was sacked three times, stuffed a few more times rushing, and yet, he kept getting back up and had the Braves in a position in the second half where they were in striking distance.
And the Gladstone defense did its part for most of the game, as the Miners were unable to ram the ball down their throats as much as they did in the 24-6 Negaunee win in the regular season. But Negaunee is undefeated for a reason, and the Miners were able to beat the "pack-the-box" approach by hitting three big passes and breaking one big run.
Gladstone had the chance to grab the lead in the second quarter when Young drove his team from the 34 yard-line to the Negaunee five yard-line. On first and goal, the Braves tried to pass, and it was nearly intercepted. Then, on second down, Young had literally no time as Nico Lukarrinen rushed in untouched for a sack, setting the Braves back another eight yards.
Two more incomplete passes later, and the Braves had a red zone failure.

"We had a little swing pass there," Ness said. "Two more inches, and it's a touchdown. Just little things like that. We put ourselves in very good chances to make plays, and we just didn't make them today."
But Negaunee did. Quarterback Ty Jacobson engineered an 87-yard drive, hitting his only reliable receiving target, Phillip Nelson, on a 35-yard pass to the Brave 30 yard-line. On the next play, the speedy Kai Lacar got loose for a 30-yard touchdown run.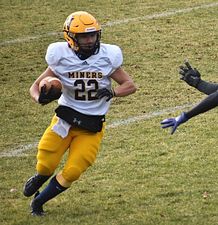 Nelson's extra point kick, much like his winning field goal two years ago against te Braves, had plenty of leg. A 7-0 lead after the Braves were so close to getting the lead themselves.
"Give Negaunee credit," Ness said. "They made the plays. They're big and physical. We went toe-to-toe with them. Our kids got the chance to see and feel what it's like to get to this level. Hopefully, we can make this a tradition."
Young and the Braves didn't fold. The junior quarterback drove his team from the 20-yard line all the way down the field, and into the teeth of a bone-chilling, 25-mile-per-hour wind. He converted a 3rd-and-9 pass for a first down to Elliot Vitito, and converted another 3rd-and-7 with a pass to Gibbs.
On second and ten at the Negaunee 46, Young again found Gibbs, this time, along the sideline, as the senior wide receiver playing with a broken wrist on one hand and a broken pinkie on the other, made a leaping 20-yard catch for a red zone first down.
"It was pretty cool," Gibbs said. "I just went up and got that. I was just like "give me that"!"
On the next play, knowing that a blitz was coming, Young quickly dumped a screen pass to Cole Potier out of the backfield. He caught it at the 30 yard line, broke a tackle, and raced into the end zone for a touchdown with 20 seconds left in the half. The two-point conversion pass, however, didn't work, so the Braves trailed, 7-6, at halftime.
Gladstone got the ball first to start the second half, but couldn't move the ball on either third quarter possession into the wind. The Braves defense, though, forced two punts, and a 22-yard field goal by Nelson with 1:06 left in the third quarter that gave Negaunee a 10-6 lead.
The Braves were still in good shape, with the promise of getting the wind at their backs for the fourth quarter and needing only a touchdown to take the lead. And Young was able to throw an under-the-coverage pass to Vitito for a first down at the 33 yard-line, but on that play, disaster struck as Vitito fumbled the football.
Negaunee recovered and still had the wind at its back for a few seconds. And veteran coach Paul Jacobson took advantage, as Ty Jacobson threw a perfect pass to a streaking Nelson for a 39-yard touchdown. That made it 16-6, and a two-point pass to senior Ryan Reno had the Miners in the lead, 18-6, going to the fourth quarter.
Even with that bad turn of events, Gladstone did not give up. The Braves went on a 64-yard drive, with Young enduring a nine-yard sack by Drake Spickerman to get 13 yards on a quarterback keeper and a big seven-yard pass to Gibbs on 3rd-and-6.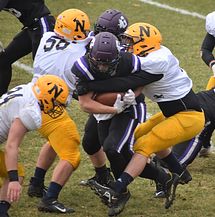 The Braves got a big 16-yard run from Potier to set up at the four yard-line, and two plays later, Gibbs made a leaping grab in the end zone for a Gladstone touchdown, closing the gap to 18-12 with 4:18 left on the clock.
Gibbs, playing with a broken wrist in one hand and a broken pinkie finger on the other, led the Braves with 61 yards receiving on six catches.
"What a special kid," Ness said.
The two-point pass failed again, so the Braves were down, 18-12, with plenty of time left.

Then it was decision time: have Vitio kick it out of the end zone and play defense, or try to get the team's first on-side kick of the year. The decision was to have Potier try an onside, or a bouncing ball past the first line of Miners players, but that ball up the middle that didn't go as far as they had hoped, and Ian Engstrom recovered it."
The Braves were out of time outs, so they needed a defensive stop. They didn't get it, as Lacar and Lukkarinen both broke off first down runs and the Miners ran out the clock to earn their first regional championship since 2002, and a spot in the Division Six state semifinals next Saturday against Reed City in Gaylord.
Lacar led the Miners with 130 yards rushing on 21 carries, and Lukkarinen had 71 yards on 18 touches. The passing game turned out to be deadly, with Jacobson only completing three passes, but at key moments, for 82 yards, all of them to Nelson.
The Miners did not turn the ball over, and outside of one pass interference penalty and a couple of procedure calls, they played a clean game.
Gladstone was led by Potier's 101 yards of yardage (67 rushing and 34 receiving). Besides Gibbs' 61 yards receiving, senior Tyler Darmogray had five catches for 58 yards (including one where he caught it and shoveled it to Gibbs for a key first down).
Young completed 14-of-32 passes for 168 yards, and despite being under constant duress, he did not turn the ball over the entire game.
"He was a warrior," Ness said. "An absolute warrior. I can't say enough about him. I thought we had our protection a little better. But I just love this team."
Gladstone finishes its best season in 15 years with a 9-3 record, a district championship, Great Northern Conference championship, and a spot in the final eight in the state.