Eskymo Hockey Rolls Over Jeffers On Senior Night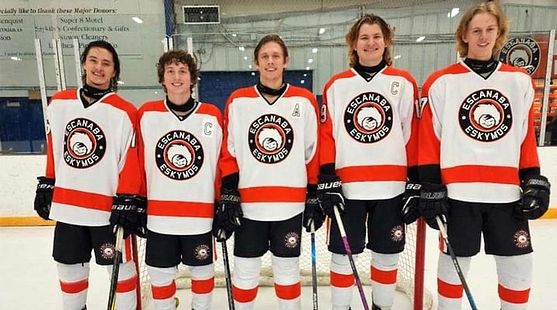 WELLS---The Escanaba High School hockey team bounced back from Tuesday night's rough performance against Marquette by rolling past the Painesdale-Jeffers Jets, 9-4, Friday night at the Wells Sports Complex.

The game was played on Eskymo Senior Night, as they honored Gunner Bourdeau, Sawyer LaMarch, Brayden Martineau, Cody Nelson, and Trevor Streichert in the usual pre-game ceremomy. It also happened against a weary Jeffers team, which was playing its third game in four nights, after upsetting Calumet Tuesday (2-1) and losing to Hancock (3-1) on Thursday.

The game was close after the first period, with a 1-1 score on the scoreboard, as LaMarch scored at the 9:10 mark for Escanaba, but Kailob Bianco evened it for Jeffers just over a minute later.

It was still a 1-1 tie nearing the midway part of the second period before the Eskymos grabbed the lead on a Martineau goal, with LaMarch assisting, at the 6:02 mark.

Escanaba then scored two goals 17 seconds apart late in the second period, with Martineau getting his second at 15:32, and LaMarch getting his second goal at 15:49.

The quick strike offense of the Eskymos, which scored three second period goals Tuesday against Marquette, blew the game open with three more early third period goals this time.

And it was that second line, the "kid line", which came through, with freshman Graham Johnson scoring his first career Eskymo goal at the 2:02, and then, just six seconds later, it was Johnson who won the ensuing center ice faceoff, skated in, and scored his second goal in record time.

When Cale Carter put one home at the 3:39 mark, Escanaba led, 7-1, and the rout was on.

The Jets got a goal from Benton Rajala at the 6:55 mark, but Carter got that one back with his second goal of the game with 8:15 to play in the third period, making it an 8-2 game. It was the second straight game with two goals for Carter, who also did it against Marquette on Tuesday.

Jeffers got late goals from Trayton Helminen and Kellen Koskinen, before Martineau completed his Eskymo Senior Night hat trick with his third goal woth 2:23 left to play.

Besides his two goals, LaMarch added two assists. Bourdeau, another captain, contributed two assists at the blue line. Isaiah Boyce, the only Gladstone High School student on this year's Eskymo team, added two assists for his first two points.

Nelson and Brett Labre were also credited with Escanaba assists. Jeffers had two assists from Cody Turner.

Jeffers goaltender Mathias Anderson stopped 33 shots as the Eskymos outshot the Jets, 42-27. Escanaba goaltender Cully Hayes was credited with 23 saves on those 27 shots.

Escanaba improved to 2-2-0 on the season, while Jeffers fell to 3-2-0.

Escanaba will be on the road Tuesday night to face the Negaunee Miners, before returning home next Friday to take on Rochester United. Both games will be broadcast on FM-93.5 and AM-600, and on-line at www.rrnsports.com.