LONG TIME COMING: Esky Hockey Wins Regional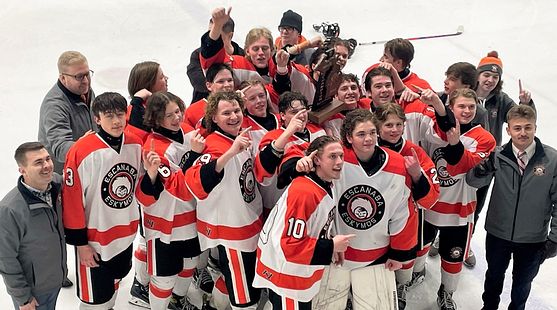 Click the thumbnails to see photos and videos taken by Lizzy Taylor. Also click the AUDIO buttons to hear post-game comments from Brett Labre, Cully Hayes, and Graham Johson, as well as Coach Andy Johnson.

Also click to hear radio highlights from the game, and player spotlight interviews with seniors Cody Nelson and Brayden Martineau.

ESCANABA---The Escanaba High School hockey team won its first MHSAA regional championship since 2015, and just the second in school history, beating the Sault Ste. Marie Blue Devils, 4-3, Wednesday, before a standing-room-only crowd at the Wells Sports Complex.

Escanaba fell behind in the first period, 2-0, but managed to come from behind to win the regional trophy and earn a spot in the state quarterfinals on Saturday against Houghton.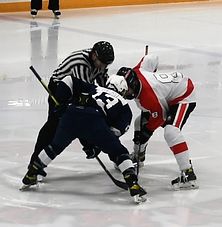 "I thought, in the first period, we weren't playing well, positionally," Escanaba Coach Andy Johnson said. "In the offensive zone, we weren't keeping guys F-3 high. We talked about it (between periods) and in the second, we came out playing a little better positionally, and it showed."

"This feels amaazing," said Johnson's son, freshman Graham Johnson, who scored two of the four Eskymo goals. "I mean, freshman year. Regional champs! Every line was battling. Everyone knew the situation. I mean, eight years since we won it, only one it once in history. It took never giving up, pumping tires, hard work, and just every little thing, too."

"It was super-exciting," Hayes said. "It was a little scary getting down two, but we came back and got the win and that's what matters. They like to get the puck behind the net and try to find the guy back-door, so I was looking for that the whole game. I learned from the last game (ten days ago, an overtime Eskymo win) and did what I can to make more saves this game."

The game's #1 star, junior defenseman-converted-centerman Brett Labre, fought off fatigue to have one of his best games in an Eskymno uniform. He scored a goal on a breakaway and made a strong neutral zone play to set up Johnson with a big third period goal.

"Towards the end of the season, I usually get tired, but I just wanted this one really bad," Labre said. "I got it done. I played pretty well today. I started out a little rough, but once I got the legs going, I was going. It means a lot to me. My brother (Luke) never got one, and it just feels great for me."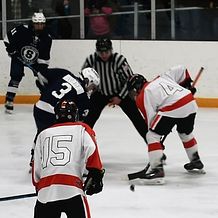 The Eskymos had dropped behind by 2-0 when the Blue Devils got a power play goal from Garrett Gorsuch at the 12:30 mark, and an even strength goal from Randen Blair 59 seconds later. But another freshman, goaltender Cully Hayes, who has literally played every minute of the Eskymo season, held strong in net from there. He made 30 saves.

Escanaba got some life before the end of the first period, though, when captain Sawyer LaMarch scored a short-side goal past Soo goalie Triston Forgrave with 49 seconds left in the period. That brought Esky to within 2-1, despite being outshot, 12-6, in the first period.

The Eskymos came out firing to start the second period. Graham Johnson scored off a Trevor Streichert face-off win to tie the game just 56 seconds into the period, and then only 27 seconds after that goal, the Eskymos scored again on a breakaway by Labre.

"Graham shot it off the D man and it kicked off his skate," Labre said. "So, I had a breakway and I shot, low-blocker, and it went in."

It stayed 3-2 through all of the second period, and into the third, when the Eskymos ran into trouble clearing their zone and gave up Blair's second goal of the game at the 3:11 mark of the third period. That tied the game at 3-3, but Escanaba was able to regain the lead only 46 seconds later, off a huge play by Labre in the neutral zone.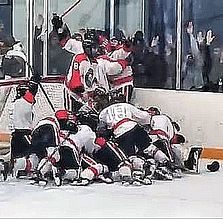 Labre went in with Johnson on a 2-on-1, passed it over, and Johnson scored what turned out to be the game-winning goal with 12:53 left in the third period.

"I poke-checked it from their D," Labre said. "Then, I ad patience and I slid it across to Graham and he one-timed it for a goal. He was calling for it, so I sent the pass."

The Eskymos still had a lot of time to kill, however. They were able to stay out of the penalty box (both teams had only two power plays) and it came down to the final minute when the Blue Devils pulled their goalie to bring ojn the extra attacker.

The final 25 seconds of the game were spent in the left-wing corner of the Escanaba zone with the five Eskymo skaters tying the puck up along the boards. The Blue Devils never got a potential game-tying shot off, and the Eskymos celebrated their biggest win since Levi Wunder and the boys went to the state semifinals back in 2015.

"I don't think I took a deep breath that whole third period," Coach Johnson said adding that he did not want another overtime game with the Soo. "I just kept thinking 'we have to finish this one in 51 minutes'. And we did. We played an awesome two periods after we hung around in the first."

Escanaba improved to 20-7-0 on the season. The Soo finished its season at 20-7-0.


Now, this group of Eskymos with five seniors but even more freshmen, are one win away from matching the greatest team in Escanaba hockey history.

But to get back to the state's Final Four, the Eskymos will have to pull a major upset on Saturday in the state quarterfinals against the Houghton Gremlins, who have been the state's top team all season and have a 25-2-0 record. The Gremlins mercied the Eskymos, 8-0, in the season opener back in mid-November at Dee Stadium.

"We're going to have to play solid defensively, and everybody's going to have to have their best game," Coach Johnson said, "Hopefully, we catch them on an off-night. They're just so good. We'll see. We'll enjoy this (regional title), and then we'll go to work tomorrow."

"They're a really good team," Hayes said. "We're gonna have to step it up a lot from the last time we played them. We've played a fill season more since we played them. I think if we play as hard as we can, we can keep it close, and maybe bring home another win."

Saturday's quarterfinal game will be played at Marquette's Lakeview Arena at 1:00. It will br broadcast live on WCHT-FM/AM (93.5/600) and on-line at www.rrnsports.com.