OVERTIME THRILLER: Esky Rallies To Beat Sault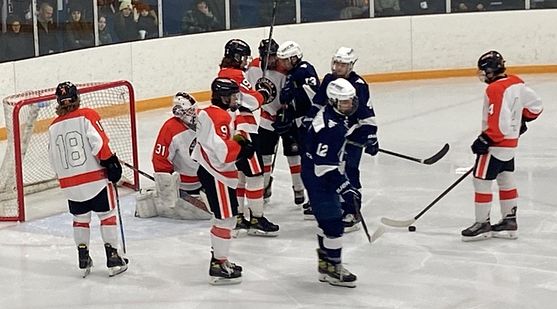 Click the thumbnails to see photos and videos taken by Liz Taylor, and to hear post-game comments from Johnson and LaMarch.

ESCANABA---The Escanaba High School hockey team picked up a huge victory in their final regular season home game Friday night, coming from behind to beat the Sault Ste. Marie Blue Devils, 4-3, in overtime.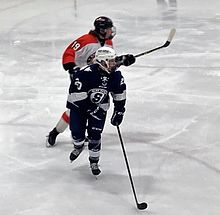 Sawyer LaMarch scored the game-winning goal after skating in on a 2-on-1 with his cousin, Brayden Martineau. The Eskymos had forced overtime with a shorthanded goal by freshman Nolan Bink in the third period.
"I thought we played one of our best games of the season tonight," Escanaba Coach Andy Johnson said. "Once we got pucks deep in the offensive zone, our players really worked hard and got shots on net, and were really creative in trying to get shots on net."
"Hard-fought W today," LaMarch said after having a hand in all four goals (two goals, two assists). "They played solid, their goalie played solid. We played a heck of a game, too."
LaMarch's game-winner came after the Eskymos had failed to score on a five-minute major penalty that covered the final minutes of the third period and the start of the overtime period. And it was Martineau, in his first game back from a knee injury that looked to be season-ending, who was in on the winning play with his cousin.
"Me and (Gunner) Bourdeau came up with a plan off the face-off and executed it," LaMarch said. "2-on-1 with Martineau, and the defenseman decided to take him, so I decided to shoot, and, yeah, went low-blocker."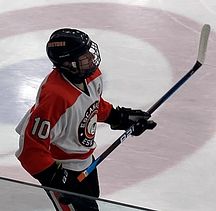 "I was feeling great, like I could run through a brick wall," Martineau said. "I knew it wasn't going to be an easy game. Very proud of this team as we fought from behind all game."
Indeed, they did. The Blue Devils took a 2-0 lead on goals by George Baumann in the first period and Josh Lumsden in the second period. But Martineau got the team on the scoreboard just two minutes after the Soo took that two-goal lead.
"(Nolan) Bink tied the center up, Sawyer swung through the circle, and I went straight to the net," Martineau said. "Sawyer slid it opver and I was back door for the tap in."

Then 89 seconds after Martineau scored, LaMarch tied the game at 2-2.
"It was on the power play and Bourdeau got me the puck." LaMarch said. "I came in, shot through the defenseman as a screen, and ended up going top-shelf on that."
The Blue Devils regained the lead 3:37 into the third period when Evan Kennedy scored, and it looked like the Blue Devils were in business with a late power play. But Bink, a freshman, continued his hot streak by scoring a shortanded goal to square things at 3.
"Huge goal," LaMarch said. "We never would have won without him."
Or without Cully Hayes, the team's freshman goaltender who has had to play every single minute this season. He made 25 saves on 28 shots in Friday's win.
Sault goaltender Tristan Forgave was solid, making 37 saves on 41 shots.
With the win, Escanaba improved to 17-7-0 on the season, with one regular season game remaining, Saturday afternoon against Painesdale-Jeffers. The Jets lost a close game, 4-3, to Grosse Pointe Woods University Liggett Friday night. They are 11-11-1.
Sault High finishes its regular season with an 18-6-0 record. The Blue Devils won't play again until next Friday night in the playoffs, against either Manistique or Negaunee.
FRIDAY GAME SUMMARY
SSM 1-0: George Baumann (Ethan McDonald, Korson Pace) 9:52
SSM 2-0: Josh Lumsden (Odem Medrick) 4:31
ESC 1-2: Brayden Martineau (Sawyer LaMarch) 6:29
ESC 2-2: Sawyer LaMarch (Gunner Bourdeau, Brayden Martineau) 8:18 PPG
SSM 3-2: Evan Kennedy (Cale Bell) 3:37
ESC 3-3: Nolan Bink (Sawyer LaMarch, Brayden Martineau) 11:02
ESC 4-3: Sawyer LaMarch (Gunner Bourdeau) 6:14 OT
Shots on goal: Sault Ste. Marie 28, Escanaba 41
Tristan Forgave 37 saves; Cully Hayes 25 saves