Eskymos Close 2022 With Easy Victory Over Dexter

Click the thumbnails to see photos and videos. Also click the AUDIO buttons to hear post-game comments from Graham Johnson, Owen LaBonte, Alex Schwalbach, and Coach Andy Johnson.

Also click to hear Nolan Bink's player spotlight interview.

ALPENA---The Escanaba High School hockey team scored early and often, and overwhelmed the Dexter Dreadnaughts, 9-0, Wednesday afternoom, in the final game of the Alpena Holiday Showcase. The Eskymos dominated the Dreadnaughts from start to finish, outshooting the Ann Arbor-area team, 30-5.


And that's what Escanaba Coach Andy Johnson wanted to see, with his only goalie, Cully Hayes, nursing a messed-up ankle from Friday's 5-0 loss to Alpena.

"We were just rolling lines, and everyone was getting in on a regular shift, a regular rotation," Johnson said. "Our goal for Cully was to keep his shots under ten, so he didn't have to move around too much. Now, we have a week off and he can rest up and heal up."

It was a day of "firsts" for the Eskymos, as freshman Owen LaBonte got his first-ever Eskymo goal. And sophomore Alex Schwalbach also got his first-ever goal.

"It feels great," LaBonte said. "I had some chances last night, but I couldn't get any. Then, today, I just got it in the slot and shot it, and it went right through is five-hole. I didn't know it was in at first. He thought he had it covered, so I skated behind the net and I saw it was in. I was really excited."

Senior Cody Nelson then went to the net and fished the puck out from behind goaltender Cade Stock so that LaBonte could have it forver.


"I didn't even see him do it," LaBonte said. "He came over to where we all were (celebrating by the bench), and then he stopped and went back over, so I knew what he was doing. I've got some (junior) hockey medals and trophies, so I'll probably put it up there with those."

As for Schwalbach, he had to work harder for his first goal, as his first shot was stopped. But he stayed with it, and scored off his own rebound.

"I came in from the top of the blue line and I shot it hit him right in the pad," Schwalbach said. "Then I just crashed the net and finished it."

And he, too, has the puck that he shot for his first high school goal.

"It's in my bag," he said, promising not to lose it. "This was completely different from last night. It was fun."

And freshman Graham Johnson, who anchored the Escanaba Hawks 14u bantam state championship last spring, continues to show he can play at the high school level. He scored two more goals Wednesday, sniping both of them, including one top-shelf goal that bounced the goaltdender water bottle.

"The first one, Cale (Carter) was working his butt off in the corner and finds me right in the slot," he said. "I didn't even look where I shot it and it found the back of the net. The second one, Cody Nelson was working hard on the boards. The puck popped free and it came to me, one-on-one. I just took my shot and beat the goalie."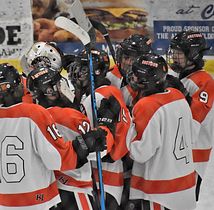 Carter got one of his own in the second period when he got in close and smacked one past a screened-out Stock.

Senior Brayden Martineau scored two straight goals in the first period: one was a shorthanded goal that he banked off the fallen goaltender Stock, and the other, a point-blank shot from between the circles just a while after he was smashed into the boards.

The first Eskymo goal came off the stick of Trevor Streichert, who also was right in front of the net and used his backhand. And captain Sawyer LaMarch made sure he got one, as he put on a nice skating display and shot through traffic, somehow beating Stock through a tiny window.

Nelson had two assists in the game. So did LaMarch and defenseman Gunner Bourdeau. Another freshman, Ben Sands, got his first point by assisting on LaBonte's goal.

The closest Dexter got to scoring was on the first shift of the game when Hayes was forced to cut down the angle and stop a shot, and in the late part of the second period, when the Dreadnaughts won two straight faceoffs and got a pair of shots on goal.

Stock, playing goal for the first time in his life this season, made 21 saves. The game was shortened by the mercy rule to two periods, with most of the second period being played on a continuous running clock after Escanaba had taken an 8-0 lead.

The win brought Escanaba's record to 6-4-0. Dexter fell to 0-7-1.