FRESHMEN RULE: Bink, Johnson Lead Eskymos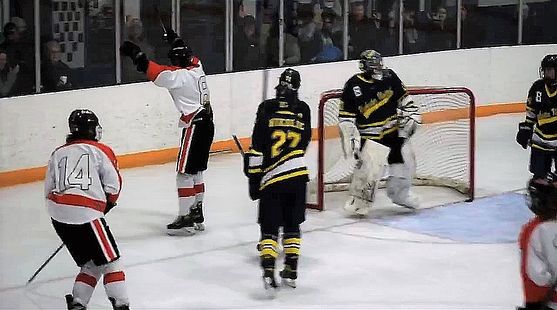 Click the thumbnails to see photos and video highlights, and to hear post-game comments from Coach Andy Johnson, EHS players Nolan Bink and Alex Schwalbach, and Rochester goalie Kyle Keipper. Also click to hear player spotlight interviews with Escanaba's Isaiah Boyce and Cale Carter.

WELLS---The Escanaba High School hockey team had to fight past a hot goaltender to post a 5-2 win over Rochester United Friday night at the Wells Sports Complex. Freshman Nolan Bink scored three goals for a hat trick, and fellow ninth grader Graham Johnson lit the lamp.


Senior Brayden Martineau added an insurance goal late in the game as the Eskymos outshot the downstate team, 46-12, and survived a 41-save performance by Rochester Adams High School goaltdener Kyle Keipper.

"It was a battle all night with lots of shots," Keipper said. "Our defense did a good job keeping them to the outside for most of the game, though. Even though we were getting pummeled, they did a great job on mitigating opportunities. My rebound control was not good in the first period. They were pummeling us and getting good shots. I ;picked up the rebound control as the game went on, but it wasn't enough."

The Eskymos outshot United, 14-6, in the first period, but trailed, 1-0, when Jack Taylor scored a shorthanded goal with 51 seconds left in the period as the Eskymos fell apart in front of goaltender Cully Hayes.

"I thought we could have buried some chances and I went into the locker room to talk to the boys between periods, and I weasn't too pleased because it was just another period where we lost." Eskymo Coach Andy Johnson said. "I expressed my anger a little bit. We've got to put pucks away in the first. We can't spot them a goal and lose the first period 1-0 anymore."

After the intermission conversation, the Eskymos tied the game 15 seconds into the second period when Bink scored his first-ever Eskymo goal, with seniors Sawyer LaMarch and Marineau drawing assists.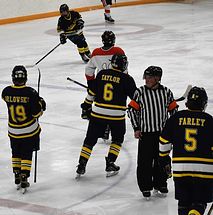 Later in the period, Martineau missed out on two breakaway opportunities, with the first coming shorthanded. To make matters worse, Martineau got an interference penalty, putting Escanaba in a 5-on-3 penalty kill for 39 seconds.

The Eskymos killed off that penalty, and then Martineau got another breakway opportunity but couldn't find the back of the net.

Finally, in the final minute of the period, Bink found the net for his second goal, as cashed in on a Martineau pass from behind the net, giving Escanaba a 2-1 lead after 34 minutes.

Early in the third period, another freshman, Graham Johnson, made a nice move and went top-shelf on Keipper, making it a 3-1 game nearly three minutes into the period.

"If it wouldn't have worked, I would have been yelling at him to drive wide and get to tye net, but it was one of those times where he got it through the defenseman's skates and beat their outstanding goalie," Johnson said of is son's goal.

Just over one minute later, Bink scored his hat trick goal on a rebound off of a Cale Carter shot, and all of a sudden, a kid who had been snakebitten with pipe shots had three goals.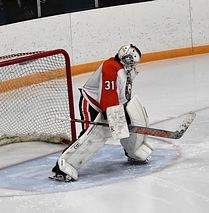 "It's been pretty rough, but I knew I was going to get one pretty soon," Bink said. "I knew they would start coming. I saw the goalie was a little out of position (on his first goal) and I tried a wraparound and it worked. The second one, I remember Sause (LaMarch) passing to Bill (Martneau) and Bill just it me in thhe slot and I just got another one. And then (the hat trick)< I just got a pass from someone down in the slot and I buried it."

"He gets so many chances, and the while team was just excited for him to get a hat trick,: Johnson said. "It's finally good to see him get on the board."

The rest of the period saw a parade to the penalty box for both teams, and Rochester closed to within 4-2 with 3:34 left in the game when Owen Farley found the back of the net. But another power play set the Eskymos up to end the game, and after LaMarch won an offensive zone faceoff, Martineau ended it with a goal with 3:02 left on the clock.

Escanaba ended up outshooting Rochester United, 46-12, with Keipper stopping 41 shots. Hayes turned aside ten of the twelve shots he faced in the Eskymo net.

LaMarch, the Eskymo captain, had two assists but was held without a goal for the second straight game.


Escanaba improved to 4-2-0 on the season while Rochester United fell to 3-2-0. The two teams play again Saturday afternoon at 12:00 noon before Rochester makes the long trip home to Oakland County. It will be Escanaba's last home game of 2022.

"These trips, for sure, are a bonding experience," Keipper said. "We have a lot of fun at the hotel before and after games. It's also emotional, wen you drive up seven hours, and you come up short. So, you can bet that we're going to be getting reaky to get going tomorrow. Despite the fun of it, we will be prepared for it."

FRIDAY'S OTHER UPPER PENINSULA HIGH SCHOOL HOCKEY SCORES

Bay Area Reps 1, (at) Marquette 1

Muskegon Mona Shores 4, (at) Sault Ste. Marie 1
Manistique 3, Grand Rapids Christian 1
(at) Houghton 6, Saginaw Heritage 3...Cam Markham hat trick