LATE-NIGHT WINNER: Eskymos Top DePere, 6-2
Click the thumbnails to see photos and videos. Also click the AUDIO buttons to hear Cully Hayes and Owen LaBonte player spotlight interviews and post-game comments from Coach Andy Johnson.

DEPERE, Wis.---The Escanaba High School hockey team scored four goals in the third period late Tuesday night to pull away from the DePere Voyageurs, 6-2, at the DePere Ice Arena. Five different Eskymos scored goals, with freshman Nolan Bink adding four assists to go along with his goal. Freshman goaltender Cully Hayes stopped 40 of the 42 shots he faced to help the Eskymos pick up their 13th win of the season (13-7-0).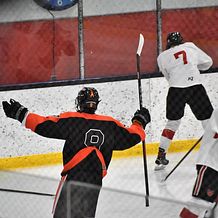 Escanaba scored the only goal of the first period when Sawyer LaMarch tried to pass in front to Graham Johnson, but the puck hit the goaltender's equipment and went in.
The second period was played mostly on special teams, with the Eskymos killing off four DePere power plays, including three straight after Owen LaBonte was called for delay of game on a face-off, and Gunner Bourdeau received a double minor for roughing. The Eskymos mostly kept the Vouyageurs to the outside, and they weren't dangerous for large stretches of those eight minutes.
Escanaba had an outstanding power play late in the second period, peppering goaltender Keagan Handrick with shot after shot, but none of them went in. Finally, in the dying seconds of the period, LaMarch made a diving play to stop an outlet pass and seconds later, Cale Carter jammed one past Handrick with 2.3 seconds left, making it 2-0.
The Voyageurs (3-20-0) closed to within 2-1 as Jake Weckwerth scored only 1:47 into the third period. But the Eskymos got the big answer 52 seconds later when Johnson scored his 14th goal of his freshman season, restoring the two-goal lead.
The backbreaker for DePere came four minutes later when they were on the power play, but Bink got the puck on the left wing, skated in on goal, deked Handrick, and tucked it behind him for a shorthanded goal. It was Bink's 15th goal of his freshman season, and his four assists boosted his total to 11 for the season in that category.
Bourdeau added a power play goal with 5:57 left to make it 5-1, but DePere got that one back on a goal by Zach VanWychen with 4:31 left to close the lead to 5-2.
Johnson put the game away with an empty-net goal a minute later for his second goal of the game. DePere outshot Escanaba, 42-37. The game ended just after 11:00 EST and the team rolled into the Wells Sports Complext parking lot at just before 2:00 a.m. Wednesday.
Escanaba now will play its next four games at home, starting with two this weekend. They'll host Ashwaubenon (Wis.) Friday night, and then will have a make-up game with Negaunee Saturday night. Both games will be broadcast on FM-93.5, AM-600, and on-line at www.rrnsports.com.