'GUNNING 'EM DOWN: Bourdeau Leads Esky, 3-1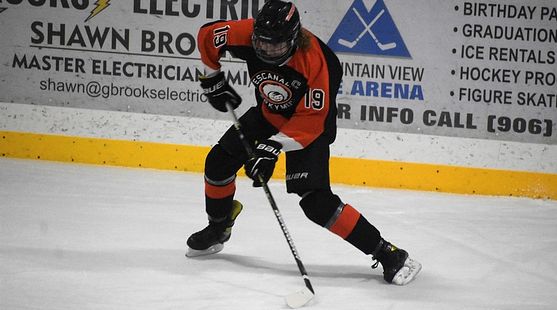 Click the thumbnails to see videos of all three Eskymo goals.

CALUMET---Senior Gunner Bourdeau scored two goals and assisted on another as the Escanaba High School hockey team beat the Calumet Copper Kings, 3-1, Saturday afternoon at the Calumet Colosseum. It was Escanaba's first win in the old Calumet Armory in nine years, after the Eskymos also picked up a rare win over Hancock at the Houghton County Arena.

The game was scoreless after the first period, but the Copper Kings scored at the 4:03 mark of the second period when Gabe Mattila tallied, assisted by Nathan Londo and Dan Loukus.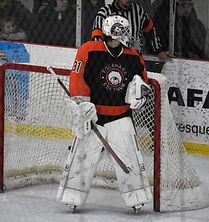 Escanaba got even five minutes later when Bourdeau hopped on a loose puck from the top of the left circle and rifled it past goaltender Aksel Loukus. Graham Johnson drew the assist,

Johnson also made the play on what would turn out to be the game-winning goal, as he passed from behind the net to Trevor Streichert for the 2-1 goal at the 12:13 mark. Bourdeau also drew an assist on that goal.

The Eskymos has a chance to put the game away with a five-minute power play off a major penalty (and game ejection) given to Calumet's Ben Frantti for spearing. But the Copper KIngs managed to kill off tat long power play at the end of the second and start of the third periods.

Escanaba freshman goaltender Cully Hayes stopped all five of Calumet's third period shots, and then Bourdeau finished the scoring with an empty-net goal with 1:01 to play.

Escanaba outshot Calumet, 26-21, in the game.

Escanaba improved to 11-4-0 on the season. The Eskymos head downstate next weekend, starting with a Thursday night game in Saginaw against the FNV Griffins at the Saginaw Bay Ice Arena. The game starts at 7:00.

Calumet's season record fell to 5-9-2.

SATURDAY'S OTHER GAMES
Gaylord 4, (at) Negaunee 3
(at) Houghton 9, Plymouth Salem 4
(at) Sault Ste. Marie 5, Port Huron Northern 2
(at) Hancock 6, Grandville 0
Kingsford 3, (at) Rhinelander, Wis. 0
(at) Manistique 5, Cadillac 1