'CLOSE YOUR TRAPS': Eskymos Skate By Emeralds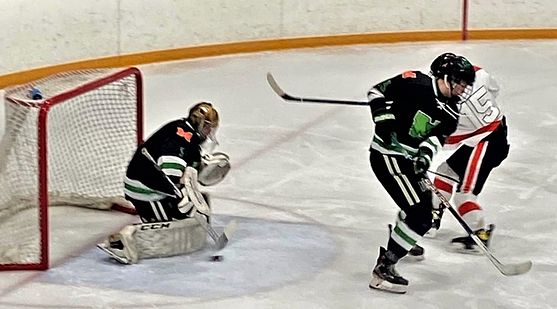 Click the thumbnails to see photos and videos taken by Liz Taylor, listen to radio highlights, and hear comments from Brett Labre, Sawyer LaMarch, and Coach Andy Johnson. Also click to hear student manager Caden Fulsher interview.

ESCANABA---The old phrase is if you're going to talk the talk, you'd better be able to walk the walk. And so far, the Escanaba Eskymos hockey team has walked the walk even when the Manistique Emeralds have talked the talk.

In yet another war in the two-year battle between this two groups of friends, the Eskymos found a way to again beat the Emeralds, 3-1, Tuesday night at the Wells Sports Complex.
"I've been on teams playing with them, whether it be spring hockey, summer hockey, out on the pond," Escanaba captain Sawyer LaMarch said. "But, you know, they've been chirping since before they even had a team that 'we're coming for you Esky, we're coming for you'. Every single year, these last two years, and they've yet to get it done. So, it's time for them to close their traps."

"We needed this win," Eskymo junior Brett Labre said. "Manistique was chirping us all week, and since last game, too, and we just needed this. It feels great."

Not exactly words of love on this Valentine's Day, but the fact is, many of the kids have been friends for years.

But when it's time to meet in varsity hockey, the love is gone.

"It just makes for a fun rivalry," Eskymo Coach Andy Johnson said.

Two of the previous three meetings went to overtime, and this one could have been headed that way if not for a desperation blocked shot by LaMarch with 90 seconds left in the game.

Stephan Allen's shot was stopped by a sprawling Eskymo goaltender Cully Hayes, and as he fell over and laid on the ice, the puck came back to defenseman Carsyn Hinkson, and he let 'er fly.

"Cully made a great save and then the puck was shot out to the defense, and wow, I seen him coming in," LaMarch said. "He wound up for a slapshot, and I'm like, here goes nothing! I tossed my body out there, and luckily it hit my shin pad so it didn't hurt too bad. But any place else, I'd probably be crying."

"He took the sacrifice for the boys," Johnson said. "Cully let him know that after the game in the locker room and threw him the hard hat for laying down on that one. (Otherwise) we're in OT right now. Sawyer is just the player that every coach wants on his team. His work ethic. Just leaving everything out there."

The Emeralds pulled their goaltender 30 seconds later, and with 59 seconds left on the clock, Nolan Bink shot one from beyond the red line. Fortunately for the freshman, the puck found the net for the goal that sealed the Escanaba win.

"It was just before the red line, and I was like, that better go in," Johnson said. "It was icing on the cake (instead of icing) with that one."

Escanaba took a 1-0 lead at the 11:34 mark of the first period when freshman Graham Johnson scored, off assists from LaMarch and Alex Schwalbach. Then, what turned out to be the game-winner, happened right off of the second period face-off on a goal by Brett Labre.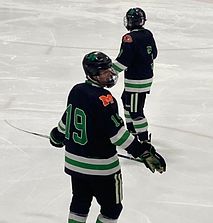 "Trevor won the faceoff and the D thought it was going to the boards," Labre said. "So I just got a hold of the puck and I brought it in, shot, and went five-hole. I kind of whiffed on it, so I think it was hard for him (Manistique goalie Alex Noble) to tell."

"We decided to move him up to forward, and Brett is about a goal-a-game forward for us," Johnson said, after moving Labre up from the defensive blue line mid-season. "It turned out to be a good move for us. We know Brett can shoot pucks, move pucks, and he's a smart player."

Noble, otherwise, was outstanding in net for the Emeralds, playing against some of the Eskymos that he played travel hockey with in Escanaba. He made 32 saves on 34 shots.

"Alex Noble is just such a great kid," Johnson said. "He was solid tonight. Not a ton of rebounds, just like what Cully did for us tonight."

Manistique scored its lone goal 5:51 into the second period with Blake Walther tallying of a pass from Carter Deatsman. That turned out to be the only shot to get by Hayes, who made 19 saves in net to earn his 16th win of the season for the Eskymos.

It was yet another tight game between these new rivals, and the Eskymo players left the game with a smile, especially LaMarch, who waived "good bye" to the Manistique bench as he skated to celebrate with his team after the final buzzer.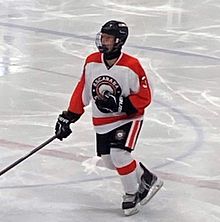 But there could yet be one more meeting between these two teams in the regional championship game. That would happen if Escanaba beats Kingsford next Friday night, and if Manistique beats Neagunee and also upsets top-seed Sault Ste. Marie on the road. Then, there would be a third Battle Royale of the year.

"They are a great team, no doubt about it," LaMarch said. "They always put up a fight and they're always working hard. Let's hope. See how they do, and see how we do."

Manistique fell to 15-6-1 on the season.

The Emeralds will play two games this weekend down in Kalamazoo to close out the regular season. They will enter the MHSAA Division Three Regional Playoffs as the fourth seed, however, due to a weaker schedule.

Escanaba improved to 16-7-0 on the season. The Eskymos will play at home against Sault Ste. Marie Friday night, and then travel to Michigan Tech University to face Painesdale-Jeffers on Saturday. Escanaba enters regionals as the No. 2 seed.