ALL IN THE FAMILY: Eskymos Rally Past Flivvers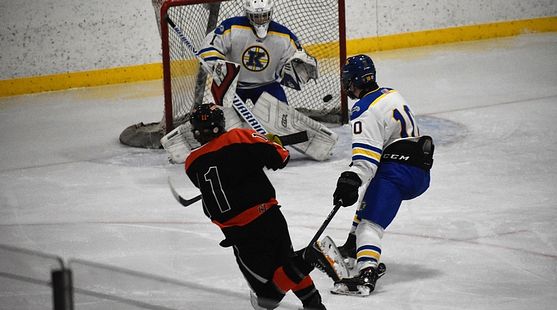 Click the thumbnails to see photos and video highlights, and to ear post-game comments from Sawyer LaMarch, Brayden Martineau, Cully Hayes, and Coach Andy Johnson. Also hear player spotlight interviews with LaMarch and Brett Labre.

IRON MOUNTAIN---Sawyer LaMarch scored the game-winning goal in the third period, and his cousin, Brayden Martineau, had the other two goals as the Escanaba Eskymos erased a 2-0 deficit to edge the Kingsford Flivvers, 3-2, Tuesday nigt in Iron Mountain.

LaMarch, playing less than 24 hours after the sudden death of his grandfather, dedicated the game to him and pointed to the heavens after he scored the game-winning goal.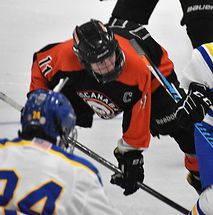 "I was contemplating on playing tonight or not," said LaMarch, the team's captain and four-year player. "But I just figured, I've got four older brothers, he's been watching (his grandpa), he's been at every single home game, and most of the away games, for all of my four brothers. I just figured, I know that he's gonna want me to play tonight, and that's what I did."

"I knew I wanted to lean on Sawyer a little bit tonight," Escanaba Coach Andy Johnsin said. "I knew that he was going to have endless energy from his grandpa. So, we leaned on him. He was playing with a lot of heart today. And the four seniors, they all were working hard, they really wanted this win, and they got it done."

So, how did LaMarch even focus on a hockey game, just hours after losing such an important person in his life?

"I just listened to some music, listened to my teammates," an emotional LaMarch said. "My teammates helped me through it, my coaches helped me through it. Most importantly, my brothers, my parents, they all helped me through it. This is just a good overall win."

His older brothers Hunter, Parker, and Jayger all played for the Eskymos in previous years, and his oldeest brother, Cooper, was a team manager.


The night did not start off well for Escanaba as they fell behind, 2-0, less than five minutes in the game, as the Kingsford crowd loudly cheered on Teddy Bear Toss night.

The first goal came on an odd-man rush with Jaxon Buckley and Niko Burgoon coming in on a 2-on-1, and the trailer, Jacob Crockford, ripped one past goaltender Cully Hayes to make it 1-0.

The game was delayed as fans threw dozens of stuffed animals onto the ice, which will be given away to people in need across Dickinson County this holiday season.

Then the Eskymos took a penalty, and freshman Michael Woldenberg put it home to put the Flivvers ahead 2-0. That's the way the score read at the end of the first period, and the last minute of the period was full of hard hits delivered both ways. One of those hits, by Trevor Streichert on Crockford, landed Streichert in the box for a five-minute major penalty.

Crockford was injured and did not return to the game.

Kingsford had the chance to take complete control of the game, but the young Flivvers, with only one senior and 14 freshmen and sophonores, could not score. That long penalty kill, with just one shot on goal against, was a momentum-changer for Escanaba.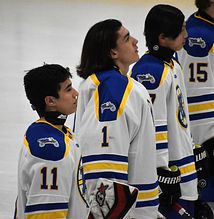 "With Trevor in the box for five minutes, everyone was upbeat on the bench," Johnson said. "We all wanted to kill it of. We talked about it in the locker room (between periods) and we weren't letting them score. Everybody was on the same page with it. We were going to get that penalty kill, and then, they were going to work."

And they did go to work, with Martineau getting two goals to tie the game at 2-2.

"I got the first shot, and the puck was loose, so I just took a whack at it, and luckily, I think it went under his (goaltender Isaiah Anderson) armpit or something," Martineau said. "I was very grateful for that. Then the second one, I got the puck past the D-man, and the goalie was completely out of position and gave me two feet on the far side. So, I just made a nice little shot, and it went in, thankfully."

The Eskymos kept applying pressure in the early part of the third period, and it was LaMarch who used his speed along the boards at neutral ice to draw a hooking penatly from Kaleb Fornetti. The Eskymos scored quickly on the ensuing power play, as the two cousins worked the puck in the corner and LaMarch sniped it past Anderson for the go-ahead goal.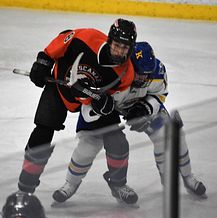 It was yet another game-winner for LaMarch, who scored in the playoffs last season against Kingsford in the fourth overtime in the longest game ever played in Eskymo (and Flivver) history. LaMarch says the chemistry with his cousin, Martineau, was key on this play.

"We do our thing down in the corner," LaMarch said. "I gave it to him, he gave it back to me, and it was right there. I had a little daylight left, and I just banked it off the side of his helmet and it went right in."

Kingsford (1-2-0) could not get any offense going from there as the Flivvers lost their second straight one-goal game on home ice. After a three-game homestand to start the season, the Flivvers now will not have another home game until January 10th.

The third period domination by the Eskymos was a welcome sight for freshman goaltender Cully Hayes, who was battered by the powerful Houghton Gremlins in an 8-0 loss last riday night. Hayes says in this game, he setlled in after giving up those two early goals.

"I mean, I've just got to tell myself, it's early in the game and anything can happen from there," Hayes said. "You just can't give up. There was a lot of time left. We were just trying to stay on our guys and make sure as much as we could that we weren't letting them get too deep, and get too many shots on net. I feel good. It's an honor to be out here. I've been watching my brother since I was just a baby and I've always wanted to play varsity hockey. And here I am."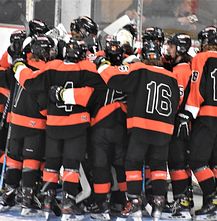 Hayes, who finished the game with 25 saves on 27 shots, has the ultimate job security. He is the team's only goaltender, after seniors Dylan Ziemke and Bryce Buchbionder both graduated last spring. Ziemke is now a volunteer assistant coach.

Anderson stopped 29 of 32 shots in a losing effort for Kingsford.

In the end, the Escanaba senior leadership ended up being the key.

Gunner Bourdeau logged a teremendous number of minutes back on the blue line, did not take a penalty, and largely controlled the neutral zone, especially while killing off three Kingsford power plays. Bourdeau also had four shots on goal, with one of the heaviest shots you'll find back on defense.

And Martinea, a four-year player like LaMarch, said they did what they could to help the nine freshmen and three sophomores not panic and get this victory.

"It's really tough but you really can't say much," Martineau said. "You've just got to go out there and experience it. We (seniors) can talk untiol we're blue in the face, but until they experience it themselves, I mean, they've got to just figure it out. They've got to get bounced around a couple of times, and get the first one under their belts. That big age gap is tough at first."


"I'm happy with the result," LaMarch said. "You can't complain about a win."

"Kingsford came out playing," Coach Johnsin said. "They were moving. They got pucks deep on us. And they capitalized on their chances."

But then, just as he did in that four-overtime marathon last March, LaMarch took over.

"Just his work ethic out there," Johnson said. "I mean, Kingsford didn't really know what to do with him. This is just a big win for Sawyer, and for all of the boys."

Escanaba (1-1-0) will return home to take on the Marquette Redmen next Tuesday night. Game time is 6:30. It will be broadcast live on FM-93.5, AM-600, and www.rrnsports.com.

TUESDAY'S OTHER U.P. GAMES

MANISTIQUE 7, CHEBOYGAN 2---Gavin Nutkins and Carter Miller both scored two goals and Steven Allen added a three-assist playmaker as the Manistique-Newberry-Munising hockey team beat the Cheboygan Chiefs, 7-2, Tuesday night. The game was played in St. Ignace. The Emeralds outshot the Chiefs, 47-23.

HOUGHTON 3, MARQUETTE 0---Landon Stevens scored two goals and Mikey Maillette added another as the Houghton Gremlins beat the Marquette Redmen, 3-0, Tuesday night at Lakeview Arena. Goaltender Bryant Lee stopped all 20 shots as Houghton posted its second straight shutout on the road.

Painesdale-Jeffers 5, Negaunee 2