Eskymo Hockey Skates Past Hancock On Road, 4-2

Click the video thumbnail to see replays of the Eskymo goals.

HANCOCK---The Escanaba High School hockey team earned a 4-2 win over the Hancock Bulldogs at the Houghton County Arena Friday night, with four different goal scorers and 27 saves from freshman goaltdender Cully Hayes.

"Great win tonight," Escanaba Coach Andy Johnson said. "Our D played great. We kept pucks to the outside, and Cully did an awesome job in net. Our forwards were disciplined on our forecheck and forced Hancock to turn the puck over. Trevor (Streichert) worked so hard tonight on the backcheck. The line with Sawyer (LaMarch), Brayden (Martineau) and Nolan (Bink) worked hard all game."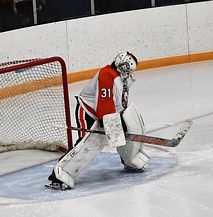 Escanaba grabbed a 1-0 lead midway through the first period with the freshman Bink scoring, assisted by two seniors: Martineau and LaMarch. Then in the second period, the Eskymos took a 2-0 lead at the 5:33 mark when Graham Johnson, another freshman, scored an unassisted goal.

Hancock closed to within 2-1 two minutes later on a Jackson Sintowski goal, and it stayed that way entering the third period.

Cale Carter gave the Eskymos a 3-1 lead less than five minutes into the period, but the Eskymos had to hang on after Sam Bastian scored for the Bulldogs with 4:10 left in the game. Gunner Bourdeau put it away with an empty-net goal with 35 seconds left.

Hancock outshot Escanaba, 29-27, with Hayes stopping 27 shots and Hancock goalie Saku Cunard stopping 19 of the 22 shots he faced.

There were only four minor penalties called in the game, two on each team.

With the win, the Eskymos improved to 5-3-0 on the season. Hancock fell to 3-5-0.

Escanaba returns to action after Christmas in Alpena for the annual holiday classic at the Northern Lights Arena. The Eskymos will face the host Wildcats on Tuesday, Dec. 27, at 6:20 p.m. They'll take on Dexter the next morning at 11:00.