Marquette Hockey Erupts To Mercy Escanaba, 11-3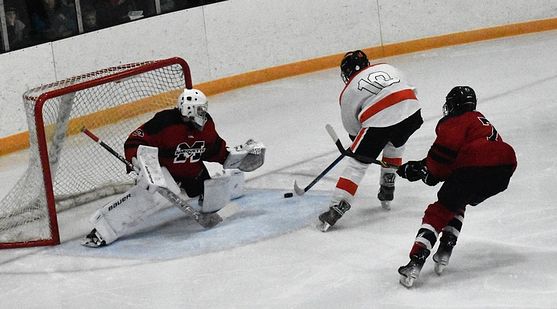 Click the thumbnails to see photos and videos, and hear post-game comments from Marquette Coach Doug Garrow and Escanaba Coach Andy Johnson. Also hear player spotlight interviews with Gunner Bourdeau and Bryaden Martineau.

WELLS---The Marquette Redmen scored seven goals in the first period, and after the Escanaba Eskymos scored three times, they regained their momentum in the third period to post an 11-3 win Tuesday night at Escanaba's Wells Sports Complex.

The game ended on the mercy rule with 3:49 to play.


Four different Marquette players scored two goals each, with Nash Riipi and Jake Garrow both getting two goals and two assists apiece. Ethan Phillips had two goals, including a penalty shot in the third period, and C.J. Carter also scored twice for the Redmen.

"I like to work it down low, get it high, and work it D to D, because I learned a long time ago that you've got to get the goalie moving side-to-side nowadays," Marquette Coach Doug Garrow said. "That's because the goalies are so big and they have so much equipment and take up so much room. That's what we tried to do when we moved the puck around.'

'We got two lines scoring tonight. Eighteen points from our top two lines, and that's you need in high school hockey is two get two lines going."

Marquette took a 7-0 lead after the first period of play, scoring four of those goals in a span of 3:23 after the game was scoreless for the first eight minutes. Then, Marquette scored three more goals in a spanof 2:33 late in the period, irritating Eskymo Coach Andy Johnson.

"We didn't come to play," Johnson said. "The pep band is here, we're playing Marquette on a Tuesday night, we have a good crowd, and we didn't show up for the first period at all. You're playing high school hockey! The pep band is here playing the foght song! I mean, I don't see how you can't show up and be ready to play when all that stuff is going on."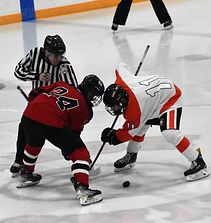 Escanaba freshman goaltender Cully Hayes was frequently left to his own devices in that first period as the Eskymos turned the puck over and failed to clear their zone on multiple occassions. Many of Marquette's opportunities where in the betweem the circles, whic Johnson calls "the house", and it led to seven goals on 18 Marquette first period shots.

"We've got to have a talk with our captains," Johnson said. "I toldf them, this was not on our freshmen. It was on our seniors. We need to come out ready to play no matter who we're playing. We need to figure that out in the next couple of days."

Trailing 7-0, the Eskymos did get some life in the second period, when they scored three straight goals against Marquette freshman goaltender Parker Nevenhoven. Two of the goals came in the first 42 seconds of the second period, with Cale Carter and Bryaden Martineau finding the back of the net.

Cale Carter scored his second goal on the power play with six minutes left in the second period, bringing the Eskymos to within 7-3.

Riipi scored off a sweet Jake Garrow pass from behind the net to make it 8-3 with 1:21 left in the period, but that wasn't enough to satisfy Coach Garrow in the intermission.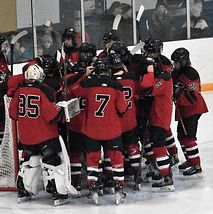 "I think our guys were looking at maybe we just go home and get this game over quick (on tyhe 8-0 mercy rule) and that's never a good thing," he said. "That just shows that you have a lack of respect for your opponent. I think that's what our guys did in the second period, and then I went in and gave them a little bit of the riot act."

"I told them that what we really needed to do was to concentrate on the defensive part of the game, and the offensive part will take care of itself. I think we did that in the third period."

Johnson liked the team's response in the second period, albeit far too late.

"We scored three, they scored one, so it was a 3-1 period for us," Johnson said. "They responded. They played good Eskymo hockey in the second period. and for good parts of the third period. So, I'm happy with that."

Escanaba did not score in the third period, and it ended when Tony Demattia, Phillips (on the penalty shot) and C.J. Carter scored to belatedly invoke the mery rule.

Marquette outshot Escanaba, 43-21, meaning that Hayes had 32 saves for the Eskymos and Nevenhoven had 18 for the Redmen.

Marquette improved to 2-2-0 on the season, and they will travel downstate again this weekend to face Saginaw Heritage and Midland Dow. Escanaba fell to 1-2-0, and will host Painesdale-Jeffers Friday night. Jeffers stunned Calumet, 2-1, Tuesday night, at Michigan Tech.