Michigan H.S. Hockey All-State Teams Announced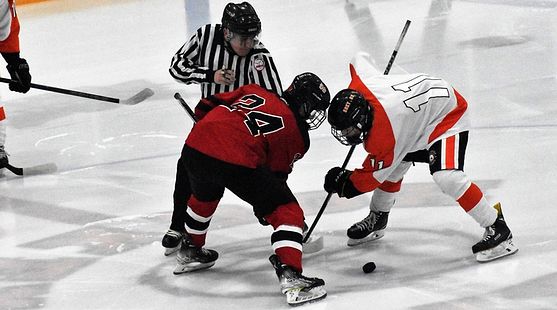 The Michigan High School Hockey Coaches Association is out with its All-State teams.

In Division Two, Marquette forward Jake Garrow was a first team selection, and Colin Nemacheck was picked to the first team as a defenseman.

Garrow led the Redmen with 20 goals and 27 assists for 47 points this season. Nemacheck has five goals and 14 assists for 19 points.

Marquette's Nash Riipi and Joe DeMattita were second team selections. Riipi had 18 goals and 15 assists for 33 points, and DeMattia had eleven goals 12 assists for 21 points.

Goaltender Cole Kelly was also named to the second team. He had a 9-4-1 record with a 1/55 gials against average and a .926 goals against average.

In Division Three, Escanaba's Sawyer LaMarch was named to the Second Team, and defenseman Gunner Bourdeau was honorable mention. LaMarch, the Eskymo captain, had 18 goals and 32 assists for 50 points. Bourdeau had 13 goals and 19 assists for 32 points.

The All-Freshman Team included two local goaltenders: Parker Nevenhoven of Marquette on the first team, and Escanaba's Cully Hayes on the second team. Nevenhoven, who split time in net with Kelly all season long, had an 8-2-1 record with a 1.44 goals against average.

Hayes, Escanaba's only goaltender, played every minute of the team's 28 games this season, compiling a 20-8-0 record with a 3.15 goals against average and 88.3% saves percentage.

Also in Division Three, the Houghton Gremlins, the Upper Peninsula's top team all season long, had four players on the First Team.

Camden Markham, Landon Stevens and Gaborik Carlson were all first-team selections as forwards, and Connor Raffaelli was a first-team defenseman.

Markham, one of the most complete players in the state, had 27 goals and 43 assists for 80 points. Stevens had 40 goals amd 36 assists for 76 points, as part of Markham's line. And Carlson, a multi-sport athlete at Houghton, had 14 goals and 43 assists for 57 points.

Houghton goaltender Bryant Lee was a second-team pick.

Calumet goaltender Aksel Loukas was the Division Three First Team All-State goaltender, and Copper King defenseman Dan Loukas was a second-team selection.

There no Kingsford, Manistique, Hancock, Painesdale-Jeffers, or Sault Ste. Marie players selected to any of the All-State teams.