PHYSICAL WIN: Eskymos Grind Past Miners, 6-0

Click the thumbnails to see photos and videos taken by Mickey LaMarch.

Also click the AUDIO buttons to hear post-game comments from Cully Hayes, Brayden Martineau, Graham Johnson, and Coach Andy Johnson. Also click to hear player spotlight interviews with seniors Cody Nelson and Trevor Streichert, and listen to a portion of the radio broadcast.

NEGAUNEE---The Escanaba High School hockey team scored six straight goals after a scoreless 25 minutes of play, and beat the Negaunee Miners, 6-0, Tuesday night, in a game that more resembled a football game than a hockey game.

Three different Eskymos scored two goals apiece in the win.


It was a game that, early on, saw many of the Miners players seemingly more interested in delivering those big hits than scoring goals.

The physical strategy worked, as the underdog Negaunee team kept the game scoreless for the entire first period and for half of the second period.

Eventually, the Eskymos figured it out, got their feet moving, and their hockey skill overwhelmed the Miners over the course of the second half of the contest.

Escanaba Coach Andy Johnson was clearly unhappy with how many liberties that the officials allowed to happen on the ice.

"We came out in the first period and they were playing really physical, and our guys were backing off," he said. "When we go downstate, they (officials) don't call it this way. Downstate, they will call the hands to the face, hitting with your hands."

"Tonight, they were letting all of that go. We had to have a chat in between periods and tell them not to worry about the physical play. And in the second period, we just started playing through it, not worrying about being hit. We just started going to work. In the second period, we started hitting back when we had chances. And that started giving us scoring chances."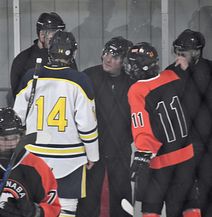 Escanaba finally grabbed a 1-0 lead more than eight minutes into the second period when Johnson's son, freshman Graham Johnson, found the back of the net from the top of the circle.

"We just had to get in the corners hardder," Graham Johnson said. "I mean, it's a bunch of football kids out there (for Negaunee). They know how to hit. We've just got to not let that bother us."

So, what about the go-ahead goal?

"Well, we were coming in on a 2-on-1 and that didn't really work out," he said. "I came around the net with it, and then just found a lane to the net, took it, and went low-glove."

Then, the Miners got bogged down and took two straight penalties. The Eskymos cashed in with back-to-back power play goals from Brayden Martineau. Both goals vcame after freshman Nolan Bink, moved to center at the last minute, won two offensive zone faceoffs.

"I didn't know Nolan knew how to win faceoffs that good," Martineau said. "The first one, he won it back onto my tape, and I just took a step and fired, and beat (Ryan) Kerkala under the blocker and it went in. And then the second one, Bink won it back to me and I threw it over to (Gunner) Beaurdeau on the point. He ripped one on net, and they blocked it. It popped out to me and there was two men oin front, and I ripped it by him (Kerkala) again."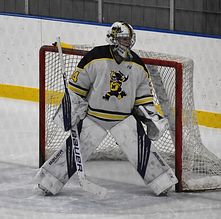 It stayed 3-0 until the final five minutes of the game, when Johnson scored his second goal off a nice pass up the boards from Brett Labre, and then Trevor Strichert was rewarded for his tough play when he scored two goals in the final minutes.

Cully Hayes made 12 saves to get his first varsity shutout as a goaltender. That included stopping a breakaway early in the game by Nolan O'Dovero.

"I was just trying to stuck to my game, make the save, and focus on the next shot," Hayes said. "I just threw my blocker and pads out in front and made the save."

Escanaba ended up outshooting Negaunee, 34-12.

The Eskymos improved to 3-2-0 on the season while Negaunee fell to 1-4-0.

Escanaba will be back home this weekend to face Rochester United from surbrban Detroit, Game time on Friday is 7:00, and Saturday at noon. Friday's game will be broadcast on FM-93.5, AM-600, and on-line at www.rrnsports.com.