COLD AS ICE: Esky Falls Flat Against FNV Griffins
Click the thumbnails to see photos and videos, and to hear player spotlight interviews with freshman Graham Johnson and Ben Sands.
BAY CITY---The Escanaba High School hockey team turned in a cold performance and fell victim to a hot goaltender Thursday night, and it added up to a 5-2 loss to the Freeland-Saginaw FNV Griffins at the Bay County Civic Arena.
Escanaba committed far too many turnovers in the neutral and defensive zones, leading to multiple scoring chances for the Griffins.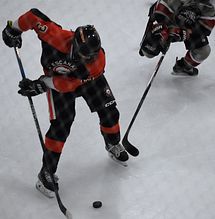 Eskymo freshman goaltender Cully Hayes had an off-night, and his teammates struggled to put the puck past Freeland senior goaltender Ryan Quackenbusch.
Escanaba Coach Andy Johnson warned that the Griffins' season record of 6-8-0 coming into the game should be ignored. And he warned the guys to ignore the fact that the Griffins lost to a team that the Eskymos had mercied (Gennessee) earlier this month.
"You can look at the records all you want, their record isn't that strong, but this is high school hockey," Johnson said. "On any given night, I think, high school hockey, you can run into a strong goaltender, you can run into a a team that's out there working."
And that's exactly what happened Thursday night as Quackenbusch frustrated the Eskymos with multiple stops of point-blank shots, especially in the first period, when he shut down seniors Sawyer LaMarch (on a breakway) and Brayden Martineau (on a 1-on-1 moments earlier).
Escanaba managed to get a goal when Brett Labre jumped on a loose puck and lifted it past Quackenbusch at the 5:12 mark of the first period to make it 1-0. But Joey LaFevre and Tristan Pohl scored first period goals to give FNV a 2-1 lead.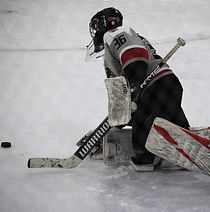 In the second period, the Eskymos were pressing in the offensive zone before the puck popped free and Hayden Simerson flipped a backhand shot past Hayes to make it a 3-1 game. Escanaba managed to get that goal back on a Nolan Bink power play tally.
In the third period, the Eskymos had a power play with a chance to tie the game, but disaster struck. Escanaba gave up two shorthanded goals, less than a minute apart, to LaFevre and Luke Anderson. That effectively ended any comeback chances.
Escanaba had been riding high with an 11-4-0 record and a winning streak that included a rare road win over Calumet.
Now, it's back to the drawing board, as the team drove 111 miles south in the snow to Chelsea for the Michigan Public High School Showcase at the Arctic Coliseum Friday and Saturday.

The Eskymos will face the Portage Muskies out of Kalamazoo (12-4-0) Friday afternoon at 2:00, and then take on the Midland Chemics (11-4-0) Saturday morning at 10:15.