Escanaba Eskymos Rip Norway To Go To 2-0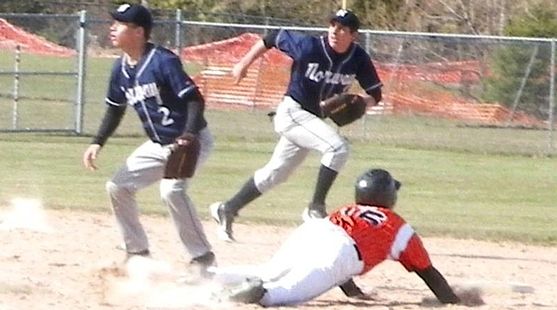 NORWAY---There have been many wars between the Escanaba Eskymos and the Norway Knights over the past few baseball seasons.

But Wednesday night's matchup was not one of them. The Eskymos pounded the Knights at Marion Park, 13-0, in a game shortened to five innings by the mercy rule.

The Knights fielded a team that includes nine freshmen, and the Eskymos had five freshmen on the roster. That youth showed, especially for the Knights, as the boys were pretty much helpless against the pitching of Eskymo senior Alex DeHaan was in complete control for most of the afternoon, yielding only two base hits and striking out seven batters in his four innings of work on the mound.

Alex DeHaan post-game interview.
DeHaan was especially effective in the second inning, when he struck out all three batters he faced, using an impressive mix of fast and slow pitches.

"I was just trying to throw strikes and get it across the plate," DeHaan said. "I've been working hard in the off-season, went to a couple of baseball camps with my father. I was just having fun out there after I got relaxed."

"We talked a lot about getting ahead in the count, because the batter's batting average drops by like 100 points when you get ahead," Eskymo Manager Kirk Schwalbach said. "He got ahead with his fastball, and we really worked hard on his off-speed stuff. You can tell that he loves baseball, and he really works hard at the craft. He's enjoying himself."

DeHaan helped his own cause with an RBI single in the first inning and a two-run hit in the third. That made it a 3-0 game, which would have been more than enough runs to turn back the young Knights on this day.

The third inning was disasterous for Norway, as the Eskymos got seven runs on five hits against Knights starter John Grayvold. The hits were not shots to the fence, but they got the job done for the Eskymos, both on the infield and just barely onto the outfield grass.

Schwalbach says that might be because high school kids are using different bats this year, which generally do not allow for those "rocket hits" that we've seen in the past.

"You're gonna see a lot of that because the 'sweet spot' is smaller on these bats," Schwalbach said. "You've got to hit it either on the end of the bat or on the barrel to get it to jump like it did on those older bats."
In that third inning, besides DeHaan's two-run hit, Austin Young added two runs with a blooper to the outfield, and Ben Kleiman drove in two runs with one of his three base hits. Escanaba added four more runs in the fourth inning, with Tim Lueneburg getting his first hit and RBI as an Eskymo.

(There are pictures from the game posted in the box to the right. Thanks to Sheila Olsen for taking these shots)

Tim Lueneburg post-game interview.
"I was a little nervous, and then I swung at one over my head," said Lueneburg, who added another hit in the fifth inning. "Then, I had to concentrate more, and I hit it! It felt really good."

DeHaan perhaps lost his focus in the fourth inning....or maybe he was too focused...as he tried to hold onto a lead that had grown to 12-0. DeHaan hit a batter, gave up a single, and walked another to load the bases. But he got freshman Mike Faull to ground out to end the Norway threat unscathed.

"I did not want to lose that goose egg," the talkative DeHaan said. "That is what I was shooting for. Maybe that's what caused me to go a little but astray was that I wanted it too much."

David Falish pitched a scoreless fifh inning, getting three strikeouts.

The late part of the game was all about getting every boy into the lineup. And Schwalbach succeeded in getting 17 of the 18 kids into the game, even if it was for a pinch-hitting appearance. The only boy who did not get in was senior Ian DeMarse, who was on deck as the top of the fifth ended.

"I feel bad that we didn't get Ian in," Schwalbach said. "I didn't want to put him in a position where he wasn't comfortable, like in right field. We tried to get him an at-bat. He's a good kid, and he understands. He'll get a start on Friday. But without a JV program, we've got to get those freshmen in."

Freshman Sean Bissell got two hits (one on the infield) and two runs batted in, and he caught two innings in his Eskymo debut.

Escanaba (2-0) hosts Rudyard in a doubleheader on Friday at Al Ness Field. Game time for the opener is 4:00. The Eskymos will also host Shawano (Wis.) in a doubleheader on Saturday, starting at about 12:15.

You can hear all four of those games live on WCHT-AM (600), and on-line at rrnsports.com. Norway (3-2) will face Rudyard at the Eskymos' field Saturday morning at 10:00 ET/ 9:00 CT.