We changed the structure of our website and all stories and content from July 2006 through February 2012 can be viewed at
archive.rrnsports.com
.
All stories, news and content starting from March 2012 can be viewed here. Just use the drop down boxes above to find your favorite sport.
Jets Outlast Wolves In Menominee County Civil War
The North Central Jets took the best shots the Carney-Nadeau Wolves had to offer Friday night, but the dream season rolled on for the Jets in a 65-57 win over their arch rivals in the Class D District Championship game. NCA faces Munising in the regionals on Monday.
Click the above headline to read the game's details, see videos and photos from the game, and to listen to post-game interviews. Pictured above: The Jets love their trophy!
Eskymos Get Past Maroons For District Title, 48-46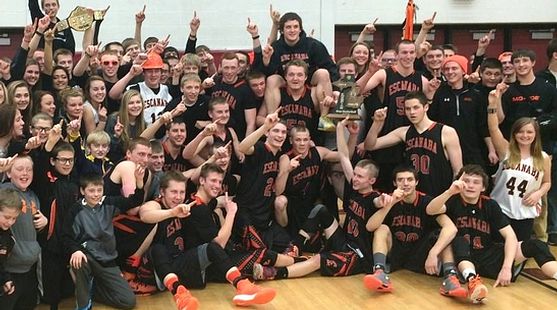 The Escanaba Eskymos won the Class B boys basketball district championship Friday, beating the conference rival Menominee Maroons, 48-46, in Menominee.
Ben Kleiman's basket with just over a minute left in the game was the difference. Brandon Robinette led the Eskymos with 15 points and nine rebounds. The Eskymos travel to Petoskey on Monday for the regionals against Cadillac. (Dave Wilson photo)
SPORTS BROADCASTS ON RRN STATIONS
Saturday March 8, 2014
1:55 PM -
High School Hockey. MHSAA Division Three Hockey State Championship Game. Sault Ste. Marie Blue Devils vs Farmington Falcons. From CompuWare Arena in Plymouth, Mich. On WCHT-AM (600), and on-line at
www.rrnsports.com
.
3:45 PM -
NASCAR Racing. Nationwide Series 300-mile race. From Las Vegas Motor Speedway in Las Vegas, Nevada. On WCMM-FM (102.5).
Sunday March 9, 2014
12:10 PM -
NHL Hockey. Detroit Red Wings at New York Rangers. From Madison Square Garden in New York City. On WGLQ-FM (97.1).
2:00 PM -
NASCAR Racing. Sprint Cup 400-mile race. From Las Vegas Motor Speedway in Las Vegas, Nevada. On WCMM-FM (102.5).

5:30 PM -
NBA Basketball. Detroit Pistons at Boston Celtics. From the TD Bank Garden in Boston, Mass. On WCHT-AM (600).
Monday March 10, 2014
7:00 PM -
NASCAR Racing. "Fast Talk" From the Performance Racing Network. On WCHT-AM (600).