Eskymos Open Season With Win Over Marquette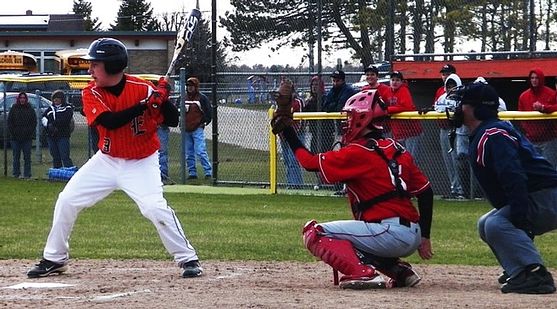 ESCANABA---The 2012 high school baseball season began on a positive note for the Escanaba Eskymos on Tuesday, as they beat the Marquette Redmen, 12-2, at Al Ness Field.

Austin Young had a home run and drove in three runs, and Nick Vandermissen had four runs batted in as the Eskymos stayed perfect in the all-time series against the new Redmen program. Eskymo Coach Kirk Schwalbach said it was great to just get a game in.

"The kids get complacent, they get bored with practices and scrimmages," he said. "We have so much work to do. But I'm happy with the way the kids played. I was pleasantly surprised with where we're at right now."

Sophomore Ben Kleiman got the start on the mound, and he got into trouble in the first inning as Mike House and Nathan LaMora got hits and Connor Brazeau walked on four pitches. But Kleiman...a transfer from Bark River-Harris High School...struck out Gabe Apple to end the threat unscathed.


Ben Kleiman Big 'K'
"I knew that I really didn't want to give up a run," Kleiman said. "So, I kept talking to myself in my head to keep calm."

"He kept his composure," Schwalbach said about Kleiman. "For a sophomore, that's good to see. He doesn't play like a sophomore though. We saw him in basketball season. He plays like a junior or senior, and he's not intimidated by anybody. So, I'm proud of Ben."

In the bottom of the first inning, Alex DeHaan drove in Kleiman, and then when David Falish got a base hit, the ball was missplayed in the outfield and DeHaan scored all the way from first base. It was 2-0 Esky.

In the second inning, Young had an RBI single over the left fielder's head, Vandermissen had a blooper to right field that brought in two runs, and then DeHaan ripped a bad-hop single past the third baseman for another run.

Marquette got a run back in the third inning when LaMora doubled and scored on a single by Ryan Frasier. But in the bottom of the inning, Young ripped a two-run home run to left field to make it 8-1.



Austin Young Homer
That homer came despite the fact that the kids are using new, safer bats this year that supposedly will cut down on line drives...and on long home runs.

"You can hit home runs, but you've got to hit 'em good," Schwalbach said. "Austin's a strong kid. Everyone knows how athletic he is. We had a 40 mile per hour wind blowing out to left, but it didn't help that one. His was definitely a shot."

After Frasier drove in another run in the fifth inning for the Redmen, the Eskymos ended the game on the mercy rule with three runs in the bottom of the inning. Two of them scored on Vandermissen's second hit, and the last came home on a Bailey Lamb base hit to left with the bases loaded.
The Eskymos had 15 hits in all, with Young and Kleiman each getting three. Vandermissen, DeHaan, and Falish all had two hits. Marquette had five hits altogether, with Frasier and LaMora each getting two.

On the mound, Kleiman worked three innings to get the win. He allowed four hits, one run, struck out six and walked one. Devin Olsen relieved, and yielded one run on one hit in two innings of work. Brett Beauchamp took the loss for Marquette, allowing eight runs on ten hits in three innings.

"I felt good," Kleiman said. "I had to work out the kinks at the start, but I settled down. It was realy cold, (but) we were all itching to get out there."

The Eskymos travel to Norway on Wednesday. The Knights split a doubleheader with Stephenson on Tuesday, losing the opener, 2-1, before winning the nightcap, 22-2.

Game time is 5:00 ET. The game will be broadcast live on WCHT-AM (600), and on-line at www.rrnsports.com.