Eskymos Sweep Mistake-Prone Sault Blue Devils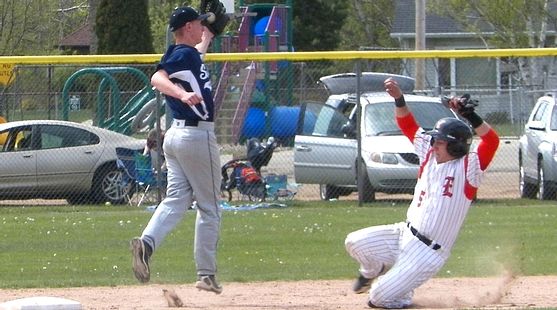 ESCANABA----Looking across the field at the Sault Ste. Marie dugout, you could just see the steam starting to rise from Greg Rambo's head. He is the longtime baseball coach from the Soo...32 years, in fact...and he was watching his Blue Devils team turn in an uncharacteristically-dismal performance against the Escanaba Eskymos.


Sault Coach Greg Rambo was frustrated.

There were numerous errors and wild pitches in the first game of the doubleheader that helped the Eskymos post an 11-3 win on Parent's Day.

Rambo kept his cool through most of that, but when his team started making mistakes on easy plays in the second game, the veteran coach had seen enough. After the Eskymos pulled off a second-and-home double steal, Rambo came to the mound and gave his team a lengthy tonguelashing.

It worked, as his team played better the rest of the way, although the Eskymos still posted a 10-0 win to complete a doubleheader sweep in a possible playoff preview.

And while Rambo and his Sault High players got back into that big RV and returned to the Soo a disappointed bunch, Escanaba Head Coach Kirk Schwalbach liked most of what he saw from his Eskymos.

"They had a kid missing, but I give our kids credit," he said. "Alex pitched a solid game, we got some timely hits, and took advantage of their mistakes. And our defense was good. I'm very happy with the boys right now. We're creating some momentum."

The first game saw the Eskymos take advantage of those Blue Devil errors, as well as their team speed. There were several wild pitches and passed balls that moved runners ahead, the Eskymos stole five bases, and they routinely took the extra base on hits.


Nick Vandermissen is safe at second base.

Alex DeHaan had about as good of a game as you can get. He was 4-for-4 at the plate with a pair of doubles, drove in four runs, and threw six strong innings on the mound. And Bailey Lamb continued his hot streak at the plate by driving in four more runs with a single and a double.

DeHaan's two-run double in the first inning gave the Eskymos the lead.

Kolbe Peller's RBI single gave the Soo a run in the top of the second inning, but in the bottom of the inning, the Eskymos scored five runs as the Blue Devils committed a comedy of errors that did not leave Rambo smiling.


Amongst those Soo mistakes, the Eskymos got those timely hits that have been elusive at times this season. Nick Vandermissen's two-run single made it 4-1, DeHaan's RBI single made it 5-1, then Lamb ripped yet another two-run hit. It was 7-1 after two.

The Blue Devils got a run in the top of the third on an RBI single by Sean McGahey, but two more errors gave the Eskymos two more runs in the bottom of the third inning, helped along by DeHaan's third RBI hit of the game.

Escanaba's final two runs of the opening game came in the sixth inning when David Falish was hit by a pitch, Travis Heller walked, and Lamb came through with a two-run double. Devon Dear's groundout in the seventh scored the Soo's final run.


Alex DeHaan pitches to Sean McGahey.

DeHaan threw six innings, and tried to get the complete game, but gave up two hits to start the seventh inning. Jeff Lyle pitched the final inning, getting a strikeout, a grounder, and a fly ball. DeHaan allowed three runs on six hits. He fanned six batters.

In the second game, Austin Young got the ball for the first time in an Eskymo uniform (other than a one-inning relief appearance last week in Gladstone). And it was clear that Young can pitch just as well as he can play other positions on the field. He handcuffed the Blue Devil hitters in his five innings on the mound, allowing just two pop fly singles.

Escanaba scored five runs in the first inning after Young retired the Soo 1-2-3 in the top of the inning. There were only two hits in that inning, as Soo starting pitcher Lucas Krupa had trouble throwing strikes, and keeping the ball out of the dirt.

Two walks and a hit-batsman, two wild pitches, and the double-steal that set Rambo off, added up to those five runs, as Lamb had the only RBI base hit of that inning.


Bailey Lamb continued his hot streak.

Lamb, incidentally, drove in another run with a ground ball in the second inning and had six RBI in the doubleheader. The sophomore has taken over the team lead in RBI, and now has driven in 18 runs in his last eight games.

"When you get opportunities, you've got to take advantage of them, and Bailey sure has," Schwalbach said.

Escanaba led, 8-0, after two innings, and it was all Young from there. He struck out seven batters in his five innings of work, and he turned a sweet 1-6-3 double play in the fourth inning.

Krupa's two pop fly hits were the only marks against Young, who earned his first high school pitching victory. But the senior, who will play football at Northern Michigan University this fall, downplayed his performance in favor of praising his teammates.

"I just threw strikes," said Young, who thought he might be pitching but didn't find out for sure until just minutes before the game. "We're improving. We're trying to get over that hump. It's a really young dugout, but the team chemistry is pretty good and we can talk to each other about pretty much everything."

Schwalbach, though, had plenty to say about Young's mound effectiveness.


Austin Young was in complete control.

"Austin has given me another problem," Schwalbach laughed. "And I say that with total sarcasm. It (Young's performance) gives us another arm, and it sure makes things better for us. To know that you have someone like Austin who you can lean on and who will go out there and get outs against better teams, that's a good 'problem' to have.

" Maybe I should have pitched him more often."

Young was relieved by Andrew Sedlar, who pitched a 1-2-3 sixth inning, with two strikeouts. The game ended, fittingly, perhaps, on a Soo wild pitch with Lewis Ostrander at the plate in the bottom of the sixth inning.

Devin Olsen, who had walked, scored the mercy-rule run.



"I needed to redeem myself today, and I came out thinking that I needed to do the best that I could," DeHaan said. "I saw the ball really well today, but part of it was luck. I don't think I could get that lucky again with the Texas Leaguers I hit, but it was a lot of fun. I've got to keep working because those bloop hits won't always come for me."

Escanaba improved to 15-7 on the season while Sault Ste. Marie fell to 12-8.



Bailey Lamb Hit In Head By Throw To Third Base

Escanaba could face the Soo in the districts, which will be hosted by the Blue Devils. The Eskymos play Cheboygan first and the Devils play Petoskey. Should both teams win, it would be a rematch in the district final. As it is, the Eskymos will also play the Blue Devils one more time in the regular season: May 26th at a tournament in Sault Ste. Marie.

Before that, the Eskymos will return to action this Tuesday afternoon in Marinette, Wis., against the Marinette Marines. Game time is 5:00 ET from the Pedersen Ballpark.

"We're gonna have our hands full," Schwalbach said. "I've been told that they are a solid team. I can't wait for Tuesday. It's a nice ball park. I played in it. It's a beautiful park and the kids are gonna have a lot of fun playing on a nice baseball field like that one."

Tuesday's game will be broadcast live on WCHT-AM (600), and on-line at www.rrnsports.com.

Escanaba's game that was scheduled for Monday in Menominee has been cancelled.

Click the thumbnails in the "ARTICLE HIGHLIGHTS" box to see pictures and videos taken by Sheila Olsen, as well as audio highlights from the doubleheader.




It was Parent's Day at Al Ness Field Saturday. They joined their kids for the National Anthem.