Esky Cubs Blanked In Kimberly Tourney Opener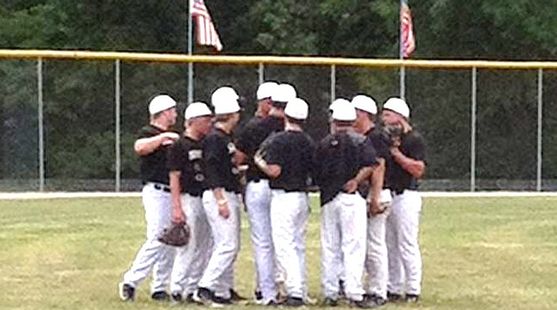 KIMBERLY, Wis.---The Escanaba Cubs will play anyone, anywhere, in an effort to get ready for the Upper Peninsula playoffs. And the team's brutal schedule continued on Friday at the KBO Varsity Baseball Invitational in Kimberly, Wis.

The Cubs lost to Appleton Post 38, 10-0, in their first game. Appleton pounded out 14 base hits, and scored seven times off of Cubs pitcher Alex DeHaan in the first two innings.

"They hit the ball," Cubs Manager Tom Ohman said. "They're young, but they know how to hit. I don't mind losing too much because we weren't giving them runs on errors."


The game was 0-0 after one inning of play, but Appleton battered DeHaan for seven runs in the second. Three of Appleton's runs scored on passed balls and wild pitches in the early going. DeHaan was taken off the mound after 1 2/3 innings of work.

"They had a lot of ground balls for hits in places where we weren't (defensively)," Ohman said. "They're a real balanced team."

Matt Jensen worked the next 2 2/3 innings, allowing two runs. Andrew Kausak pitched the final 1 1/3 innings and was charged with one run. Offensively, Escanaba had four base hits: two by Jensen, and one each for DeHaan and Nick Vandermissen.

Escanaba (5-7) will play twice on Saturday. The first opponent is Highland (Ind.), and the second is the host Kimberly team. Both games will be broadcast live on WCHT-AM (600) and on-line at rrnsports.com, starting at 4:00 ET.