Weyers Complete Game Leads Tribe Past Eskymos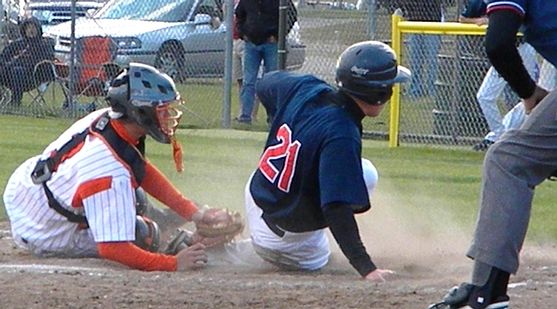 ESCANABA---The regular season came to an end for the Escanaba Eskymos Wednesday night, and the team is probably glad that it is.

The boys lost another one-run game, 4-3 to the Gladstone Indians, ending a season that has seen them come so close, so many times.

Gladstone 19-year-old Matt Weyers pitched a complete game, scattering seven hits and keeping the Eskymo batters off-balance with a mixture of fastballs and curveballs.


Alex DeHaan on the mound on Senior Day.

Escanaba's record fell to 19-13, with of the losses coming by one run. The Eskymos had the lead in most of those close losses, too.

And it continued to be the inability to get the clutch base hit, along with one bad inning of defense, that did the Eskymos in.

"I'd like to say that both teams played well, but we threw it around that one inning (fifth inning)," Escanaba Coach Kirk Schwalbach said. "That hurt us. It's been the story of our season. If we play well, we can play with anybody. But when we don't, well..."

The fifth inning was certainly the turning point, as the Eskymos led, 2-1, but committed three errors and left the inning down, 4-2. Paul Tomaszewski led off with a walk, but he was forced out on a Justin Jurek grounder. Jurek stole second, and as he did, Eskymo catcher Sean Bissell threw the ball into center field, moving Jurek to third base.

Cody Frazer drove Jurek home with a sacrafice fly to tie the game at 2-2 Jared Stenson followed with a long fly ball off the fence for a double. Then Jake Pearson came to the plate. He got a solid base hit to left, and Eskymo left fielder Cam Beversluis came up throwing. He hit third baseman Devin Olsen on the cut-off throw as Stenson came home.


Blake Ballard is safe at second base.

Olsen threw the ball home and it short-hopped Bissell, bouncing to pitcher Alex DeHaan, who was pitching and backing the play up. Stenson scored on that error.

Pearson went to second. DeHaan tried to get Pearson, but he air-mailed the throw for another error. Austin Young, playing in center field, got to the ball. It went under Young's glove for another error, and Pearson made it to third base.

Hayden Hardwick followed with an RBI single to make it a 4-2 Gladstone lead.

Pearson, however, sprained his ankle on the play. He finished the inning, but had to be removed later in the game. Pearson's loss was Weyers' gain, as Weyers was allowed to finish the game mound instead of Pearson coming on in relief.



The ball landed between the three boys, and Vandermissen had a "double".

He eventually scored on a ground ball by David Falish, making it a 4-3 game.


Nick Vandermissen goes for a pop fly.

Then in the bottom of the seventh inning, the Eskymos got a chance when Beversluis ripped one over the center fielder's head with two outs. It was a double for the #9 hitter, bringing up Young, who was one of three seniors honored before the game.

Weyers stayed on the mound to face his buddy. The two were teammates on the Delta County Senior Little League All-Stars team that made it to the state finals in 2009.

Well, fast-forward to Wednesday night, and Weyers got the count to 1-2. He threw a wicked curveball and young swung through it, ending the game with a fist-pump.

"Austin has always been trouble for me," Weyers said. "Either I hit him, or he usually hits the ball off me. So, I knew I had to hit my spots and throw strikes, and I got ahead in the count. I was throwing as hard as I could that last at-bat. I knew that Austin wanted that fastball again, so I had to come with the curveball and take him out."

"Matt threw a good game for us," Jim Groleau said. "I think he started picking up velocity there in the third inning. He was throwing hard. If you would have told me that he would throw a complete game with 95 pitches, I would have said 'no way'."


Matt Weyers at the plate. He got it done with his arm, though, not with the bat.

Weyers did not allow a walk, and scattered seven hits to improve his record to 3-0.

"He pitched well," Schwalbach said. "I was proud of Matt's effort. My kids played wello off him. We had six or seven hits. He was throwing kind of like the Kirkland kid (Tyler, Sault Ste. Marie). I'm just disappointed with that one bad inning we had."

Escanaba used four pitchers.

Kleiman and Olsen were both effective, each pitching two innings and allowing no runs. Young started and allowed one unearned run.

There were some good defensive plays in the game. Kleiman, when he was playing at shortstop early in the game, turned a nice 6-3 double play in the third inning. And for the Indians, Weyers made the defensive play of the game when he barehanded a bunt by Kleiman in the bottom of the third inning and got the out.



Matt Weyers Barehanded Bunt Play

"I saw the bunt, and I knew that I had to make a clean throw over there," Weyers said. "I picked it up, and as soon as I turned and threw, I saw no one at the base, and I had already released the ball."

"And I was like 'Dear God, Paul, you better get there'. And Paul made a great catch, moved his feet perfectly, and got us an out."

"Gladstone has a really good team," Schwalbach said. "This was a good test for us going into districts. I just told the boys that our season starts on Saturday. We're back to 0-0. We really haven't played our best baseball yet. So, let's do it now."


Eskymo senior Ian DeMarse had a hit.

For Escanaba, it was just another loss in a long string of losses that would have been wins with a little more luck, and a little more execution. And it was a sad way to end the regular season for the three seniors, Young, DeHaan, and Ian DeMarse.

"We made a bunch of mistakes and we should have won this game easily, I thought," DeMarse said, then added, "It's been a fun time here.

"I'm a little sad, but it's not over yet. We've got districts. Hopefully, we can bring home a district title. It's just great to be an Eskymo, and once you get to know these teammates, you just start to love them."


Yes, indeed. The "second season" begins for Escanaba on Saturday, at the district tournament in Sault Ste. Marie. The Eskymos will face the Cheboygan Chiefs in the first round. Game time is 12:30. The game will be broadcast on WCHT-AM (600), and it will be streamed live on www.rrnsports.com.

Gladstone (11-1) will host Iron Mountain in a doubleheader on Sunday. Game time is 4:00. Those games will also be broadcast live on WCHT and rrnsports.com.

You can click the thumbnails in the box in the upper part of this page to see more photos, video clips, and to listen to audio highlights.