Cubs Blow 5-0 Lead; Fall In Ten At State Tourney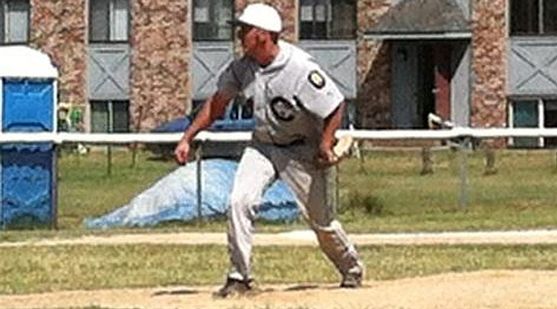 MARQUETTE---For the second straight week, the Escanaba Cubs opened a tournament against the Menominee Red Wave on a small "second" field.

And for the second straight week, the result was the same: a loss.

The Cubs built a 5-0 lead on Thursday, and if this was a seven-inning game like normal, Escanaba would have been celebrating a victory. But these are nine inning games at the state tournament, and Menominee rallied to post a 6-5 win in ten innings.

Escanaba and Menominee played this game on the small field next to the main Gerard Haley Field in Marquette. One week ago, in Sault Ste, Marie, the teams met on a small field during the Upper Peninsula Finals, and Menominee won that time, 5-2.


David Falish at the plate Thursday.

The Cubs managed to bounce back and win that tournament, earning a spot in this six-team state tournament. But this time will be tougher, because this loss happened during bracket play. It happened in pool play last weekend.

So, the Cubs will have to keep winning over the next three days to stay alive.

Alex DeHaan's RBI single gave the Cubs a 1-0 lead as David Falish scored on the play. And the lead grew to 5-0, and with Trent Schwalbach pitching well, it looked good for Escanaba.

But then came that fateful eighth inning when Menominee rallied.

Sean Budzynski's three-run double made it a 5-3 game. Then an error and stolen base kept the inning alive for the Red Wave (13-25). Derek Reiswitz came through with a two-run single down the left field line, and it was a 5-5 tie.

In the tenth inning, Adam Saucier's single drove home Landon Maccoux to put the Red Wave in front. Escanaba had a chance in the bottom of the inning, but with runners on second and third and two out, Justyn Doucette bounced out to end the game.

Escanaba (14-14) will face Marquette in a loser's bracket game Friday at 10:30 a.m.

Thanks to Kym Frazer for the photos.

Thursday, August 2, 2012
Menominee 6, Escanaba 5 (10 Innings)
Hudson 13, Gladstone 11 (11 Innings)
Kingsford 11, Menominee 1 (7 Innings)
Hudson 4, Marquette 3 (10 Innings)

Friday, August 3, 2012
10 a.m.---Game 5: Gladstone vs Menominee
10:30---Game 6: Escanaba vs Marquette
2:00---Game 8: Winner 5 vs Winner 6
6:00---Game 7: Hudson vs Kingsford

Saturday, August 4, 2012
10 a.m.---Game 9: Winner 8 vs Loser 7
2:00---Game 10: Winner 9 vs Winner 7

Sunday, August 5, 2012
Noon----Championship IF NECESSARY