Eskymos Overcome Mistakes; Win In Marquette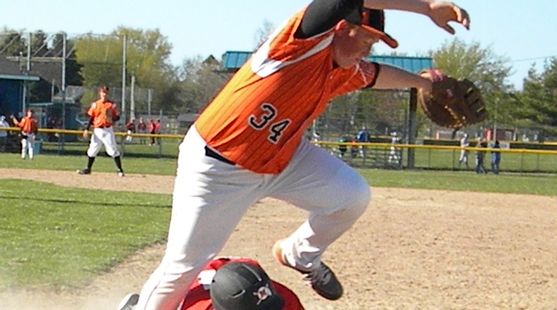 MARQUETTE----It was like playing baseball on a trampoline.

Ground balls would hit the hard playing surface and bounce every-which-way as the Escanaba Eskymos and Marquette Redmen played Thursday afternoon in Marquette.

No, the guys did not play on the nicely-maintained Haley Field, with its green grass and 400-foot center field. Because of an on-going dispute between the high school and American Legion programs, Thursday's high school game was relegated to the junior varsity field next door. It has a 297-foot drive from home plate to right field and a "lip" so bad on the infield grass that both coaches agreed not to bunt during the game.


Eskymo freshman Sean Bissell on base.

So as a Junior Legion game was played on Haley Field, the Eskymos and Redmen made the most of the situation on the small field. Escanaba won the game, 14-3, pounding out 14 base hits in the process. The game was called after six innings by the mercy rule.

"The field wasn't in the best of shape and there were a lot of bad hops out there," Eskymo Coach Kirk Schwalbach said after his team made five errors, leading to all three Redmen runs. "You can give a million excuses.

"I don't know if the kids are coming in and still taking Marquette seriously or not. But we won, 14-3, and we overcame those mistakes."

Escanaba scored seven runs in the second inning (three of them on bases-loaded walks) to break the game open, then scored five more runs in the top of the sixth inning.

Senior Austin Young had three hits (a double and two singles), drove in two runs, and scored three times to lead the Eskymos. He also threw a man out at third base.


Austin Young had three base hits.

"You run out of adjectives to describe Austin," Schwalbach said. "He threw that kid out at third with a great throw. He's just a solid player. It's fun to watch him play. I get so many good comments from people about how he presents himself on the field and how he plays baseball. He's entertaining."

Ben Kleiman also had a single and a double, Cam Beversluis had a two-run double, and 14-year-old Sean Bissell caught his eighth straight game and drove in a pair of runs with a single and a bases-loaded walk.

But the highlight of the game was sophomore Bailey Lamb, who's hitting has been as hot as his hair is red. He clubbed a three-run homer to left field in the second inning, his first round-tripper as an Eskymo.



Bailey Lamb three-run homer

Lamb has driven in 12 runs in his last six games.

"I just saw 'er right down the middle and I took a good swing at it," Lamb said. "I just felt like 'finally, a solid one!'"

"Every time he gets an at-bat, he drives the ball," Schwalbach said. "He takes advantage of his opportunities. I have been real happy with Bailey lately."


Devin Olsen picked up the pitching win.

Devin Olsen got the ball for the Eskymos, and he struggled to throw strikes, walking five men in four innings of work, and going deep into the count on several other batters.

Still, Olsen did not allow an earned run and yielded just three base hits.

"Devin didn't have his best stuff tonight, the way he did in Stephenson," Schwalbach said. "He's capable of being in command. He battled through it. We got four good innings out of him, and that saved some arms for this weekend with the Soo coming in."

Andrew Sedlar pitched the final two innings for the Eskymos, striking out three batters and allowing one unearned run. Sedlar also had a hit in his only at-bat late in the game.

Brett Beauchamp took the loss on the mound for Marquette, going 1 2/3 innings, allowing eight runs (three earned) on three hits and five walks. Connor Brazeau went the final 4 1/3 innings, allowing six runs on 11 hits. Offensively, Nathan LaMora led the Redmen with two base hits. Ryan Frasier and Brandon Lotterman also had hits.

Escanaba (13-7) beat Marquette (8-9) for the third time this season. The Eskymos will host the Sault Ste. Marie Blue Devils in a doubleheader Saturday at Al Ness Field.

"You want to play well and let them know that they're gonna have their hands full if they play you (in districts)," Schwalbach said. "It's Parent's Day, so we want to have a good performance for the parents who are coming for the game. It's a big weekend for us."

Game time is 12:00 noon. The doubleheader will be broadcast live on WCHT-AM (600), and over the Internet at www.rrnsports.com.

Click the "ARTICLE HIGHLIGHTS" box to see more photos and videos from the game. Thanks again to Holly Bockman for doing thatfor the team.