Up-And-Down Cubs Season Ends In Shutout Loss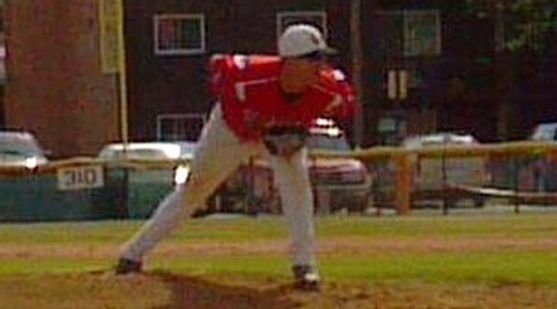 MARQUETTE----The Escanaba Cubs had their American Legion Baseball season come to an end on Friday as the Marquette Blues blanked the Cubs, 8-0, in a loser's bracket game at the state tournament at Marquette's Haley Field.

Alex DeHaan gave up four runs in the first two innings and took the loss on the mound.

Ben Kleiman and Devin Olsen also pitched in relief for Escanaba.


Ben Kleiman at the plate Friday morning.

Marquette pitcher Adam Gannon shut the Cubs down, allowing only three singles over eight innings of play. Escanaba's best chance to score was the sixth inning when the Cubs had two runners on base, but DeHaan hit into a double play to end the inning.

Spencer Larson had five hits in five at-bats for Marquette, and Nathan Mutch had three base hits. But the Blues (46-22) later were eliminated by Menominee, which is just 15-25 on the season but has peaked in "states", also beating Escanaba and Gladstone along the way.

The U.P. Champion Cubs finished the season with a 14-15 record.

Thursday, August 2, 2012
Menominee 6, Escanaba 5 (10 Innings)
Hudson 13, Gladstone 11 (11 Innings)
Kingsford 11, Menominee 1 (7 Innings)
Hudson 4, Marquette 3 (10 Innings)

Friday, August 3, 2012
Menominee 7, Gladstone 6 (10 Innings)
Marquette 8, Escanaba 0
Menominee 10, Marquette 8
Kingsford 9, Hudson 7

Saturday, August 4, 2012
10 a.m.---Menominee vs Hudson
2:00---Kingsford vs Meno/Hudson winner

Sunday, August 5, 2012
Noon----Championship #2 IF NECESSARY

Click the thumbnails in "ARTICLE HIGHLIGHTS" to see photos taken by Sheila Olsen. Click the other headlines in the "RELATED STORIES" list to see information from previous Escanaba Cubs games.