WILD VICTORY: Norse Outlast DCTC In Overtime
Click the thumbnails to see photos and videos, and hear post-game comments from Savion Gray and Coach Matt Johnson. Also hear Assistant Coach Will Carter's halftime interview.

ESCANABA---There wasn't much defense played Monday night as the Bay College Norse men's basketball team battled Dakota County Technical College in a NJCAA Region 13 seeding match-up. In an up-and-down game, the Norse blew a seven point lead in the final minute of regulation, but recovered to post a 104-97 win in overtime.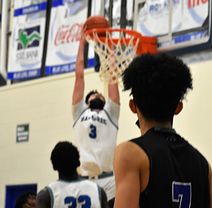 The win gives Bay the upper hand in the battle to host the post-season tournament. Another win over DCTC, and another win over Gogebic Community College, would mean the road goes through Escanaba to the regional championship.

The Norse won despite a career night from DCTC's Manny Montgomery. He scored from virtually everywhere on the court, throwing down 42 points on 15-of-28 shooting from the floor and nine-of-eleven from the free throw line. His teammate, Dante Aganmwonyi, added 27 points as the best offensive one-two punch the Norse have faced all season.

Every time DCTC made a run, however, the Norse had an answer. And massive foul trouble plagued the Blue Knights, who came to town with only eight players. Eventually, five of those eight players fouled out, leaving DCTC with only three players on the court for the final minute of the overtime period.

By that time, Matt Wagner had broke the 85-85 tie with a deep triple to start overtime, and then the Marinette High School graduate added an "and-one" basket as he scored ten of his team-high 29 points in OT. Wagner put the game away with five straight free throws, and made nine of eleven from the foul line on the evening.
In fact, Bay shot an incredible 50 free throws in the game, making 38 of them. Chris Dobessi shook off recent foul shot problems by making eight of the eleven freebies he took.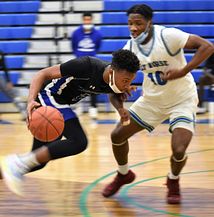 He scored two clutch baskets in the overtime period by driving to the hole for layups against a shorthanded DCTC team.

Dobessi finished with 20 points.

The Norse also had foul problems, with Jibril Ndiaye and Didier Ngambo both fouling out. But before Ngambo left the game, he dunked a Wagner miss to put his team in front, 78-73, and then seconds later, went to the basket for two more, making it 80-74.

The Norse got a boost off the bench from Joe Gibbs, who put one in for an "and-one" basket of his own, making it 82-74. When Wagner scored with 1:07 left, the Norse had a 84-77 lead.

But the Blue Knights rallied behind Montgomery, whose triple with 24.9 seconds left made it 84-83. The Norse got one free throw from Savion Gray to go up by two, and after a Blue Knight miss, it looked like Bay would be able to seal the game. But Gray was called for a double dribble with five seconds left, and Montgomery drove to the basket and tied it.

Bay, however, dominated the overtime period with 19 points, 11 of them from the foul line.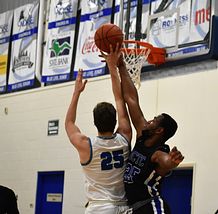 Earlier, Bay jumped to a 18-9 lead after a Wagner triple. But that would be the biggest lead of the night for either team as the Norse clung to a 40-38 lead at halftime. DCTC took a 50-46 lead in the second half before the Norse went on a 14-4 run to regain a 60-54 lead.

The Norse got a big boost from Tristan Masuga.

The Cedraville High School graduate had a season-high 14 points, with a pair of triples and an "and-one" basket. Ngambo had eleven points and Gray added ten points and 11 rebounds. The Norse had five players score in double figures. DCTC (2-6) got eleven points from Ariyontai Hatcher.
Bay (5-9) has won four in a row after a 1-9 start. The Norse travel to Hancock on Wednesday to face Finlandia University. Game time is 7:30. It will be broadcast on Maverick 106.3 and www.radioresultsnetwork.com.