Norse Men Overwhelmed Again By Triton College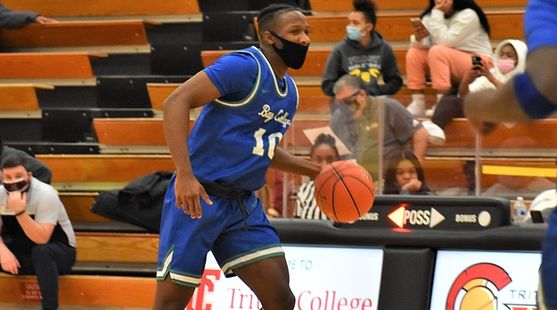 RIVER GROVE, Ill.---For the second straight day, the Bay College Norse men's basketball team dug an early hole and lost to national powerhouse Triton College. The Norse fell behind, 15-1, in the first five minutes on Saturday, and lost to the Trojans, 98-55, in suburban Chicago.
Saturday's result came less than a day after the Norse fell behind 15-0 in a 88-50 setback.
"Our kids played hard," Norse Coach Matt Johnson said. "It wasn't a lack of effort. We've got to be a little bit physically and mentally tougher than what we were. This (Triton) is a really, really good basketball team. They're not going to give you anything easy. But we typically play these teams early in the season for a reason. I want to be challenged. I want it to be tough."

One difference between Friday and Saturday was that Bay's shooting picked up in the second half Saturday, as the Trojans went to a zone defense and the Norse took advantage with nine three-point baskets.

It didn't put much of a dent into Triton's lead, but gave the Norse some confidence heading into next week's game at Bryant & Stratton. Ashton Janke and Matt Wagner each nailed three triples, and Cal Raymond sank two of them.

"We did a better job with our offense in the second half, but I wasn't overly thrilled with our defense in the second half," Johnson said. "We gave up 54 points. That's not going to cut it. But this Triton team is very, very good."

There were 20 total three-pointers in the game, with each team getting ten.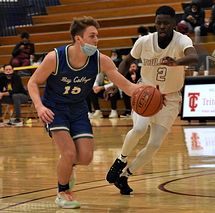 Triton had six players score in double figures, and they made 35 of 64 overall shots from the floor. Kejuan Clements ledthe Trojans with 18 points, while Tre Wainwright and Teonta McKeithen each added 15.

Wagner was the only Bay player in double figures with 11 points.

The Norse played without starter Marcus Harris, who was injured in Friday night's loss. His ankle will be evaluated on Monday.
Bay will travel to Bryant & Stratton to face another tough opponent next Saturday. Game time is 4:00 EST/3:00 CST from Wawautosa, Wis.
Click the thumbnails in the ARTICLE HIGHLIGHTS button above to see photos and videos, and hear post-game comments from Coach Matt Johnson. Also listen to Tyler Sundling's player spotlight interview.