MUCH NEEDED WIN: Norse Top Finlandia, 78-72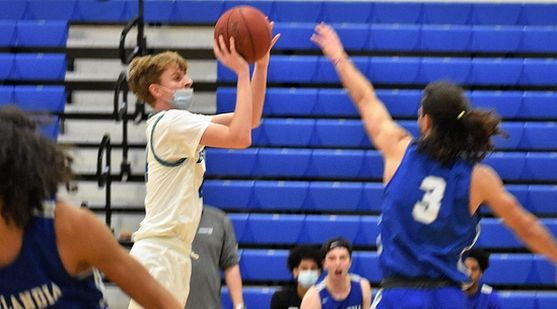 Click the thumbnails to see photos and videos, and to hear post-game comments from Johnson and Raymond. Also click the AUDIO button for Didier Ngambo's player spotlight interview.

ESCANABA---The Bay College Norse men's basketball team picked up its second win of the season Wednesday night, turning back the Finlandia University Lions, 78-72, in Escanaba.

It was not the prettiest of games, but for a team with a 1-9 record, any win is a pretty win.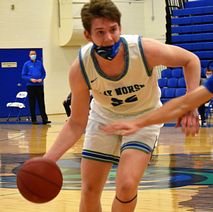 "We started a little down (in numbers) to begin with, with some guys unable to play, some guys who weren't here, and we had a couple guys get hurt, and we had a couple guys foul out," Norse Coach Matt Johnson said. "We just kind of put a Band-Aid on it and we held it together enough in the second half, thank goodness. But I'm happy for the guys. We needed this one really, really bad. I think it will boost our morale and our spirits a little bit."

The game was tight all the way, as Finlandia was also looking to break a losing skid and get new head coach Allen Dehority his first win. The Lions led, 18-14, midway through the first half after River Schumate drained a triple and Alex Robertson hit two from behind the arch.

That prompted Johnson to call a time out, and he challenged his players to step it up.

Cal Raymond kept his team in the game with four three-point baskets, while a hobbled Jaden Janke also knocked one down. Janke has been playing on a bum ankle for more than a week now, and aggrivated the injury twice during Wednesday's game.

Tristan Masuga, also playing with a painful ankle injury, managed to score four points in the first half and played limited minutes in the second half. Luckily, Raymond's shot was on.

"I felt confident and my shot felt good, and everything was falling," Raymond said. "I had to make jump shots because that is my role on the team. If the first one goes down, it's going to be a good game. I mean, all my teammates trust me. If I'm open, they give me the ball."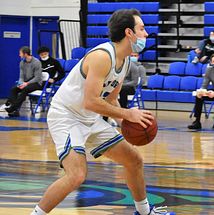 Raymond had a career-high 19 points, making 6 of 10 shots from the floor.

"Cal Raymond might be the best shooter we've had in the program since we started (four years ago)," Johnson said. "He is one of the best, if not the best, shooter I've ever coached. The quickest release I've ever coached, I can guarantee you that. His Achilles heal has been defense, and we went to a 2-3 zone and he's played plenty of zone in high school. He did a fantastic job on that end of the floor as well. Cal was, without a doubt, our player of the game."

Finlandia's top player, senior Dylan Underwood, had stretches where he showed why his being a senior was a big advantage. He scored a pull-up jumper with less than two seconds remaining in the first half to give the Lions a 41-40 lead heading into the locker room.

Underwood also scored three straight baskets by cutting to the basket in the second half, the last of which gave the Lions a 66-65 lead. But he eventually fouled out with three minutes left, and the Norse took advantage by getting just enough separation to win the game.

"Dylan is an incredible player," Johnson said. "He's tough to guard, he's incredibly shifty. Everything they do goes through him. He's so good at creating and draws so much attention. Matt Wagner did a great job (defensively) and we had some other guys step up. We contained him just enough. Hats off to Matt Wagner and Tyler Sundling for that."


Underwood finished with eleven points.

Wagner, who always draws the toughest defensive assignment, also is expected to lead on tye scoreboard.

And he did again in the second half on Wednesday, making the third time he was held almost scoreless in the first half only to light it up in the second half. He had four points in the first half but scored 20 in the second half for a game-high 24 points.

Wagner had driving lay-ups that gave Bay leads of 61-59 and 67-66, then his triple from the left wing after a 29-second possession made it 73-66 with 2:31 left in the game.

Lights out.

Jamad Hines led Finlandia (0-7) with 18 points and ten rebounds.

Bay College (2-9) will travel downstate this weekend to face Oakland Community College Friday night and Glen Oaks Community College on Saturday afternoon. Game times are 7:00 Friday and 2:00 Saturday. Both games will be broadcast on Maverick 106.3 FM and radioresultsnetwork.com.