FIRST VICTORY: Norse Men Beat Gogebic, 99-59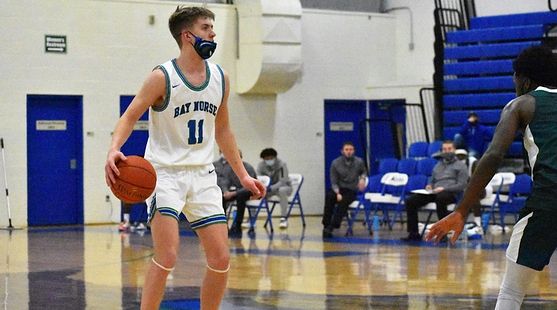 Click the thumbnails to see videos and photos, and click the AUDIO buttons to hear comments from Jaden Janke and Coach Johnson, and hear Joe Gibbs' player spotlight interview.

ESCANABA---The Bay College Norse men's basketball team broke open a tight game with a dominating second half on Wednesday, earning its first win of the season, 99-59, over Gogebic Community College.

Chris Dobessi led Bay with 20 points, and Jaden Janke added 18 points and 11 rebounds.

But the Norse led just 45-39 at halftime before blowing the Samsons out in the second half, 54-20. Gogebic, which had not played a game or even scrimmaged before Wedenesay night, got 26 points from Marlen Williams.


Williams torched the Norse in the first half with his drive to the basket, but was nearly neutralized by the defense of Rapid River graduate Tyler Sundling in the second half.

The Norse went on a 17-0 run in the second half as Williams was stiflied by Sundling and the Samsons resorted to hositing up multiple three-point shots. They made just five of 32 triple tries, and none at all in the second half.

"He's really good," Johnson said of Williams. "He was recruited by a bunch of different schools coming out of high school. He's way quicker than film does justice. He's a tough match-up, and I think the defense on Number 5 in the second half by Tyler Sundling is what really changed the course of that game and really got us on that run."

"Tyler did an incredible job. He (Williams) just wasn't able to catch the ball in the positions he wanted to because Tyler got on him, face-guarded him, and didn't let him get anything easy."

Dobessi shot 9-for-13 from the floor and added six rebounds to his stat line.

"Chris played great," Johnson said. "This was the best he's played this year without a doubt. He attacked well. He picked his spots much much better, which I think was the key and was why he shot as well as he did."

Janke, a freshman from Dollar Bay, attacked the basket well for the Norse. He agreed that the defense is what caused the big switch on the scoreboard in the second half.

"We've been going at it for three months, and it was nice to see it come together especially after facing a couple of really good opponents our first few games," Janke said. "We played terribly on defense in the first half. We picked it up in the second half and keyed on him (Williams) in the second half a little bit harder. Hopefully, we can use this into this weekend and get a few more Dubs."

It was a homecoming of sorts for Gogebic's Mason Saubert, who played at Bay during the first semester last year before going back to his western U.P. hometown with a foot injury. He enrolled in classes at GCC, and joined the Samsons. He scored six points Wednesday.

Bay College (1-3) got dunks from Dobessi, Joe Gibbs, and Didier Ngambo. Unfortunately, there were no loud cheers other than from the players themselves, because no spectators were allowed at Wednesday night's game.

The Norse get on a bus Thursday for a road trip to Chicago, for three games. First up is Triton College, a team that Bay lost two lopsided games to less than a month ago. Friday's game starts at 4:00 ET/3:00 CT. It will be broadcast on Maverick 106.3 and radioresultsnetwork.com.