BETTER EFFORT: Norse Men Battle Triton In Loss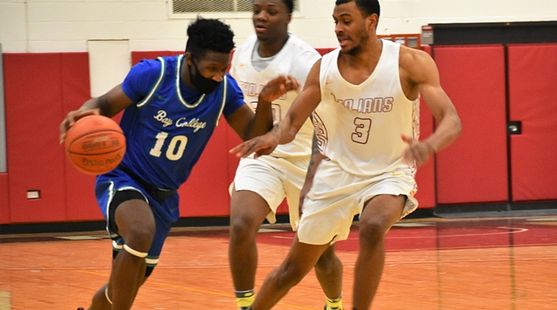 RIVER GROVE, Ill.---The third time was not the charm Friday for the Bay College men's basketball team against natonal powerhouse Triton College in Illinois, but the Norse had a much better effort than in the first two matchups with the Trojans, losing 70-57, inside a spectatorless gym in suburban Chicago.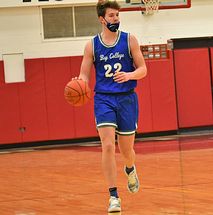 "It was far from perfect, but I'm incredibly proud of the guys, especially in the second half," Norse Coach Matt Johnson said. "We some really good things. Huge strides from three weeks ago to today. This Triton College team is incredibly good. The best I've ever seen at this level, and we more than battled with them. We had our chances. We can hold our heads high walking out here tonight."

The Norse lost to Triton, 88-50 and 98-55, on a previous trip to the Chicagoland area, and they fell behind 15-0 and 15-1 in those games. But on Friday, the Norse actually took a 3-0 lead on a Jaden Janke triple, and after Cal Raymond hit a triple and a short umper, and Didier Ngambo scored inside, Bay trailed only 16-13 with less than ten minutes left in the half.

The Trojans outscored Bay, 20-5, however, as the Norse went into a dry spell, making just seven of 31 shot attempts in the first half. And they couldn't make free throws, missing five of their six first half charity shots. Bay trailed, 36-18, at halftime.

Triton's lead grew to 48-28 in the second half before the Norse, behind Chris Dobsessi's aggressive drives to the basket, keyed an 8-0 run to cut the deficit to 48-36. Matt Wagner caught fire in the second half as well, sinking four three-pointers and bringing the Norse to within 12 on two occassions. They could not, however, cut it into single digits.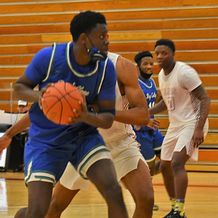 "I challenged both Matt and Chris at halftime," Johnson said. "Both of those guys did exactly what I would expect them to do. They rose to the occassion. They took my challenge, accepted it, came out, and played two really good second halves."

Dobessi, who did not score in the first half, scored 11 points in the second half. Wagner, held to three points in the first half, put up 13 in the second half to finish with 16 points.

Freshman Cal Raymond added ten points, sinking two triples, and Jaden Janke scored nine.

Triton (8-1) had three players score 11 points each: Kejuan Clements, Raymond Grant, and D.J. Patrick.

Bay College (1-4) will travel to Morton College Saturday afternoon for the second game of the weekend Illinois road trip. Game time is 4:00 ET/3:00 CT. It will be broadcast live on Maverick 106.3 FM and radioresultsnetwork.com.

Click the thumbnails above to see photos and videos, and hear Johnson's post-game comments and Cal Raymond's player spotlighht interview.