FIVE IN A ROW: Norse Outlast Finlandia On Road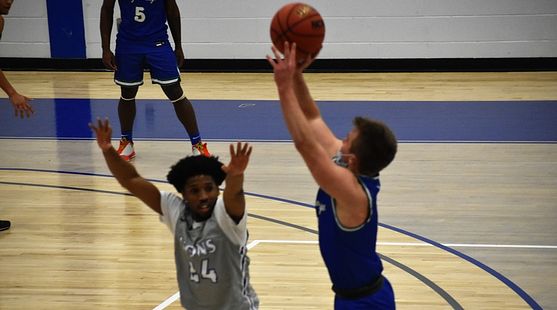 Click the thumbnails to see photos and videos, and hear post-game comments from Marcus Johnson and Coach Matt Johnson

HANCOCK---The Bay College men's basketball team won its fifth straight game Wednesday night, pulling away in the second half to beat the Finlandia University Lions, 73-52, in Hancock. The Norse led just 33-30 at halftime, but used a 24-7 spurt to put the game away.

"It was barely enough (to win) for a long while," Norse Coach Matt Johnson said. "But this is exactly what I wanted with minutes. I wanted everyone in that 15-to-20 range, and we got eleven guys in double digits and the most someone played was 23 minutes. We accomplished exactly what we wanted to, and every single guy contributed."
The reinforcements finally arrived for a Norse team that's been banged up with multiple injuries. Iron Mountain graduate Marcus Johnson made his Norse debut, scoring 16 points as he played the bulk of his minutes in the second half with guard Matt Wagner in foul trouble.

"It felt really good to get back out there," Marcus Johnson said, after pkaying his first game since last March, when he was in an Iron Mountain uniform. "Right away, there were just a few jitters. It felt good to be back. It was a long process. My fourth practice back with the team, I ended up getting hit, went down, and ended up having a concussion. It's been a long month, but I finally got (medical) clearance on Monday and I'm happy to be back out here with the guys and having fun with it."

Johnson wasn't the only one. Justin Henderson also made his debut, and made his presence felt inside with seven rebounds and two points in ten minutes of play. Didier Ngambo was alsotough inside, blocking five shots and pulling down five rebounds to go along with his nine points.
Ngambo's driving layup gave the Norse a 15-8 lead, but Superior Central graduate Joe
Heinonen kept the Lions alive by nailing a pair of triples, as well as a midrange jumper.
Emmett Johnson's drive to the basket tied the game at 30-30 in the final minute of the first half before the Norse knocked down some free throws to regain the lead.

The Norse gradually widened the lead in the second half, as Jibril Ndiye put one home to make it 41-33, and Tyler Sundling scooped one in to make it an eleven-point game. Marcuus Johnson knocked down a 15-footer and a triple from the top of the key to expand the lead to 55-42.

There were a total of 48 personal fouls in the game, with each team getting whistled 24 times, and that led to 59 free throw attempts (Bay 22 of 31; FU 16 of 28).

Marcus Johnson had seven rebounds to go along with his game-high 16 points. Wagner and Chris Dobessi both scored 12. Ndiaye had eight rebounds.

Finlandia (0-9) got 12 points from Heinonen, 11 from Danny Zuchal, and nine from Dylan Unnderwood.

The Norse (6-9) will travel to Minneapolis on Saturday to face Dakota County Technical College for the second time this week, in another regional tournament seeding matchup. DCTC beat Gogebic Community College Wednesday night, 91-63, to improlve to 2-1 in the region. Bay is 2-0 and will clinch home court if it can win on Saturday.

Game time is 3:00 ET and it will be broadcast on Maverick 106.3 FM and www.radioresultsnetwork.com.