NORSE FORCE! Bay Wins Entertaining OT Game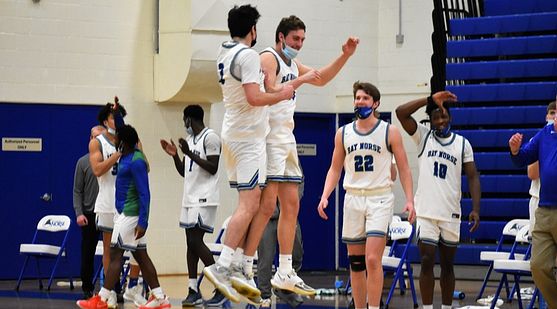 Click the thumbnails for photos, videos, and interviews. Click the AUDIO buttons to hear post-game comments from Matt Wagner, Marcus Johnson, Coach Johnson, and the halftime interview with Asst. Coach TJ Schlenvogt.

ESCANABA---The challenge was made. The challenge was met.

Bay College men's basketball coach Matt Johnson challenged his leader, Matt Wagner, to do some leading with the Norse trailing Bryant & Stratton by four points in the final minute. And boy did the Marinette High School graduate respond.
Wagner beat the buzzer with a long three-pointer from the left corner to force overtime, and then scored eight points in the extra session to lead the Norse to an 88-84 win over the Bobcat Saturday afternoon at the Bay College Gym.

"I absolutely did challenge him," Johnson said. "Because they had guys down the stretch that were making plays and we needed somebody to step up and do it. I know Matt is one of those guys. He's a gamer. He's a hooper. He absolutely made some big plays down the stretch."

Johnson was upset when Wagner committed a turnover when he drove inside with 1:04 left in regulation time. Wagner fouled Jamarcus Clark, who went the other way and made two foul shots to give the Bobcats a 70-65 lead. But Chris Dobessi answered with a triple of his own, and then after an offensive foul call, Bay had one last chance down by three.

Wagner came through.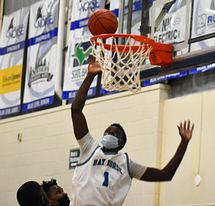 "Coach told me there's two things you can do right now: respond and make a play, or keep making excuses, and that's what loses games," Wagner said. "I really had to take it personal and think about it, and I owed it to my team. Obviously they expect me to make shots and they all have faith in me to make those shots at the end."

Jaden Janke, returning to the lineup after missing almost three weeks with a bum ankle, came up short with the triple try. Wagner was underneath the basket, got the rebound, dribbled into the corner, and hoisted up a prayer that tied the contest at 72-72 with 0.7 seconds left on the clock.

"I'm not sure Matt Wagner ever throws up a prayer," Johnson said. "I mean, that's what he's born to do. He's a shooter. And he hits big shots."

"I knew there was probably less than six seconds left," Wagner said. "There just wasn't a lot of time left. I guess it was just court awareness. I came over and Marcus (Johnson) was yelling 'give me the ball, give me the ball' and they (defenders) all ran to him, so I just went to the corner and the kid was kind of on my side, so I had to lean through and luckily it fell."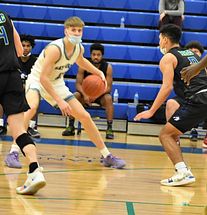 That forced overtime, but there was still work to do, especially after a bad Norse pass led to a layup the other way for Karter Thomas. Thomas led all scorers with 27 points on 10-of-12 shooting from the field for the Bobcats.

The Norse trailed, 80-76, when Marcus Johnson beat the shot clock with a deep triple from the right wing. That cut it to 80-79 with 2:17 left. Then after a stop, Wagner drove inside and scored with his left hand off the window to make it 81-80 with 1:39 left in overtime.

The Norse defense, led by Tyler Sundling's effort on B&S's Brandon Adelman, got another stop. Dobessi went inside after using some clock, missed the shot, but Joe Gibbs was in front of the rim and tipped it home to make it an 83-80 game.

The Bobcats got a Thomas basket to get within one, but Wagner, with one second on the shot clock, nailed a long triple from the right side off a feed from Janke. That made it 86-82 and the Norse had the win.

The Norse trailed 59-50 in the second half after the Bobcats went on a 12-2 run, but Marcus Johnson drained his second triple in less than two minutes to get the team going. Trailing 61-53, Wagner hit his first three since the first half to make it 61-56, then Dobessi sank one to cut it to 66-63.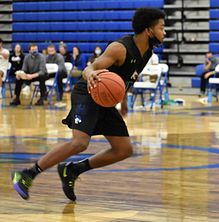 From there, it was "game on".

"This is a big win for us as a group,' said Marcus Johnson, who led the Norse with 19 points and had four triples. He also made seven of eight from the foul line. "Coming off the two losses last weekend (in Minnesota), the coaches and Coach Johnson is trying to get more out of us, and I think, in spurts, they got it out of us. But we have to keep getting better."

Johnson also led the Norse in rebounds with seven, and Wagner was second with six.

Coach Johnson was impressed with Sundling, who made both of his shots and grabbed three rebounds along with a pair of assists. But it was his defense that was the most important factor.

"Tyler easily could have been our player of the game," he said. "It Matt doesn't hit that shot and we win this game in a different way, Tyler might be our player of the game. He played his tail off. That's what Tyler Sundling does. It's who he is. He is a great athlete."

Dobessi scored 16 points and Ashton Janke hit three triples in the first half to finish with 11 points.

Bryant & Stratton (8-8) got 18 points from Clark, including four triples in the first half as the Bobcats led, 42-36, at the break. Nduka Ogwu had ten points.
The Norse improved to 7-11 on the season and will face the Bobcats again next Sunday in Escanaba. First, the Norse will try to get revenge on Kankakee (Ill.) Community College, who will face Bay as part of the Quality Inn & Suites Men's Classic. Game time on Saturday is set for 5:00 and it will be broadcast on Maverick 106.3 and www.radioresultsnetwork.com.