Norse Men Overwhelmed By No. 1 South Suburban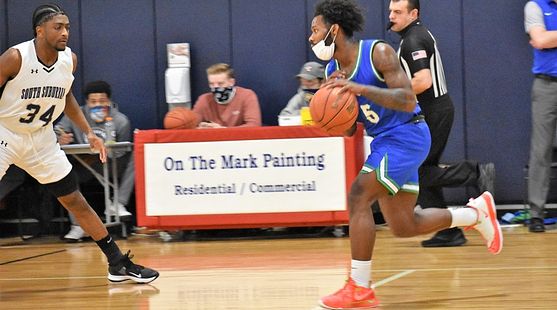 Click the thumbnails to see photos and video highlights.

LYNWOOD, Ill.---The Bay College men's basketball team battled the top-ranked NJCAA Division Two team in the country on Sunday, and fell to the South Suburban (Ill) Bulldogs, 94-52, in Illinois. The loss dropped Bay's record to 1-6 while the Bulldogs improved to 5-0.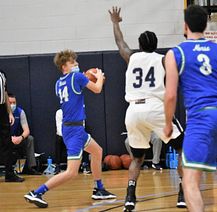 "We're playing basketball games," Norse Coach Matt Johnson said. "We're playing against great competition. Our kids are having opportunities to get better and to see what it takes to play at this level. Every one of these games that we play is an opportunity for us to get better as a group, and for our guys to get better individually."

"South Suburban is one of the best programs in the country every year, and they're ranked numver one in Division Two for a reason."

That reason wasn't evident early as the Norse hung in there, despite playing without two important guards: Chris Dobessi, who hurt his ankle in Saturday's game against Morton College, and Marcus Harris, who is likely out for the season with a torn Achilles.

The first half was marred by numerous personal fouls, with the Bulldogs shooting 28 free throws (making 18) in tthe first 20 minutes. Bay went to the line 14 times in the first half, converting only half of them. There was not much flow to the game, and a frustrated Johnson received a technical foul, as did guard Tyler Sundling, who was dismissed from the contest.

Bay trailed jusr 12-9 with 10:50 left in the half after Ashton Janke nailed a triple. and it was 17-14 two minutes later when his brother, Jaden also converted on a three-pointer. Savion Gray, who led the Norse with 16 points, sank a step-back three with 5:22 left in the half to bring Bay to within 27-23. But the fouls kept piling up, with Jaden Janke eventually fouling out.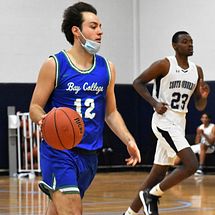 The Bulldogs went on a 14-5 run to end the first half and lead 41-28 at the break, and the entire second half was a wash for the Norse as they were outscored 53-24.

Ishmaeel Martin scored 18 points as one of five Bulldogs in double figures. He nailed four triples, including three in the second half.

Anthony Mabon scored 13 of his 15 points in the second half, and Chance Love scored 18 points (12 from the line), and Deshandre Washington scored 15 points. The Bulldogs made 30 of 43 free throw attempts in the game.

Bay got 15 points from Gray and 11 points from Joe Gibbs. The game was played in the Lywood Center on the H0-Chunck tribal land because the Bulldogs' campus arena is being used as a COVID-19 vaccination site.

At 1-6, the Norse are off to the worst start in the four-year history of the program. But they've also faced, by far, the best competition they've ever faced.

And it won't get any easier this Wednesday night as Milwaukee Tech comes to Escanaba for the Norse' second home game of the season. Game time is 7:15 Eastern and it will be broadcast live on Maverick 106.3 FM, and on-line at www.radioresultsnetwork.com.