Bay College Men Roughed Up By Morton Panthers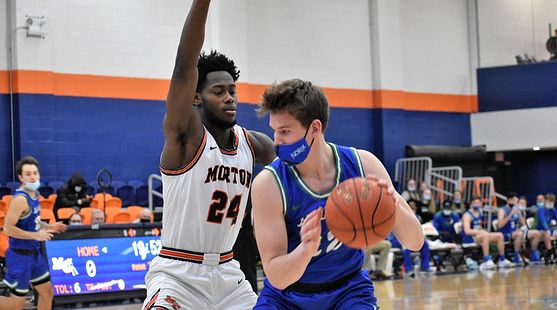 Click the thumbnails to see photos and videos, hear Tristan Masuga's player spotlight interview, and Coach Matt Johnson's post-game comments.

CICERO, Ill.---The Bay College men's basketball team suffered its most lopsided loss of the season on Saturday, falling to the Morton College Panthers in suburban Chicago, 106-67.

The Norse had dropped a five-point decision to the Panthers a week ago, and were confident that they could correct some mistakes and pick up a much-needed win this time. It didn't happen.
"We didn't bring it,and Morton did," Norse Coach Matt Johnson said. "They outplayed us. They outcoached us. They were ready and we weren't. It's probably the most embarrassing loss of the season, maybe my career. This team is not good enough to do this to us. We're way too talented. We have way too much fight in us to roll over and die like we did today."

The game was tied at 17-17 with six minutes gone by, but it was a horror show for the Norse from there. The Panthers scored 25 of the next 30 points, taking a 42-22 lead that only grew as the afternoon went on.

"We've got to be better as a coaching staff. We've got to get the guys more prepared to play, jacked up and ready to go," Johnson said. "I think we need some leaders to step up and some peer accountability, I think, helps. We just need to be better. I don't know how else to say it. This is, by far, the worst we've played all year."

Morton made 17 three-point baskets, led by Nikola Sinik, who scored 28 points by making six triples but also taking it inside the paint. Malik Tidwell scored 18 points, and Latik Murpjy made five triples and scored 17 points.

The Panthers improved to 3-6 on the season, with two of the wins over Bay.

The Norse got 16 points from Chris Dobessi, 12 from Jaden Janke, and 10 from Didier Ngambo. Matt Wagner, who scored 32 points against the Panthers last week, was held to nine this time.

Bay fell to 1-8 on the season. The Norse play Kankakee Community College Sunday afternoon at 2:15 ET. The game will be broadcast on WGMV-FM (Maverick 106.3) and radioresultsnetwork.com.