Norse Men Drop Second Straight Home Game 77-62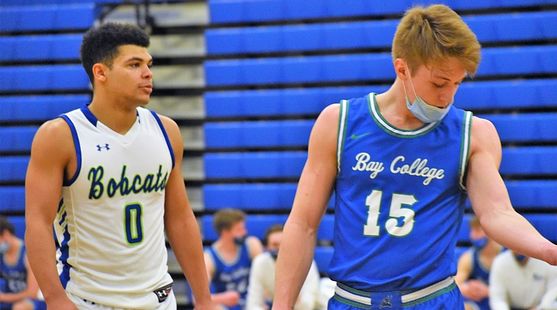 ESCANABA---The Bay College Norse men's basketball team lost for the second straight day Sunday on its home court, falling to the Bryant & Stratton Bobcats, 77-62, at the Bay College Gym.

Story written by Mike Pankow, Bay College SID
Click the thumbnails to see RRN Sports photos and videos, and hear halftime interview with Bay's Tyler Sundling of Rapid River.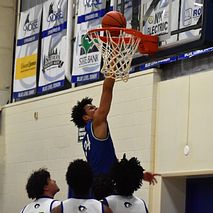 The Bryant and Stratton Bobcats (10-9) defeated the Bay Norse Men's Basketball Team (7-13) by a score of 77-62 to earn a sweep in the Quality Inn & Suites Classic hosted by Bay College this weekend.

Bay found themselves in a back-and-forth battle out of the gates and grabbed an 11-10 lead with 11:35 remaining in the first half.

That's when the Bobcats' Karter Thomas (FR, Oshkosh, WI) would get hot. His layup with ten minutes remaining gave Bryant and Stratton the lead back. Chris Dobessi (SO, Detroit, MI) answered back by finishing at the rim.

Thomas responded with another finish in the paint, and then took advantage of a Bay turnover and knocked down a three-pointer to put the Bobcats up four. Marcus Johnson (FR, Iron Mountain, MI) responded with a three of his own, but Karter wasted no time hitting another shot from behind the arc. Dobessi answered back with a basket, but Thomas converted two free throws on the very next possession. Thomas' 12-point outburst in three minutes of playing time put Bryant and Stratton up by four. They would never relinquish that lead.

Both offenses would stall over the next few minutes, but three-pointers on back-to-back possessions gave Bryant and Stratton their first double-digit lead with two and a half minutes left in the first half. Intermission would find the teams locked in the same scoring differential, with the Bobcats leading 38-28.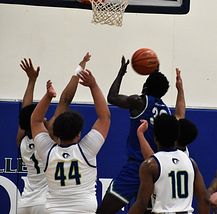 Bay cut the lead in half quickly in the second half. Matt Wagner (SO, Marinette, WI hit a three on the first possession, and after a pair of stops, Dobessi added a basket to make the score 38-33. Bryant and Stratton was able to shut down the run, as Nduka Ogwu (SO, Lawrenceville, GA) finished at the rim and Thomas buried another shot from behind the arc.

The Norse went on another small run to cut into the lead as Dobessi made a three-pointer and then finished in the paint after a stop, cutting the lead to seven. After Ogwu scored a basket, the Norse got a free throw from Wagner, and Justin Henderson (FR, Flat Rock, MI) converted a basket, pulling the Norse to within six with 14 minutes remaining.

The Bobcats got a pair of free throws, and the Norse could not take advantage of free throws of their own on the following possession, which allowed Bryant and Stratton to open up a lead again. Maxwell Glass (FR, Kenosha, WI) buried a three, putting the Bobcats up by 11.

With just over 12 minutes left, Dobessi was fouled as he finished at the rim, and made the free throw, making the score 52-44.

Maxwell hit a three on the next possession, and the Norse would not score from the field in the next five minutes of game tine. It allowed the Bobcats to open up a double-digit lead again.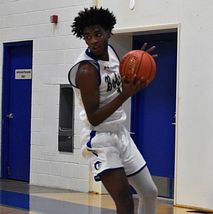 From that point on, the Norse would not be able to close in on their opponents and ended up falling by 15 points.

Bay got 21 points from Dobessi who also collected six rebounds and had three steals. Wagner ended up with eight points.

Thomas led all scorers with 28 points. He also pulled in five rebounds and had three assists and three steals. Glass hit four of seven from three-point and tallied 14 points. Ogwu finished his afternoon with 13 points and five rebounds.

The Norse will take to the road for a crucial Region 13 matchup on Wednesday evening.

They face Gogebic Community College at 7:30 pm.. The game will be broadcast on Maverick 106.3 FM and on-line at www.radioresultsnetwork.com.