Bay Norse Push Past Gogebic To Clinch Home Court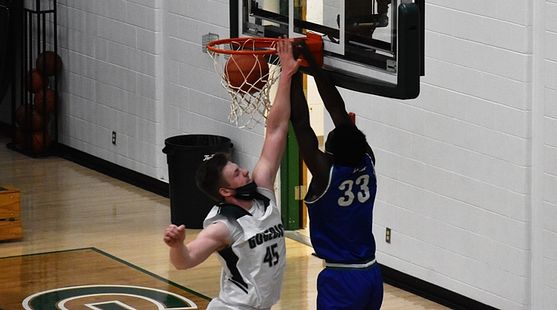 Click the thumbnails to see pictures and videos, hear post-game comments from Didier Ngambo and Coach Matt Johnson, and listen to Chris Dobessi's player spotlight interview.

IRONWOOD---The Bay College men's basketball team shook off a sluggish start and pulled away from the Gogebic Community College Samsons, 89-72, Wednesday night in Ironwood to clinch home court advantage for the NJCAA Region 13 Tournament.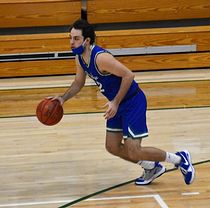 Matt Wagner scored 20 points to lead five Norse players scoring in double digits. The Norse overcame another strong performance from Gogebic's Marlen Williams, who scored 32 points against Bay earlier this seeason and finished with 31 in Wednesday's game.

Williams had 20 of those points in the first ten minutes of the game as GCC (1-11) had a 30-26 lead. The Norse were able to contain Williams the rest of the night, and got plenty of ofensive contibutions to take a 44-38 lead into the halftime break.

Wagner had nine points in that first half, Marcus Johnson drained a pair of triples, and Tyler Sundling came off the bench to score seven points in a three-minute span.

Then in the second half, Bay was able to gradually build a dounble-digit lead, despite eleven more points from Williams. Wagner hit eleven points in the second half, Ashton Janke knocked down a pair of triples, and Didier Ngmabo had two slam dunks to go along with a career-high 13 points.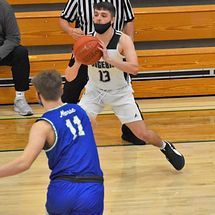 Ngambo ended up making six of eight field goal attempts and he had four rebounds in 18 minutes of play. Wagner also shot well, going 8-for-12 from the floor, including 6-for-6 inside the three-point line. He added seven rebounds.

Marcus Johnson had 15 points and grabbed six rebounds, while Janke scored 13 points and Chris Dobessi chipped in eleven points.

With the win, Bay (8-13) will host the NCJAA Region 13 tournament next weekend, with United Tribes and Dakota-Bottenau from the Dakotas joining Rochester Tech (Minn.) and Gigebic for the three-day event April 2-4. The championship game is on Easter Sunday.

Before that, the Norse have one last regular season game, this Saturday at home against Highland (Ill.) Community College. Game time is 3:00. It will be broadcast live on WCHT-FM (93.5), AM-600, and on-line at www.rrnsports.com.