Escanaba's Cinderella Playoff Ends In Quarterfinal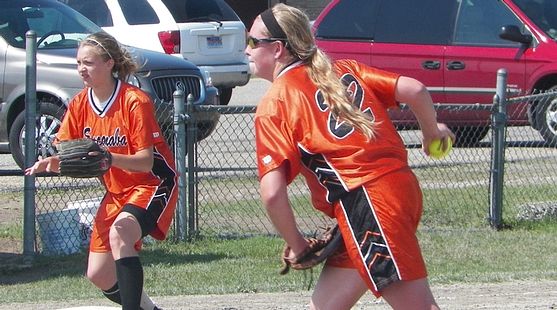 MT. PLEASANT---For a while there, the Escanaba High School softball team thought that maybe, just maybe, this playoff run could do the unthinkable.

The girls were facing the third-ranked team in the State of Michigan in Division Two, and in the fourth inning, these Eskymos were tied with the Saginaw Swan Valley Vikings in a state quarterfinal game. But the fourth inning turned out to be a nightmare as the heavily-favored Vikings scored seven runs and then rolled past the Eskymos, 12-1, Tuesday at Central Michigan University's Margo Jonker Stadium.


Escanaba (25-15) was playing in a quarterfinal game for the first time since 2003, when many of the current Eskymo players were still in elementary school.

And they were not only facing a Swan Valley team that went to the state semifinals a year ago, but the Esky girls were also facing a talented pitcher in MacKenzie Boehler, who has committed to play college ball at Wayne State University next school year.

Boehler was as good as advertised, as she struck out the first Eskymo batters she faced.

But the Eskymos hung in there for a while, as junior Codi Jenshak went through the first nine Viking batters, allowing only one hit. Swan Valley had plenty of baserunners, though, thanks to walks and Eskymo defensive errors. Jenshak, though, held firm, as the Vikings stranded eight base runners in the first three innings. It was still a 0-0 game.

And at one point, in the third inning, Swan Valley's Mary Berden was caught stealing for the first time this season. She was 59 for 59 in stolen bases attempts before that play.

But things fell apart for Jenshak and the Eskymos in the fourth inning. She had held the Vikings (36-3) scoreless and on just one hit, but gave up five base hits and seven runs in that fourth inning, which also included svereal Eskymo defensive blunders.


Swan Valley added three more runs in the fifth inning to go ahead, 10-0, but the Eskymos managed to get a run in the bottom of the fifth to keep the game going a little while longer.

The Vikings put it away with two more runs in the sixth inning.

Escanaba finished the season with a 25-15 record, and with district and regional titles for the first time in years.

Congratulations to Coach John LaMarch and the girls on an exciting playoff run, becoming one of the final eight softball D-2 teams in the state.