Braves Pull Out DH Sweep Of Eskymos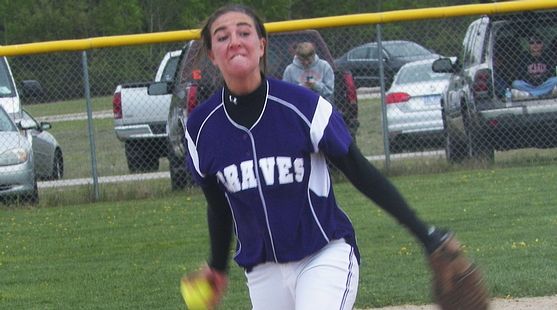 GLADSTONE---When the going gets tough, Gladstone Braves softball coach Jerry Smith looks to his seniors to come through at crunch time.

And Thursday night, Smith looked to Sammie Strasser and Whitney Wells to make something happen to break a 3-3 tie against the rival Escanaba Eskymos.


Both girls came through. Strasser put down a perfect bunt that turned into a hit and Wells ripped a two-run single to lead the Braves to a 5-3 win over the Eskymos. It gave the Braves a doubleheader sweep after the girls posted a 2-0 Gladstone win in the opener.

"Our whole defense played well tonight," Gladstone Coach Jerry Smith said. "And our pitching was good. We struggled a little bit with the bat at times, but the girls came through."

The Eskymos had built a 3-0 lead as Jen Koish ripped a two-run single in the first inning and Emily Bogaudo scored on a wild pitch in the third inning. But the Braves scored twice in the bottom of the third inning as Alex Saunders doubled, and scored on a double by Strasser.

Katie Becker's triple scored Gladstone's second run.



Jordan Kowalski hits a Home Run.

In the fourth inning, Jordan Kowalski ripped a long home run to left field....off the roof of a fan's pick-up truck....tying the game at 3-3.

That led to the bottom of the sixth, when Saunders was hit by a pitch with one out. Strasser pushed a bunt up the third base line, and she legged it out.

Smith says he would have been happy with a sacrafice there, but the fact that Strasser made it to first was a bonus.


"We've been struggling with the bunt all season, and she came up with a big one," Smith said. "That was a nice, beautiful bunt, at a big time. A sacrafice would have set us in a position to score anyway. We like to do what's not the obvious!"

"I was just happy to get it down," Strasser said. "I haven't been able to get my bunts down lately. But I was just pumped on that one. It was a game-saver, I think."

"She hasn't been hitting much this season at all," Smith added. "And tonight, we played all the seniors and she hit it well. She hit every time."

Then, Wells came through with the big hit to break the tie.

"I haven't been playing as long as everyone else, so I'm still learning every single day," Wells said. "I had not gotten a solid hit all game, so I just wanted to cut the ball in half, that's all I focused on, and I hit it right to the outfield. I'm pretty sure it was a bit inside, but I don't push the ball to left or right field, I just hit it wherever."



Whitney Wells Interview.

"She struggled a little bit at the start of the season, but she's really started hitting the ball," Smith said. "I was glad to see her come back and hit like she did tonight."

Alison Austin retired the Eskymos in order in the seventh inning, helped along by three nice infield plays.


In the first game, Escanaba's Codi Jenshak hooked up in a pitcher's duel with Christine Sharon, and, later, Austin.

The game was scoreless until the bottom of the third inning, when Strasser singled with one out and eventually scored on a two-base error.

Then, in the fourth inning, Gladstone put on a two-out rally. Kowalski and Nicole Sharon both got singles, and then Jordan Schwartz ripped a double to score the game's second run.

That would be more than enough for the Braves, as the Eskymos managed only two base hits against the tandem of Christine Sharon and Austin.

Strasser had several nice plays at second base, and they weren't easy ones. One play in the seventh inning was especially good, as it hit the "lip" of the outfield grass and hopped up on Strasser, but she made the recovery and an accurate throw to first.



Sammie Strasser Interview.

"That was interesting. I didn't think I was getting her (Jenshak) on hat one," she laughed, and then added, "I like to keep things interesting."

Kayli Van Effen pitched the first four innings for the Eskymos before giving way to Mikayla Schuster in the fifth. Schuster takes the pitching loss.

Gladstone (18-4-1) is in the midst of a ten games-in-four-days stretch, and so far, the girls are 4-0. They will play a doubleheader in Sault Ste. Marie Friday afternoon.

Escanaba (14-10) is also busy, with a doubleheader on Friday at home agaisnt Cheboygan, and then three more games on Saturday in the seven-team Lions Invitational at Lemmerand Park.

Click the thumbnails in the "ARTICLE HIGHLIGHTS" box to see more pictures, and listen to radio highlights from the second game.